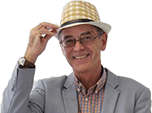 Classic Auctions in Surrey on 2nd and 15th June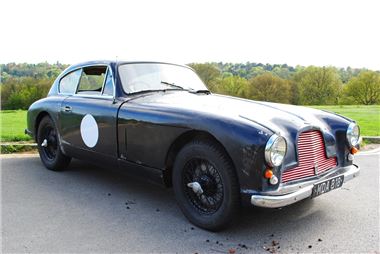 A 1954 Aston Martin DB2/4 Mk 1 3-litre 'barn find', for sale with a story every bit as colourful as its appearance, is to be offered at auction by Historics at Brooklands on June 2.
Previously owned by a farmer who took the car as payment for a bad debt in 1973, the grand tourer has since been cooped up in a chicken shed for 34 years, being driven only once when the farmer and five friends drove to a local barn dance soon after buying it.
Having thoroughly enjoyed themselves, they piled into the Coupé and roared home, but overloaded with passengers and driving somewhat enthusiastically, the farmer scared himself and consigned the car to his shed, never to drive it again.
The current vendor - who purchased the car in 2007 - vowed to retain as much of its rustic 'barn find' charm as possible by choosing to keep the paintwork as found. Under the bonnet however, a £20,000 restoration retains the original sports appeal of a car capable of 118mph when it was launched*.
The engine has been rebuilt with 9.5 to 1 Omega Pistons with new liners, polished crankshaft, new mains and big ends, new chains, gaskets, valve guides and many more new parts besides. The petrol pumps have been replaced and the petrol tank was removed, cleaned and replaced.
The exterior is presented in black coachwork with magnolia hide, black painted wire wheels, red painted grille and racing roundels, whilst the car - registration MDA 818 - is also supplied with a history file, current road fund license and MoT road test certificate valid until January 2011.
Historics' Lot 28 represents an excellent investment potential for those looking for originality, and is expected to fetch offers in the region of £65,000 - £85,000.
The last-known genuine MG works rally car is being offered for auction, 35 years after its competitive farewell. It is expected to fetch bids in the region of £90,000 - £130,000 - over 100 times greater than the price of the road-going MGB in 1964 - at the Historics at Brooklands auction on the evening of June 2.
One of two MGB rally cars built in 1964 - at a time when the road car was priced at £850 - the 'Comp Shop' car offered by Historics made its racing debut in the Spa-Sofia-Liege rally in August 1964. It went on to compete a further five times as a works entry, at the Tulip Rally, The Acropolis Rally, Geneva Rally, the Castrol Danube Rally and the RAC Rally, all in 1965.
Consigned to the garage in 1975, Registration BRX 854B has since undergone a meticulous restoration - overseen by MG historian John Baggott and legendary MG racer Barry Sidery-Smith – before rightfully returning to the public gaze at the Le Mans Classic in 2008.
The car is attributed the correct HTP (Historical Technical Passport), meaning it is also eligible for other such prestigious events, including the Goodwood Revival, Monaco Classic Grand Prix and other pre-65 races, upon invitation.
Plucked from obscurity, the current vendor has completed the sympathetic restoration with meticulous attention to detail, painstakingly restoring and replacing existing parts or on occasion sourcing period parts with no expense spared.
Lot 48 is offered for sale complete with documentation – including letters from the British Motor Industry Heritage Trust and the BMC Competitions Department – original handbooks, racing instructions, receipts, restoration archive photographs, magazine articles and newspaper clippings from 1964 and 1965.
Star lot is a classic 1931 4½ Litre supercharged Bentley, as the famous Airfix kit and matchbox toy, the most widely recognised 'vintage' Bentley.
Registration: GK 8063
Chassis Number: FS3621
Engine Number: FS3618
Mileage: tbc
Estimate: Refer Department
The 4½ Litre was an evolution of the 3 Litre, sharing that car's basic chassis, including its semi-elliptical suspension at all four wheels and four-wheel brakes. The straight-4 engine was bored out to 100mm to produce 4.4 litre of displacement. This was good for 110hp in road-going models or 130hp when tweaked for racing. Another claimed victory at the 24 Hours du Mans in 1928 with drivers Woolf Barnato and Bernard Rubin at the wheel. Meanwhile there was considerable debate within the Bentley boardroom and among the Bentley Boys about the next racing model. Barnarto settled on developing a racing version of the 6 litre town car (the Speed Six) but 'Tim' Birkin, one of the Bentley Boys, argued passionately that the way forward lay in using superchargers to get more power out of the smaller 4½ litre model.
This Bentley 4½ Litre was the 16th from last to be built, leaving the works in November 1930 and going to the coachbuilders Harrisons, from whence it was delivered to the first owner, Miss Wearing, on January 1st 1931 as a Harrison Roadster sporting white coachwork with a red leather interior. Being a late model, it includes all the improvements made during the production run and incorporates some of the better features of the supercharged 4½ litre cars. It has the heavy crankshaft fitted from 1930, the plate clutch (which replaced the cone type in 1929), a 353:1 final drive and a 'D' type gearbox.
According to the Bentley Drivers Club, GK 8063 was lost sight of for some years in Miss Wearing's ownership but reappeared in London during the Blitz in 1940/41 having been converted to a utility vehicle rumoured to have been used to deliver foods as part of the war effort. By 1961, this car was acquired by Sir Malin Sorsbie, then Chief Game Warden of Kenya where the car resided. In his ownership, GK 8063 was sent back to London to be restored by Jack Barclay of Berkeley Square. The coachwork was restyled by them to resemble the original Harrison body. It again drops out of sight, but emerges in the USA in the late 1980's passing through the ownerships of W F Ford of Pennsylvania, and C Mallory of New York. In 1985, GK 8063 returns to the UK and into the hands of Mr. Harry Fuchs who undertook a five year restoration completed by Tim Abbot Engineering of Northampton accruing bills of more than £70,000 and the license plate HF 10 along the way. In the early 1990's, following the cars offering at auction, we know that chassis number FS3621 was rebodied to sport Birkin style Vanden Plas team car coachwork and fitted with a John Bentley supercharger to complete the car, now re-acquainted with the original license plate of GK 8063. In 2000, this special Bentley 4½ made its way into the private collection of South African, Casper Scharrighuisen because in September 2000, on instructions from the trustees of the Scharrighuisen estate, GK8063 was again auctioned in the UK, this time to be bought and delivered to Japan where it remained from 2001 until 2007. During this period, and in the ownership of a well known and respected Japanese Bentley collector, GK8063 competed in the Japanese Mille Miglia and the Le Mans Classic Japan.
The present vendor, a UK resident and long time Bentley enthusiast, has owned this car since September 2007 where it has become a welcome feature in Bentley circles. GK 8063 is now being offered for sale with a full one year MoT test certificate, Swansea V5C registration certificate, and of course, that glorious exhaust note.
For more information, and to attend the Historics at Brooklands auction on the evening of June 2, call 0800 988 3838, e-mail: auctions@historics.co.uk, or see the website,www.historics.co.uk. Entry by catalogue only, available prior to, or on the evening. Previews on May 31 and June 1.
Classics for all tastes and pockets at Barons, Sandown Park, June 15th
There should be something to appeal to most tastes and pockets in the current, varied selection of entries in Barons' upcoming sale of classic, sports and prestige motor cars at Sandown Park on June 15th.
Early summer is a good time to acquire a classic car, with the warm days and long light evenings providing plenty of time to get to know the new arrival, and there are plenty of 'starter classics' at Sandown Park, including a pretty 1971 Lancia Fulvia 1.3S Coupe (£2,000-3,000), the duck egg blue 1970 Wolseley 1300 Saloon which has been in the same family ownership for 39 years (£1,500-2,000) and a V8 powered TR7 Convertible (£1750-£2500).
Enthusiasts looking to start their collecting with an English convertible can choose from the 1959 Austin Healey 'Frog Eye' (£3,500-£4,500), the 1971 Lotus Elan +2S (£5,500-£7,000) or the 1976 Triumph Stag MkII (£3,500-£4,500). And Jaguar fans can pick from a wide range of models, including an outstanding 1962 MkII 3.4 equipped with the very rare and highly desirable Reutter reclining seats (£13,000-£15,000) and a Carmen Red 1964 E-type FHC, a classic Series 1 model (£22,000-£25,000).
Those looking for something a little different also have plenty to choose from. The duo-tone 1929 Chrysler 65 Roadster has masses of pre-war American charm (£10,000-£12,000), while the fully restored 1967 Honda S800 Coupe offers a chance to acquire a very rare and charismatic little car with just 36,000 miles on the clock (£8,000-£10,000). And the 1969 Chevrolet Camaro 427 Coupe is a real show-stopper. The subject of a nut and bolt restoration, this immaculate muscle car' has run an 11.60 second 0-118mph at Santa Pod and has been featured in various magazines, including Custom Car (£33,000-£37,000).
For details of further entries as they are confirmed, or to consign a car to this sale, please visit www.barons-auctions.com, email info@barons-auctions.com or call 08454 30 60 60.
Classic & Collectors entries for 15.6.10, as of 1.6.10
1978 Austin 7 Ulster Replica Ford based fun car £TBA
1959 Austin Healey Frog Eye £3,500-4,500
1969 Chevrolet Camaro 427 Coupe £33,000-37,000
1929 Chrysler 65 Roadster with rumble seat £10,000-12,000
1978 Daimler Sovereign 4.2 LWB Saloon £3,750-5,500
1967 Honda S800 Coupe £8,000-10,000
1964 Jaguar E-type 3.8 FHC £22,000-25,000
1962 Jaguar MKII 3.4 Saloon £13,000-15,000
1964 Jaguar MX 3.8 Saloon £13,500-14,500
1965 Jaguar S-Type 3.8 Manual+Overdrive £4,000-5,500
1988 Jaguar XJ6 3.6 Saloon £3,500-4,500
1958 Jaguar XK150SE DHC Auto £55,000-60,000
1971 Lancia Fulvia 1.3S Coupe £2,000-3,000
1984 Land Rover S3 Safari 2.3 litre-SWB-7 seater £1,250-2,000
1971 Lotus Elan +2S 130 £5,500-7,000
1987 Mercedes 420SL £5,000-6,000
1976 Triumph Stag MKII Auto £3,500-4,500
1982 Triumph TR7 V8 Convertible £1,750-£2,500
1970 Wolseley 1300 Saloon £1,500-2,000
Sports & Prestige entries for 15.6.10, as of 1.6.10
Registration- TL 2570 - On Retention - Pre 1960-£1,000-2,000
Registration AJZ 65 - On Retention - Pre 1960 -£1,200-1,500
Registration F81DEM -On Retention - Post 1988 - £1,000-1,500
1990 Jaguar S3 V12 Sovereign £5,500-7,500
1994 Jaguar XJ6 3.2 - 6 Door Limousine £3,500-4,000
1995 Jaguar XJR 4.0 Saloon £2,500-3,500
1991 Jaguar XJS 4.0 Coupe £3,500-4,500
1992 XJS 4.0 Coup Professional LPG Conversion £3,750-4,750
2001 Mercedes C32AMG Saloon- £14,500-16,000
1998 Mercedes SL320 Panoramic hard top £7,500-9,000
2000 Mini Supersport £6,000-7,000
1996 Subaru SVX Coupe 3.3 litre £2,000-3,000
For details of further entries as they are confirmed, or to consign a car to this sale, please visit www.barons-auctions.com, email info@barons-auctions.com or call 08454 30 60 6
Comments