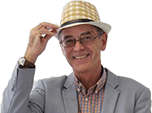 Bank Holiday 'Barn Find' Auction Results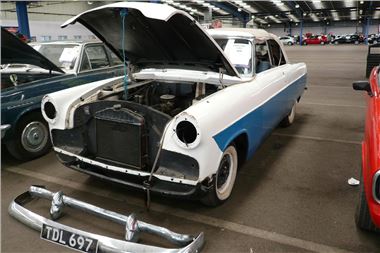 With three halls running, Blackbushe was bursting at the seams today. I've never seen so many people there. But fortunately the auction centre was well prepared with a gauntlet of guys beckoning drivers into additional parking on the Sunday market, a barbeque outside, and plenty of entertainment.
Most of that came from what looked like a scrapyard dumped in the marshalling sheds behind hall three. We were well prepared not to expect much. But some of the lots were total wrecks extracted from an overgrown garden and seemingly worthless.
That did not prove to be the case.
Star of the day turned out to be a 1959 Ford Zodiac convertible with a Weber twin choke carb conversion and far from complete. It obviously had to be a rare car becase fiercely competitive bidding saw it eventually sell for £6,300 + £353 commission.
Quite a nice looking 1966 Ford Thunderbird coupe, in running condition but needingh a bit of work made £3,150. Another but this from 1965, a convertible and farf from complete made £700. A colossal 1972 front drive 7.7 litre Oldsmobile Toronado, reputedly the 1972 Earls Court Motor Show car, also a runner with a perfect interior bid to a provisional £1,000. A 1970H Chrysler Valiant straight six convertible in bits and pieces made £700.
There were quite a lot of Daimlers in various states of decrepitude, some of it serious, but obviously capable of being cannibalised for parts. What looked like a reasonable 1957 Rover 105S seemed cheap at £300. Rolls Royces and Bentleys made from £900 to £1,550.
But what I couldn't get my head around d was prices obtained for 1960s Cortina Mk 1s, all rustbuckets, some worse than others. £200 for a total junker of an Aeroflow 3-door Mk I looked mad to me, but it obviously wasn't to the buyer.
In the other halls inconsistent bidding from large numbers of general public meant mayhem. Some of them drove home in bargains. Others didn't.
Barn Finds:
AUSTIN MARINA 1.3 10 CWT Pick-Up 75N 41,404 £480 sold
AUSTIN MINI 1.3 COOPER Saloon 90H 69,056 £2,600 sold
BENTLEY T SERIES 6.2 Saloon 1966 9,295 £1,550 sold
BENTLEY T SERIES 6.7 Saloon 76R 32,276 £1,300 sold
CHRYSLER VALIANT 4.0 Convertible 1970H 89,860 £700 sold
DAIMLER CONQUEST 2.4 CENTURY 1957 27,192 £400 sold
DAIMLER CONQUEST 3.8 CENTURY 1959 97,591 £300 sold
DAIMLER DK400 4.6 Limousine 1959 89,872 £1,800 sold
DAIMLER MAJESTIC 3.8 scrap 1959 52,662 £300 sold
DAIMLER MAJESTIC 3.8 Saloon 1960 56,612 £225 sold
DAIMLER MAJESTIC 4.6 Saloon 1961 92,900 £500 sold
FORD CORTINA 1.3 MK1 Saloon auto 1966 17,869 £500 sold
FORD CORTINA 1.3 MK1 DE LUXE 1966 scrap 20,169 £200 sold
FORD CORTINA 1.5 MK II Estate 1967 16,799 £500 sold
FORD CORTINA 1.5 MK1 SUPER Saloon 1966 7,368 £550 sold
FORD CORTINA 1.6 CRAYFORD Conv 1969 95,455 £1,600 sold
FORD THUNDERBIRD 6.3 V8 Convertible 1965 9,774 £700 sold
FORD THUNDERBIRD 6.6 Coupe 1966 77,304 £3,150s
FORD ZODIAC 2.6 Convertible 1959 40,027 £6,300 sold
JAGUAR XJS 5.3 CABRIOLET 1990G 62,434 £3,200 provisional
LAND ROVER S II 2.0 A Station Wagon 1964B 95,888 £700 sold
MERCEDES-BENZ 300 3.0 SE Saloon 87E 113,898 £200 sold
MERCEDES-BENZ 300 3.0 TE 4-MATIC 1990G 108,808 £250 sold
MG B 1.8 Roadster 1973M 106,500 £1,100 provisional
MG B 1.8 GT 1977S 85,058 £1,000 sold
OLDSMOBILE TORONADO 7.5 V8 Coupe 72L 51,277 £1,000 prov
POLSKI FIAT 125 1.3 P ME Saloon 1987E 18,720 £350 sold
PROTON PROTON 1.3 I GE Saloon 94L 12,866 £1,300 prov
RENAULT CARAVELLE 1.1 Coupe conv 1972K 48,640 £850 prov
ROLLS ROYCE SILVER SHADOW 6.2 1969 6,820 £900 sold
ROLLS ROYCE SILVER SHADOW 6.7 1969 108,574 £900 sold
TRIUMPH GT6 2.0 Coupe 1973M 77,490 £1,500 provisional
TRIUMPH HERALD 1.2 1200 Saloon 1963 80,180 £200 sold
TRIUMPH HERALD 1.3 1360 Convertible 1968 19,880 £300 prov
VAUXHALL CRESTA 3.3 Saloon 1966 60,963 £800 provisional
VAUXHALL VIVA 1.2 Saloon 1972K 46,494 £250 sold
Part Exchanges.
(As usual, 's' means sold. 'p' means top provisional bid, 'pc' means provisional, but close. 'n/s' means not sold. 'n/w' means miles not warranted. 'MNW' means unknown mileage. 'dmg' means damaged. D/R means damaged and repaired. 'fl' means facelift. Extras like 'lthr' and 'sat' are specified when they are not standard.)
Audi A6 3.0TDI V6 quattro Avant, 2006/56, 80k miles £15,100s
Audi TT 3.2 DSG quattro coupe, 2003/53, 65k miles £7,400s
FIAT Punto Abarth 1.8HGT, 2002/52, 62k miles £1,300s
Ford Mondeo1.8LX, 02 reg, 27k miles £1,500
Ford Mondeo 2.2 TDCI 155 Titanium, 2007/56, 58k miles £6,050
Ford S-Max 2.0TDCI Titanium, 08 reg, 17k miles £14,100s
Honda Civic 2.0I-VTEC Type R, 2007/56, 45k miles £7,750s
Hyundai Santa Fe 2.4 (dmg), Y reg, 62k miles £1,075s
Mazda MX-5 2.0 Sport hardtop, 2005/55, 65k miles £6,400s
Mercedes CLK 320 Elegance conv, 2004/54, 84k miles £9,900s
Peugeot 206 1.4LX 5-dr a/c, alloys, Y reg, 64k miles £1,250s
Peugeot 206CC 1.6 S, alloys, 2002/51, 54k miles £3,100s
Renault Laguna 1.8 Dynamique, 2001/51, 77k miles £800s
SAAB 900i 2.0S 5-dr, lthr, 1997R, 91k miles £300s
SAAB 9-3 2.0SE convertible, lthr, 1999T, 95k miles £1,600s
Toyota RAV-4 2.0XT3 5-fr, 04 reg, 68k miles £5,525s
VW Polo 1.2S 55 5-dr, 03 reg, 51k miles £2,350s
VW Polo 1.4 auto 3-dr, 03 reg, 47k miles £3,150s
VW Golf IV1.6S 100PS 5-dr, 2000W, 58k miles £2,050s
VW Golf IV2.0GTI 3-dr, 2001/51, 67k miles £2,250s
VW Golf V 1.9SDI S 5-dr, 2004/54, 106k miles £3,600s
VW Golf V 1.6FSI SE auto 5-dr, 06 reg, 63k miles £6,500s
VW Passat 1.9TDI PD 130, 2004/54, 128k miles £2,500s
VW Sharan 1.9TDI PD 115 auto, 2005/55, 125k miles £4,300s
VW Sharan 1.9TDI PD 115 auto, 2005/55, 118k miles £4,650s
Volvo V70 2.4 D5 185 Geartronic, 07 reg, 16k miles £13,700s
To view the full new Lex Autolease sales programme click on Lex Autolease
As always the best way to look for a specific car coming up at a BCA auction or to pre-check a day's sale is to visit Auctionview If you are a BCA account holder this service also now gives composite price information (average auction price, CAP and Glass's) and now allows you to buy a selection of cars directly on-line. Main British Car Auctions Website atBCA Website
Please Note BCA Now Charges All Private Buyers a £23.50 VCA New Keeper Transfer Fee. On behalf of the vendors, BCA is required to notify DVLA via the V5C of changes of ownership.
BCA Peterborough stages Motorbike sales on the last Friday of each month, with high volume Super Sales featuring 'bikes from Black Horse every two months. (Next Super Sale on 25th June). Sales start at 1pm and all are welcome to attend. There is secure motorcycle parking on the day and an expert and enthusiastic Sales Team on hand to answer questions. Viewing is on the morning of the sale and BCA can arrange transport to anywhere in the UK. Full catalogue details and a picture of every motorbike entered for the sale will be available online in advance through BCA's exclusive Commercial Auction View service (http://www.commercialauctionview.co.uk ).
For future police sales at West Oxfordshire Motor Auctions. Visit WOMA , click on 'stocklist', then click on search, or use the faxback on 0906 3080 953 at 60p per minute. Sales are held on Tuesday and Thursday evenings from 5.30pm.
Brightwells HUGE WEEKLY 4x4 SALE takes place every Tuesday at Easter's Court on the A49 by-pass, Leominster, Herefordshire, start time 11.00am, phone: 01568 611325, website: Brightwells
Last year Motorpoint launched auction4cars - an online fee-free alternative to the traditional car auction. It currently sells over 400 cars a week, mostly taken in part-exchange, from its four collection points - Burnley, Derby, Newport and Peterborough. For more information visit Auction4Cars
For Manheim auctions click on: Manheim
Comments