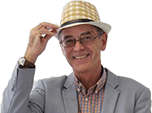 Scrapping Over the Scraps at Auction Today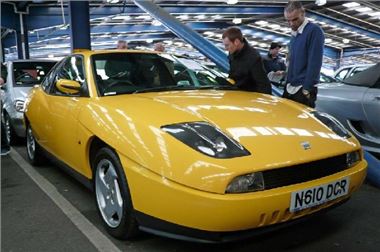 With so many cars now being sucked out of the UK market into Ireland and other RHD counties due to the weakness of Sterling, prices here continue to escalate.
Even the big supersites are finding themselves unable to source the numbers of cars they need for the right sort of money.
And this is leaving smaller dealers paying a lot more than they were paying last year for the same cars now with higher mileages.
Admittedly, the FIAT Coupe in the photo was a pretty car and its 56k miles could have been genuine. But it didn't just sell for way over trade book, it went for £400 over book retail.
Even then old tanks were dear. £350 for a Scorpio. £350 and £475 for a pair of Rover Sterlings, though at least the cleaner one had a nice full header tank of coolant.
Someone went berserk and paid £925 for a 2000V Ford Ka.
However, while £2,400 looks a lot for an unwarranted mile 02 reg Honda Civic Coupe, this one looked fresh out of the wrapper and probably worth every penny. Even the tyres had hardly any wear on them.
However, at the dearer end there seem to have been some drops. £9,600 wasn't a lot to secure an 08 Citroen C4 Grand Picasso 7-seater. £13,800 tells us what a 6k miles 08 reg VW Eos 2.0TDI 143CR is really worth. And if you needed a chunky towcar, a 5k mile 2007/57 facelift Mitsubishi Shogun 3.2 DI-DC Equippe auto SWB was almost half price at £13,900.
Here's the list. As usual, 's' means sold. 'p' means top provisional bid, 'pc' means provisional, but close. 'n/s' means not sold. 'n/w' means miles not warranted. 'MNW' means unknown mileage. 'dmg' means damaged. D/R means damaged and repaired. 'fl' means facelift. Extras like 'lthr' and 'sat' are specified when they are not standard.
Part Exchanges:-
BMW 316iSE, 1996N, MNW £225s
Citroen Xsara Picasso 2.0HDI, 2000W, 150k miles n/w £1,025s
FIAT Coupe 2.0 16v turbo, 1995N, 56k miles n/w £1,750s
Ford Ka 1.3, 2000V, MNW £925s
Ford Fiesta 1.1 Classic 3-dr, 1996N, MNW £150s
Ford Fiesta 1.3 Finesse 5-dr, 2000X, 53k miles n/w £1,100s
Ford Scorpio 2.3 Ultima auto, 1996P, 110k miles n/w £350s
Ford Explorer 4.0V6 auto, 1999S, 90k miles n/w £925s
Honda Civic 1.7 VTEC Coupe man, 02 reg, 18k miles n/w £2,400s
Honda Accord 2.0i ES auto 1999V, MNW £185s
Honda Accord 1.8VTEC SE auto 1999V, 95k miles n/w £800s
Mazda Eunos 1.8 Roadster, 2004M, 171k miles n/w £900s
MGTF 1.8 135, 04 reg, 18k miles £3,400s
Mercedes S320L, 2001/561, 78k miles £4,600s
Range Rover 4.0V8 auto, 2001/51, 51k miles n/w £5,550s
Renault Megane 1.6E RT Sport, 1998S, MNW, £460s
Rover 825 KV6 Sterling auto, 1997P, 73k miles n/w £475s
Rover 825 KV6 Sterling auto, 1997R, 64k miles n/w £350s
VW Golf 2.8VR6, 1996P, MNW £1,250s
And from the Lex Live Online Section:-
Audi A3 Sportback 1.9TDI 105, 2007/56, 34k miles £9.400s
Audi TT 3.2 Roadster DSG (D/R), 2004/54, MNW, £20,500s
BMW 645CI coupe, 04 reg, MNW, £16,900s
Citroen C4 Grand Picasso 2.0i 16v EGS, 2008/58, 3k miles £9,600s
Ford Ka 1.3 70, 2006/55, 37k miles £2,650s
Ford Focus II 1.8TDCI LX estate, 2006/55, 81k miles £3,350s
Ford Mondeo 2.0TDCI 115 LX, 2005/55, 62k miles £3,800s
Ford Mondeo 2.0TDCI 115 LX estate, 2005/55, 116k miles £2,900s
Ford Galaxy 1.9TDI 130 Ghia, 2005/55, 113k miles £4,800s
Jaguar X-Type 2.2D SE, sat, lthr, 06 reg, 34k miles £10,550s
Mits Shogun 3.2DI-DC Equip SWB auto, 2007/57, 5k miles £13,900s
Mazda RX-8 231, leather, 06 reg, 46k miles £8,000s
Mercedes C200CDI A/G est auto, 05 reg, 138k miles £5,300s
Mercedes E280CDI A/G auto, 06 reg, 39k miles £12,900s
Nissan Primera 2.2DCI 138 SX, 2004/54, 72k miles £3,450s
Range Rover 2.9TD6 auto, 05 reg, 48k miles n/w £15,600s
Renault Megane CC 1.9D Privilege, 05 reg, 89k miles £4,350s
SAAB 9-5 HOT Aero estate, sat, lthr, 06 reg, 57k miles £7,900s
Skoda Fabia 1.4TDI 80 Classic estate, 2005/55, 58k miles £4,100s
Toyota Prius hybrid T3, 2005/54, 68k miles £5,200s
Vauxhall Corsa 1.0 Life, 06 reg, 25k miles £4,300s
Vauxhall Astra 1.6 Club, 06 reg, 38k miles £5,200s
Vauxhall Zafira 1.9CDTI 120, 2006/55, 85k miles £5,500s
VW Eos 2.0TDI 143CR, 08 reg, 6k miles £13,800s
VW Passat 2.0TDI 140, 2005/55, 126k miles £4,650s
Volvo V70 2.4D5 163 SE, lthr, s/r, 05 reg, 121k miles £5,100s
Volvo V70 2.4D5 163 Special edition, 07 reg, 87k miles £7,700s
As always the best way to look for a specific car coming up at a BCA auction or to pre-check a day's sale is to visit
www.auctionview.co.uk
If you are a BCA account holder this service also now gives composite price information (average auction price, CAP and Glass's) and now allows you to buy a selection of cars directly on-line.
Please Note BCA Now Charges All Private Buyers a £23.50 VCA New Keeper Transfer Fee. On behalf of the vendors, BCA is required to notify DVLA via the V5C of changes of ownership.
For sales at BCA Edinburgh, click here for full details:
www.british-car-auctions.co.uk/main.asp?page=60
For BCA online auctions go to
www.bca-online-auctions.co.uk
. Two types of sale: Live Online and Open Tender. These are only available to BCA MyBCA Loyalty Card holders.
BMW group sales at BCA
www.british-car-auctions.co.uk/Default.aspx?page=2537
BCA's exclusive Commercial Auction View service at
www.commercialauctionview.com
.
BCA Peterborough stages Motorbike sales on the last Friday of each month, with high volume Super Sales featuring 'bikes from Black Horse every two months. (Next Super Sale on 25th February). Sales start at 1pm and all are welcome to attend. There is secure motorcycle parking on the day and an expert and enthusiastic Sales Team on hand to answer questions. Viewing is on the morning of the sale and BCA can arrange transport to anywhere in the UK.
Full catalogue details and a picture of every motorbike entered for the sale will be available online in advance through BCA's exclusive Commercial Auction View service (
www.commercialauctionview.co.uk
).
For future police sales at West Oxfordshire Motor Auctions. Visit
www.woma.co.uk
, click on 'stocklist', then click on search, or use the faxback on 0906 3080 953 at 60p per minute. Sales are held on Tuesday and Thursday evenings from 5.30pm.
Brightwells HUGE WEEKLY 4x4 SALE takes place every Tuesday at Easter's Court on the A49 by-pass, Leominster, Herefordshire, start time 11.00am, phone: 01568 611325, website:
www.brightwells.com
Comments