Clouseau Boss's Jaguar Among Top Sellers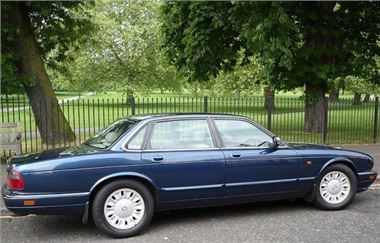 A 1996 Jaguar saloon owned by TV 'Human Jungle' and 'Pink Panther' movie star Herbert Lom will be offered for sale in the next 'Classics from BCA' sale, to be held at Blackbushe on Tuesday, 22 July commencing at 12 noon. It is just one of around fifty interesting and collectable vehicles on offer on the day.
Mr Lom, who is best known for his portrayal of Chief Inspector Dreyfus of the Suritee in the Pink Panther films, has owned the 1996 Jaguar XJ Executive Saloon since 2005. Finished in blue metallic with cream leather interior it is in excellent condition throughout and has been maintained to the highest standards. The car is estimated by BCA at a very reasonable £3,000.
Mr Lom commented "My Jaguar XJ Executive has been a great pleasure to own. It is a smooth drive and an extremely comfortable car, as many of my showbusiness friends who have travelled in it as passengers over the years have remarked. I am a great Jaguar fan, so it is with some sadness that I part company with this car. I hope that it finds a new home where it will be cared for as well as I have looked after it for many years."
With fuel prices seemingly spiraling uncontrollably upwards, many will have contemplated some form of alternative transport, but the French have beaten us all to it, producing various microcars over the years. The 1982 Flipper II Microcar on offer at Blackbushe was built by SEAB, a Paris-based manufacturer who also make a doorless and roofless version named the Donky (sic). Powered by a 49cc two-stroke unit, this lightweight machine is finished in beige gellcoat with blue gray cloth upholstery. It has two doors, two seats and an opening rear window with a luggage compartment that would easily accommodate a baguette or two. For those that recall Jeremy Clarkson's escapades in a microcar, this also has four wheels and a reverse gear! BCA estimates this microcar to sell for around £1,500 and can arrange transport for the buyer (alternatively just pick it up and carry it home!).
Dating from 1927, the Austin Seven Gordon England Cup Model is a fine example of the sporting Sevens developed in the 1920s. With distinctive bodywork finished in brown and black, the cockpit is trimmed in beige leather and the car has a tonneau cover and a new hood. Restored between 2003 and 2004, the car has been unused since that time and it is reported as being in good mechanical order all round. The car retains its original Gloucestershire registration number and is ready to race.
BCA has a heritage of unearthing low mileage classics and this sale is no exception. The 1982 Mercedes-Benz 380 SL has been in the hands of one owner since new, and is reported to have covered just 16,500 miles from new. Finished in beige with cloth interior trim, the car is in original condition throughout with all mechanical components said to be in good order as would be expected with the low recorded mileage. The car has been garaged all its life and only seen sparing summer use over the years. It is now offered for sale after 26 years' as the owner is moving to a house without garaging. Estimate is around £14,000.
The 1995 Aston Martin DB7 is a rare manual example, finished in Beacon Black with Ox Blood and Cream upholstery. Comprehensive service history is provided from Aston Martin specialists and it is apparent that the car has been carefully maintained. The specification includes sports wheels and special sports exhaust system, mesh grille, ten-stack CD system and all the usual Aston Martin refinements, with the air-conditioning unit having been recently renewed. The private registration number, A10 DYW, is also included. The owner assures potential buyers that this Aston is an economical supercar, returning up to 30mpg on long journeys and just requiring an annual service at around £650 to keep it in tip-top shape. BCA has estimated it at £24,000.
Dating from early 1932, the Wolseley Hornet Special on offer at Blackbushe was first registered in New Zealand and imported to the UK in the late 1980s. Finished in British Racing Green, with the bonnet in bare aluminium, the car has black trim and a serviceable hood and sidescreens. This car is eligible for the Vintage Sports Car Club (VSCC) and has been in regular use for club events in recent years. The car was restored some years ago and has been well maintained since then. Estimated around £11,000, this represents extremely good value compared to other 6-cylinder sports cars of this era.
The 1990 BMW 316i Automatic has remained in the hands of its company chairman owner from new, covering just 9,490 miles in that time. Finished in white with grey/blue cloth interior trim, the car has a number of options fitted including the sunshine roof, a Pioneer sound system and alloy wheels. In totally original condition, the car could easily, with a little detailing, be a concours contender and must represent outstanding value for money estimated at £2,500.
The 1972 Triumph Stag is strikingly finished in black and has been the subject of extensive refurbishment in the care of the current owner. The automatic transmission has been reconditioned and the brakes fully overhauled, whilst the radiator has been replaced. The car has both hard and soft tops and is exceptionally well presented throughout, with the black mohair hood and frame having been recently replaced. The car is now being offered for sale due to the owner commencing a new project and is complete with a V5C document and a current MOT certificate valid until 11th October 2008. Estimate is around £5,500.
The 'Classics from BCA' sale takes place at the Blackbushe auction centre at 12.00 Noon on Tuesday, 22nd July commencing at 12 noon, with viewing on the morning of the sale from 9.30 am and on Monday 21st July from 10.30 am to 5.00 pm. Entrance is by catalogue only, priced at £18.00 (admits two). The Blackbushe auction centre is located on the A30 between Camberley and Basingstoke. Catalogue details and illustrations are displayed at
www.bca-classics.co.uk
, which also features a free classic valuation service, downloads and advice on buying classic cars.
Comments