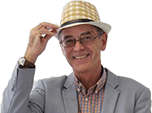 Barons Sets World Record Price for Daimler Conquest

A very rare 1957 Daimler Conquest Century Drophead Coupe achieved double its estimate to set a world-record price for the model of £22,361 at Barons' sale at Sandown Park on June 17th. 54 of these cars were built, including two on a roadster chassis, and just 18 survive. The one which sold at Barons is believed to be the last roadster-based example.
"Rare cars, with good provenance, are an auctioneers' joy," said Barons' MD Laurence Sayers-Gillan. "There had been a great deal of interest in this car, and we were delighted to see bidding intensify until what has been confirmed as a world record price was achieved."
Another rarity - and a car with an entertaining history - was the 1939 Standard Flying 8 saloon. Literally found in a barn by the vendor, and acquired in exchange for one month's stud fees for his bull, it sold for £4,370. A previous owner, who bought this very car in 1965 as her first car, came along to Sandown Park to see it again, having heard it was on offer at Barons.
Full results of the June 17th sale appear below.
1969 Alfa Romeo 1750GT Veloce, £3,811.25
1992 Alfa Romeo Spider S4 2.0i , £3,699.50
1996 Alfa Romeo Spider 2.0 16V, £2,358.50
1988 BMW 525E (E28), £1,388.00
1965 Daimler 2.5 V8 Saloon, £2,135.00
1957 Daimler Century DHC, £22,361.75
1973 Fiat 130 Coupe, £1,538.00
1992 Jaguar XJS 4.0 Sport, £3,029.00
1957 Jaguar MKI 3.4 Saloon, £8,672.38
1988 Jaguar XJS V12 Convertible, £5,040.50
1977 Lancia Beta Montecarlo, £2,135.00
1979 Mercedes 350SL, £2,917.25
1983 Mercedes 380SL Convertible, £8,840.00
2002 Mercedes C220 CDi Classic, £5,152.25
1986 Mercedes 260E, £1,188.00
1981 Mercedes 280SL, £2,637.88
1985 Mercedes 280SL, £4,481.75
1992 MG MGB GT, £888.00
1949 MG MGTD Midget 1250cc, £12,416.00
1975 Peugeot 304S Cabriolet, £2,246.75
1983 Pontiac Firebird (Trans-Am), £3,923.00
1939 Standard Flying 8 DHC, £4,370.00
1994 Vauxhall Carlton Limousine, £1,688.00
Barons' next sale - Classic Americana plus Classic & Collectors' cars - is at Sandown Park on July 21/22. There are a number of interesting American classics already consigned. For information on these and other early entries, or to consign a car to the sale, visit
www.barons-auctions.com
, call 08454 306060 or email
info@barons-auctions.com
.
Comments