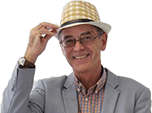 Cheap Cheapies At Auction Today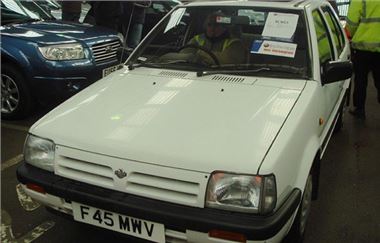 No reserve day today. The top of the range (but now 19 years old) Micra 1.2 GSX in the photo started at £10 and sold for £110. Still cheaper than the train fare home (if you live in Scotland).
There was a 95M 318i on steels and with rusty rear arches for £225. Quite a nice 94L 530i, but with cloth seats for £850. A clean enough 97P Hyundai coupe for £450. And quite a lot more, including a late registered 05 but old shape independently imported SLK 320 with Brabus badges that bid to £15,450.
And a de-badged LPG converted 2004/53 Mercedes S320L, top bid for which was £13,250 provisional.
But it was cold in there.
Here's the full list in order of the sale. As usual, 's' means sold. 'p' means top provisional bid, 'n/s' means not sold. 'n/w' means miles not warranted. 'MNW' means unknown mileage. 'dmg' means damaged. 'fl' means facelift. 's/r' means sunroof.
BMW 318i, 1995M, 175k miles not warranted £225s
BMW 530i auto, 1994L, 78k miles n/w £850s
Hyundai Coupe 2.0 16v, 1997P, 114k miles n/w £450s
Mazda 121 1.2ZXI 3-dr (Fiesta), 1997P, 80k miles n/w £725s
Mercedes C180 Classic auto, 1997R, 100k miles £875s
Mercedes SLK320 Brabus manual, 05 reg, 29k n/w £15,450p
Mercedes S350L LPG, 2004/53, 53k miles n/w £13,250p
Nissan Micra 1.2GSX 5-dr, 1989F, 69k miles n/w £110s
Renault Megane 1.6RT Alize, 1998S, 54k miles £610s
Subaru Impreza 2.0 Sport SW, 1999S, 107k miles £850s
Vauxhall Omega 2.5CD estate auto, 1999V, 89k miles £1,000s
VW Golf 2.0GTI 3-dr, 1997P, 72k miles n/w (s/hist) £1,400s
Upcoming Auctions at BCA Blackbushe in February
Wednesday 20th February 10.00 start
Prime Fleet, Leaseplan live online, Sytner p/x, Lex, CarGiant, Jardine p/x, Renault Financial Services, Black Horse, Inchcape p/x, Snows Group p/x, Trident Honda p/x.
Thursday 21st February
Light Commercials from Leaseplan, XBG, Citroen, Fleet Direct, Northgate.
Friday 22nd February 10.00am start
Fleet & Finance, LTSB Autolease,
Motability
, Lex, Charters p/x, British Telecom Fleet live online, Masterlease, Hitachi Capital, Peugeot Motor Co., General Section, Inchcape p/x, Private Sure Sell.
Monday 25th February 10.00am start
Fleet Direct, Lex, Porsche Retail p/x, Mercedes Benz Retail p/x,
Top Car
, Franchised Dealer p/x, Inchcape no reserve p/x, Ridgeway VW p/x, Hartwells p/x, Pendragon p/x.
Tuesday 26th February 12.00midday start
Classic & Historic Auction
Details at (new website) www.bca-classics.co.uk

Wednesday 27th February 10.00am start
Volvo, Prime Fleet, Hitachi Finance, Leaseplan, Black Horse, Lex, Jardine p/x, Inchcape p/x, Snows Group p/x, Sytner p/x, Trident Honda p/x.

Thursday 28th February 10.00am start
Light Commercials from Lloyds TSB, Dagenham Motors, Royal Mail, Lex, Vauxhall Leasing, Fleet Direct, Northgate, Peugeot, and Non Runners.

Friday 29th February 10.00am start
Fleet & Finance, LTSB Autolease, Motability, Charters p/x, British Telecom Fleet live online, Vauxhall Leasing, Masterlease, Hitachi Capital live online, General Section, Inchcape p/x, Private Sure Sell.

As always the best way to look for a specific car coming up at a BCA auction or to pre-check a day's sale is to visit www.auctionview.co.uk If you are a BCA account holder this service also now gives composite price information (average auction price, CAP and Glass's) and now allows you to buy a selection of cars directly on-line.

Please Note BCA Now Charges All Private Buyers a £23.50 VCA New Keeper Transfer Fee. On behalf of the vendors, BCA is required to notify DVLA via the V5C of changes of ownership.

For sales at BCA Edinburgh, click here for full details: www.british-car-auctions.co.uk/main.asp?page=60

For BCA online auctions go to www.bca-online-auctions.co.uk. Two types of sale: Live Online and Open Tender. These are only available to BCA MyBCA Loyalty Card holders.

BMW group sales at BCA www.british-car-auctions.co.uk/Default.aspx?page=2537

Huge 250 Motorbike auction at BCA Peterborough on 29th February at 1.00pm. Full catalogue details and a picture of every motorbike entered for the sale will be available online through BCA's exclusive Commercial Auction View service at www.commercialauctionview.com.

For future police sales at West Oxfordshire Motor Auctions. Visit www.woma.co.uk, click on 'stocklist', then click on search, or use the faxback on 0906 3080 953 at 60p per minute. Sales are held on Tuesday and Thursday evenings from 5.30pm.

Brightwells HUGE WEEKLY 4x4 SALE takes place every Tuesday at Easter's Court on the A49 by-pass, Leominster, Herefordshire, start time 11.00am, phone: 01568 611325, website: www.brightwells.com
Comments