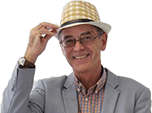 BCA Launches a New Classic Car Website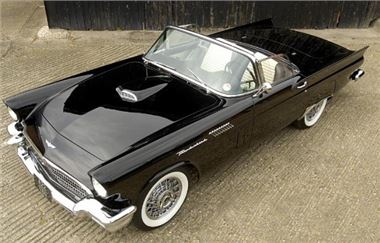 The hunt is still on for an early 1980s Audi quattro turbo like Gene Hunt's to head up BCA's 1980s themed classic car auction on 26th February.
But the sale offers a lot more to enthusiasts and nostalgia seekers, including this fabulous 1957 Ford Thunderbird, expected to fetch around £40,000.
That may come as a shock to European 'classic' purists. But there is huge interest across the pond in 'classic' American cars from the 1950s, 1960s and 1970s and six figure sums are being realised for some of them.
BCA is taking the opportunity of its latest sale to launch 'Classics from BCA' is the new brand, with an all new website (
www.bca-classics.co.uk
) and an exciting programme of sales for this year.
Robin Lawton, Head of Classics commented "The new brand reflects the changing and evolving face of the classic car movement as new enthusiasts and collectors enter the market. 'Classics from BCA' encompasses every area of the movement from Veteran and Vintage, to post-War thoroughbreds and modern classics in every guise."
He added "The first sale of the new season at the Blackbushe auction centre underlines BCA's commitment to bring our customers the best from every era. The event features a wide selection of vehicles, including some very rare Americana, show-condition commercials and cars ranging from the 1930s to the 1990s on offer."
Arguably the most desirable car in the sale is the 1957 Thunderbird Convertible, complete with porthole hard-top. Finished in black with black trim the car remained with it's original lady owner until 2000 and was later sold from her estate in 2003 to undergo a complete nut and bolt restoration before being purchased by the current owner and subsequently` imported to the UK in 2006. On completion of the restoration this Thunderbird was appraised as a 99 plus point car and benefits from the retrofitting of a genuine Ford air conditioning system. Careful storage and minimal use has ensured that it remains in the same condition as when restored and it has covered just 65,000 warranted miles from new. Expect to pay over £40,000 to secure this iconic T'Bird.
Probably the most iconic of all the American muscle cars, the Dodge Charger R/T is a car with real presence due to its sheer size and delivers awesome power and performance from the 'six packed' 440 cu-in (7.2-litre) 'Hemi' V8. This particular example is finished in bright metallic blue, offset by bright finished alloy wheels with the black interior highlighted by a set of white dial gauges. Under the hood lurks a detailed engine, with many additional high-performance parts. It is expected to sell for around £25,000.
The 1967 Plymouth Barracuda is the rarer 'notchback' coupe version, much favoured for drag racing in that period. The car is fitted with the even rarer 383 cu-in (6.3-litre) 'Golden Commando' big block V8. Restored to a high standard with a Keith Black engine and bristling with goodies, the interior is trimmed in a contrasting off-white interior complete with floor shifter. The exterior is finished in black with a red and blue side flash, set off by a set of aluminium racing wheels. The estimate is around £15,000.
A 1985 Mercedes-Benz 500 SEC was supplied new to comedian and TV personality, the late Bob Monkhouse, and its impressive specification includes climate control and air conditioning, electrically heated front seats, blue hide upholstery, central locking and much more. AMG suspension and body kit were fitted and the car sits on 5-spoke alloy wheels with locking nuts. Finished in bright white this is not a car for the shy or retiring personality. It is valued around £4,000.
Classics from BCA even includes commercial vehicles from the past and the selection on offer at Blackbushe should attract the attention of would-be truckers. The 1969 Atkinson Borderer tractor unit is coupled with a twin-axle low-loader trailer dating from 1973, to make what is undoubtedly the largest vehicle in the sale! During the 1990s, both tractor and trailer were extensively and lovingly restored, subsequently being used on many Historic Commercial Vehicle Club rallies and events. This fine example of a classic British lorry was the subject of the centre spread in the September 2007 edition of Heritage Commercial magazine. It is estimated to sell for around £12,000.
An altogether older commercial, the 1930 Morris Cowley Pick-up Truck actually began life as a saloon car. It was converted in 1947 for use as a milk float and the larger 13.9hp Morris Oxford engine was fitted, probably around the same time. Following a number of years of hard service it was laid up before undergoing a rebuild from the chassis up between 1989 and 1990. Smartly finished in green and black with a stained timber truck body, this vehicle has been used for rallies and events and would be ideal for promotional and advertising work. Estimate is around £6,000.
Dating from 1961, the Jaguar Mk II 3.4 is in largely original condition having clearly been well kept over the years. The car was exported to Australia by its original owner and resided there for some thirty years, benefiting from the warm dry climate. Imported back into the UK in 1991, the vehicle was reallocated its original Coventry registration number. It is still in its original livery of Old English White with red leather trim, and has an interesting history having appeared in the TV series, Neighbours, while still in Australia. Offered with a recorded mileage of just 64,500 from new, it is expected to sell for around £12,000.
The first 'Classics from BCA' sale takes place at the Blackbushe auction centre at 12.00 Noon on Tuesday 26th February, with viewing on the morning of the sale from 9.30 am and on Monday 25th February from 10.30 am to 5.00 pm. Entrance is by catalogue only, priced at £18.00 (admits two). The Blackbushe auction centre is located on the A30 between Camberley and Basingstoke. Catalogue details and illustrations are displayed on the new BCA site at
www.bca-classics.co.uk
, which also features a free classic valuation service, downloads and advice on buying classic cars.
'Classics from BCA' Sales programme 2008
Tuesday 26th February Classic Motor Vehicles 12 NoonBCA Blackbushe
Tuesday 22nd April Classic Motor Vehicles 12 NoonBCA Bridgwater
Thursday 5th June Memorabilia followed by Vintage and Thoroughbred Motor Vehicles1.00pmBrooklands Museum
Tuesday 22nd July Classic Motor Vehicles 12 NoonBCA Blackbushe
Tuesday 7th October Classic Motor Vehicles 12 NoonBCA Blackbushe
Tuesday 2nd December Classic Motor Vehicles 12 NoonBCA Blackbushe
Comments