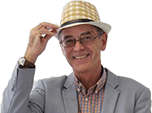 Good Results For Private Sellers At Auction Today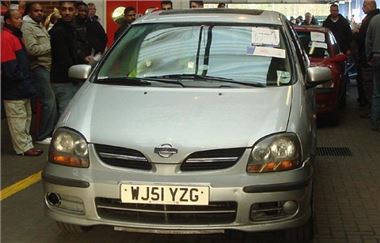 Not bad for buyers, either, and plenty of them had turned up early for the Sure-Sell section at auction today.
If you think about it, this is the way private sales have to go. As long as the vendor gets a decent price for his motor, he avoids the cost of advertising, he avoids fending off charlatans trying to flog him expensive 'we have a buyer' services, he doesn't have to deal with phone calls from weirdoes late at night, he doesn't have to wait in for prospective buyers who never turn up, he doesn't have to risk undesirables arriving on his doorstep, he doesn't have to take the considerable risk of allowing them to 'test-drive' his car, and he doesn't have to sit on a pile of grubby Nelsons all weekend worrying that the buyer's mates might come back and nick it before he can put it in the bank.
There was some doubt about the mileage of the first car, a 2000W, so it didn't sell. The next, an ex-taxi Almera Tino showing 111k but could have been to the moon and back was reserved at £1,200 and sold for £1,575. After that, a filthy 148k mile Vectra made £350, though would probably have seen £500 after a clean.
A 116k mile 2001X A3 1.8SE sold for a solid £2,600, and so it went on with an unwarranted mileage 98S Golf 1.4S making £2,025 and a Group 1 insurance by 71k mile 2001X Lupo 1.0E selling for a huge £1,400.
In comparison, a 46k mile 98S Xsara 1.6LX with MoT and drive home tax was a real bargain at £475.
But the main point about Sure Sell is that vendors are finding buyers without having to actually meet them. And getting as much if not more than they would have done selling from home.
That has to be a good thing.
More at
www.sure-sell.info
Here's the full list in order of the sale. As usual, 's' means sold. 'p' means top provisional bid, 'n/s' means not sold. 'n/w' means miles not warranted. 'MNW' means unknown mileage. 'dmg' means damaged. 'fl' means facelift. 's/r' means sunroof.
Toyota Celica 1.8, 2000W, 47k miles not warranted £3,600p
Nissan Almera Tino 2.2DI SE, 2001/51, 111k not warranted £1,575s
Vauxhall Vectra 1.8GLS, 1998S, 148k miles £350s
Audi A3 1.8SE 3-dr, 1001X, 116k miles £2,600s
Ford Focus 1.6LX, 1999V, 96k not warranted £1,450p
Vauxhall Astra 1.7TD LS estate, 2000W 86k not warranted £1,400s
VW Golf IV 1.4S 5-dr, 1998S, 66k not warranted £2,025s
LandRover Freelander 1.8EXI 5-dr, 1999V, 65k miles £1,975p
Subaru Impreza WRX Prodrive, 03 regd, 26k miles £7,850p
FIAT Punto 55S 5-dr, 1996N, 56k not warranted £375p
VW Lupo 1.0E, 2001X, 71k miles £1,400s
Citroen Xsara 1.6LX (taxed), 1998S, 46k miles £475s
Citroen Xsara Picasso 2.0HDI Exc, s/r, 03 reg, 47k miles £4,250p
Suzuki Grand Vitara 2.5 auto 5-dr, 1998S, 108k miles £1,100s
Renault Scenic 1.4SR, 1999V, 90k miles £1,625s
Peugeot 406 2.0HDI GLX estate, 1999T, 115k n/w £1,625s
Upcoming Auctions at BCA Blackbushe in January
Monday 28th January 10.00am start
Fleet Direct, Lex, Porsche p/x, Mercedes Benz Retail p/x, Franchised Dealer p/x, Inchcape no reserve p/x, Ridgeway VW p/x, Hartwells p/x, Pendragon p/x
Top Car
Wednesday 30th January 10.00 start
Prime Fleet, Leaseplan, Sytner p/x, Lex, CarGiant, Jardine p/x, Black Horse, Inchcape p/x, Snows Group p/x, Trident Honda p/x.
Thursday 31st January
Light Commercials from Lloyds TSB, Dagenham Motors,
Royal Mail
, Lex, Vauxhall Leasing, Fleet Direct, Northgate, Peugeot.
As always the best way to look for a specific car coming up at a BCA auction or to pre-check a day's sale is to visit
www.auctionview.co.uk
If you are a BCA account holder this service also now gives composite price information (average auction price, CAP and Glass's) and now allows you to buy a selection of cars directly on-line.
Please Note BCA Now Charges All Private Buyers a £23.50 VCA New Keeper Transfer Fee. On behalf of the vendors, BCA is required to notify DVLA via the V5C of changes of ownership.
For sales at BCA Edinburgh, click here for full details:
www.british-car-auctions.co.uk/main.asp?page=60
For BCA online auctions go to
www.bca-online-auctions.co.uk
. Two types of sale: Live Online and Open Tender. These are only available to BCA MyBCA Loyalty Card holders.
For future police sales at West Oxfordshire Motor Auctions. Visit
www.woma.co.uk
, click on 'stocklist', then click on search, or use the faxback on 0906 3080 953 at 60p per minute. Sales are held on Tuesday and Thursday evenings from 5.30pm.
Brightwells HUGE WEEKLY 4x4 SALE takes place every Tuesday at Easter's Court on the A49 by-pass, Leominster, Herefordshire, start time 11.00am, phone: 01568 611325, website:
www.brightwells.com
Comments