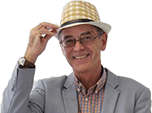 More Cheap Sportscars at Auction Today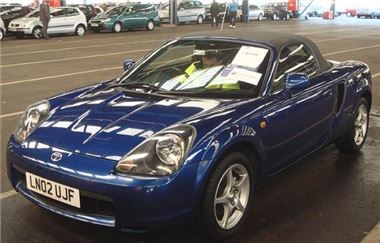 Once again soft-top prices sunk, making them an excellent buy to smoke until Spring, then get your money back plus a bit.
You'd have to buy some clothes when you got there if you'd bought the 41k mile 02 reg MR2 in the photo because there's nowhere to put them in the car. But just £4,700 would leave you enough for a Paul Smith outfit.
The pretty Peugeot 306 convertible in all sorts of shades pf pink that didn't sell on Wednesday sold today for just £1,500. A 2003/53 206CC went for £6,300. A 2003/52 reg SLK 230K sold for £8,950. An 03 reg Audi TT 225 roadster heard the hammer fall at £10,550.
Among the tintops, a mega-mile 2000X Celica went for just £3,000. An 04 Rover 75 1.8T with satnav, 25k miles unwarranted and the Frankenstein facelift sold for £4,900. A 200X Prius sold for £2,700. A Y reg Santa Fe for £2,700. And a 98R CR-V for £1,675.
But some cars were TFD (too dear). We're fast approaching minicab season, which explained why a scruffy 87k mile 2003/53 Sharan TDI 115 made £6,900.
Here's the list. As usual, 's' means sold. 'p' means top provisional bid, 'n/s' means not sold. 'n/w' means miles not warranted. 'MNW' means unknown mileage.
Audi TT 150 roadster, 2003/53, 48k miles £9,550p
Audi TT 180 quattro coupe, 02 reg, 100k n/w £7,500s
Audi TT 225 quattro roadster, 03 reg, 61k miles £10,550s
Audi 80 1.8 cabrio, 2000W, 61k miles £3,750s
BMW 316i 1.8Ti SE Compact, 2004/53, 103k miles £5,050s
BMW 523i SE, 1996N, 94k miles £1,675s
FIAT Grande Punto 1.9 JTD Mjt HGT, 2006/56, 15k miles £6,850s
Ford Fiesta 1.2 16v Chicane, 1997R, 86k miles n/w £1,075s
Ford Focus 1.6 Zetec climate 5-dr, 2002/52, 42k miles £3,525s
Honda CR-V 2.0i SE, 1998R, 100k miles n/w £1,675s
Hyundai Santa Fe 2.4 manual, Y reg, 44k miles n/w £2,700s
Jaguar XK8 coupe, 1999S, 51k miles £8,200s
Mercedes SLK 230K auto, 2003/52, 100k miles £8,950s
Peugeot 206CC 1.6S, 2003/53, 26k miles £6,300s
Peugeot 306 2.0 Convertible, 1998S, 83k miles £1,500s
Peugeot 406 2.0HDI 110 estate, 2003/53, 49k miles £4,500s
Renault Clio II 1.6 Etoile auto, 2000W, 36k miles £1,675s
Rover 75 1.8T Cont fl, satnav, 04 reg, 25k miles n/w £4,900s
Suzuki Vitara 1.6JX softop, 1999T, 36k miles n/w £1,550s
Toyota Yaris 1.3CDX 5-dr, Y reg, 51k miles n/w £2,675s
Toyota MR2 VVTI roadster, 02 reg, 41k miles n/w £4,700s
Toyota Celica 1.8 VVTI coupe, 2000Xm 125k miles £3,000s
Toyota Prius 1.5 hybrid auto, 2000X, 65k miles £2,600s
Toyota RAV-4 2.0GX 5-dr, 03 reg, 60k miles £6,100s
Toyota RAV-4 2.0 XT3, 2006/56, 12k miles £13,000p
Vauxhall Corsa 1.6 16v Sport, 2000W, 82k miles £1,100s
VW Sharan TDI 115, 2003/53, 87k miles not warranted £6,900s
2004 MB SLR McLaren Supercharged on Sale at BCA Measham

BCA's Top Car auction at Measham onTuesday 6th November includes a 2004 Mercedes Benz SLR McLaren Supercharged with gull-wing doors. Other top lots include an Aston Martin DB9, an Aston Martin V8 Vantage, a Mercedes CLS 350, Mercedes AMG 5.4 SLK 55 Roadster and a 2006 Maserati Gransport. Other cars on offer include prestige saloons and coupes by BMW, Jaguar, Mercedes-Benz and Audi.

BCA Measham is on the Tamworth Road (B5493) two minutes from Junction 11 of the M42.

Top Car sale starts at 11.00am.


Upcoming Auctions at BCA Blackbushe in November

Monday 5th November 10.30am start
Fleet Direct, Lex, Bank of Scotland, Inchcape Prestige, Porsche Retail p/x, Mercedes Benz Retail p/x, Franchised Dealer p/x, Inchcape no reserve, Hartwells p/x, Pendragon p/x.

Wednesday 7th November 10.00am start
Prime Fleet, Leaseplan Live Online, Black Horse, Lex, Bank of Scotland, Renault Financial Services, General Section, Jardine p/x, Inchcape p/x, Sytner p/x, Snows Group p/x, Trident Honda p/x.

Thursday 8th November 10.00am start
Light Commercials from Lloyds TSB, Dagenham Motors, Royal Mail, Lex, Vauxhall Leasing, Fleet Direct, Northgate, Peugeot.

Friday 9th November
Fleet & Finance, LTSB Autolease, Lex, Bank of Scotland, Motability, General Section, Masterlease, Hitachi Capital, Peugeot Motor Co., Inchcape p/x, Charters p/x, Private Sure Sell.

Monday 12th November
Fleet Direct, Lex, Bank of Scotland, Inchcape Prestige, Porsche p/x, Mercedes Benz Retail p/x, TOP CAR, Franchised Dealer p/x, Inchcape no reserve p/x, Hartwells p/x, Pendragon p/x, Ridgeway p/x.

Wednesday 14th November 10.00am start
Prime Fleet, Hitachi Finance, Leaseplan Live On line, Black Horse, Lex, Bank of Scotland, General Section, Jardine p/x, Inchcape p/x, Renault Financial Services, Sytner p/x, Snows Group p/x.

Thursday 15th November 10.00am start
Light Commercials from XBG, Leaseplan, Citroen, Fleet Direct, Northgate.

Friday 16th November 10.00am start
Fleet & Finance, LTSB Autolease, Motability, Lex, Bank of Scotland, Vauxhall Leasing, Masterlease, General Section, Hitachi Capital, Inchcape p/x, Charters p/x, Private Sure Sell.

Monday 19th November 10.00am start
Fleet Direct, Lex, Bank of Scotland, Inchcape Prestige p/x, Porsche Retail p/x, Mercedes Benz Retail p/x, Franchised Dealer p/x, Inchcape no reserve p/x, Hartwells p/x, Pendragon p/x.

Wednesday 21st November 10.00am start
Volvo Car UK, Leaseplan Live Online, Black Horse, Lex, Bank of Scotland, Prime Fleet, Jardine p/x, Inchcape p/x, Sytner p/x, Snows Group p/x, Trident Honda p/x.

Thursday 22nd November 10.00am start
Light Commercials from Lloyds TSB, Dagenham Motors, Royal Mail, Lex, Vauxhall Leasing, Fleet Direct, Northgate, Peugeot, and Non Runners.

Friday 23rd November 10.00am start
Fleet & Finance, LTSB Autolease, Lex, Motability, Bank of Scotland, Citroen UK Ltd., Masterlease, Hitachi Capital, Peugeot Motor Co., General Section, Inchcape p/x, Charters p/x, Private Sure Sell.

Monday 26th November 10.00am start
Fleet Direct, Lex, Bank of Scotland, Inchcape Prestige, Porsche p/x, Mercedes Benz Retail p/x, TOP CAR, Franchised Dealer p/x, Inchcape no reserve p/x, Hartwells p/x, Pendragon p/x.

Wednesday 28th November 10.00am start
Leaseplan Live Online, Black Horse, Lex, Bank of Scotland, Prime Fleet, Jardine p/x, Inchcape p/x, Sytner p/x, Snows Group p/x, Trident Honda p/x.

Thursday 29th November 10.00am start
Light Commercials from Dagenham Motors, Lex, Fleet Direct, Peugeot, XBG, Citroen, Northgate, Leaseplan.

Friday 30th November 10.00am start
Fleet & Finance, LTSB Autolease, Motability, Lex, Vauxhall Leasing, Masterlease, Hitachi Capital, General Section, Inchcape p/x, Charters p/x, Private Sure Sell.

As always the best way to look for a specific car coming up at a BCA auction or to pre-check a day's sale is to visit www.auctionview.co.uk If you are a BCA account holder this service also now gives composite price information (average auction price, CAP and Glass's) and now allows you to buy a selection of cars directly on-line.

Please Note BCA Now Charges All Private Buyers a £23.50 VCA New Keeper Transfer Fee. On behalf of the vendors, BCA is required to notify DVLA via the V5C of changes of ownership.

For sales at BCA Edinburgh, click here for full details: www.british-car-auctions.co.uk/main.asp?page=60

For BCA online auctions go to www.bca-online-auctions.co.uk. Two types of sale: Live Online and Open Tender. These are only available to BCA MyBCA Loyalty Card holders.

For future police sales at West Oxfordshire Motor Auctions. Visit www.woma.co.uk, click on 'stocklist', then click on search, or use the faxback on 0906 3080 953 at 60p per minute. Sales are held on Tuesday and Thursday evenings from 5.30pm.

Brightwells HUGE WEEKLY 4x4 SALE takes place every Tuesday at Easter's Court on the A49 by-pass, Leominster, Herefordshire, start time 11.00am, phone: 01568 611325, website: www.brightwells.com
Comments