Today's BCA Classic Auction Results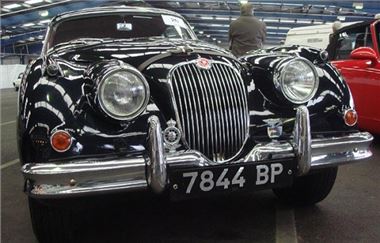 Top bids were for the one-off Buckingham V12 sports saloon, the Porsche 930 Turbo flatnose cabrio, a Rolls Royce Silver Cloud LWB saloon by Hooper, a Healey 3000, a Ferrari Dino 246GT, a Rolls Royce Corniche and a Ferrari 328GTS.
Bargains included the ex John Appleton XK150S in the photo, sold for £19,000, and a TVR 250i roadster sold for just £2,800.
A couple of late Japanese modern classics were included in the sale. A smart 91J Nissan Figaro bid to only £4,200, and a cracking little 95N Suzuki Cappuccino to just £2,500.
Full results list below. Next Classic Sale at Blackbushe on Tuesday 27th November from 12.00 noon with viewing from 9.30am. Details at
www.classic-car-auction.co.uk
(Results are plussed up to include commission and VAT on commission. Note provisionals may have later been accepted.)
1923 Austin Seven Type AB Van £7,599 provisional
1924 Morris T-Type 1-ton Van £7,599 provisional
1938 Austin Seven Ruby MkII £3,129 provisional
1957 Triumph TR3 £11,985 provisional
1958 Rolls-Royce Silver Cloud LWB Saloon by Hooper £32,408 prov
1959 XK150 Coupé (Ex-John Appleton) £20,115 sold
1966 (donor) Dunsmore Special (Jaguar 4.2) £11,175 provisional
1966 MGB Roadster £5,811 provisional
1967 Austin-Healey 3000 MkIII Phase 2 £22,909 provisional
1968 Alfa Romeo Duetto Spider 1600 £5,405 provisional
1968 Jaguar 340 (52,000 miles - 2 owners) £8,717 provisional
1969 Morris Minor 6cwt Pick-Up (1275cc engine) £568 sold
1972 Bedford CF Dormobile Freeway Caravanette £1,518 prov
1972 Audi 100 LS (17,500 miles - one recorded owner) £2,682 sold
1971 Ferrari Dino 246 GT £31,290 sold
1975 Bristol 412 Saloon/Convertible £7,599 sold
1975 Rolls-Royce Corniche Convertible £21,512 provisional
1977 Daimler Double Six (45,552 miles) £2,012 provisional
1977 Rolls-Royce Corniche Convertible £25,703 provisional
1978 Triumph Stag (39,450 miles) £4,694 provisional
1979 MG B GT £2,123 provisional
1982 Mercedes-Benz 380 SL £3,464 provisional
1984 TVR 350i Convertible £3,129 sold
1985 Lotus Esprit Turbo £6,258 provisional
1985 Buckingham V12 (Unique build 440 miles) £28,496 sold
1985 Jaguar XJS-C HE £2,961 provisional
1985 Mercedes-Benz 280 SL £3,911 sold
1986 Porsche 930 SE Turbo Cabriolet (Flatnose) £25,423 prov
1987 Mercedes-Benz 420 SEC £1,788 provisional
1989 Ferrari 328 GTS £26,541 provisional
1989 Jaguar XJS V12 Convertible (45,000 miles) £6,593 prov
1991 Lotus Omega LHD (Carlton) £10,058 provisional
1991 Nissan Figaro £4,694 provisional
1991 Rolls-Royce Silver Spur II (37,000 miles) £17,321 provisional
1992 Maserati 430 Bi-Turbo Saloon £3,241 sold
1993 Jaguar XJ6 3.2 £818 provisional
1995 Suzuki Cappuccino (37k miles) £2,794 provisional
Latest information and post sale prices at
www.classic-car-auction.co.uk
Comments