Sports cars cheap at auction today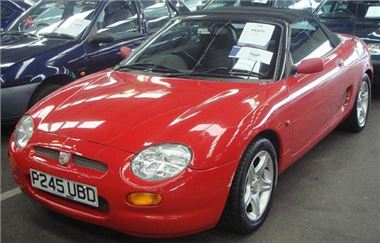 The market seems to have taken a bit of a tumble over the last week, to put it mildly. Many of the big sites are quiet. And at least one mortgage broker has seen his business drop from fourteen enquiries a day to one. Since rising property values are where half of the money for used cars comes from we are bound to see a levelling off. The trick will be buying just before it bottoms out and bounces back, which is what has always happened before. Now could well be the time to buy.
Could I tempt you with this 53k mile 97P MGF VVC, sold for just £1,300? Maybe a rather leggy but clean 119k mile 98S BMW Z3 1.9, sold for £4,200? Or possibly the cheapest 88k mile 97P Mercedes SLK230K auto I've ever seen at £6,200?
Fleet owners holding Porsche 911s were trying to buck this trend, some more successfully than others. Top Porsche price of the day was a resounding £62,100 for a year old 7k mile 997 Carrera S convertible. Bottom was £15k provisional for a 105k 98R 996 3.4 with 105k miles.
A really beautiful 87k 99T Rover 75 2.5 KV6 Connoisseur, spotless inside and our, sold for £1,750. A 71k mile 99V Rover 414 SEI went for a monkey. While a 44k miles unwarranted 96P Rover 114GSI went for £175.
But don't expect anything that qualifies for £35 a year VED to be cheap. Seems that punters are prepared to pay up to £1,000 over the odds to avoid £80 more a year in tax. I guess the same people who used to spend four hours queuing at the pumps on Budget day just to save threepence a gallon.
Here's the list. As usual, 's' means sold. 'p' means top provisional bid, 'n/s' means not sold. 'n/w' means miles not warranted. 'MNW' means unknown mileage.
BMW 316i 1.8Ti SE Compact, 2004/54, 40k miles £7,700s
BMW 323 Ci coupe, 1999V, 124k miles £3,800p
BMW Z3 1.9 roadster, 1998S, 119k miles £4,200s
Citroen Berlingo 1.9D Multispace, 2000X, 59k n/w £2,350s
Citroen Xantia 1.8LX facelift, 1999T, 45k miles n/w £625s
Ford Focus 1.6LX 5-dr, 1999T, 125k miles n/w £800s
Jaguar XJ6 3.0V6 SE, 2004/54, 77k miles £12,900p
Lexus GS300 SE-L, 2005/55, 32k miles £19,750p
Lexus LS400, 1998R, 184k miles (15 stamps) £2,425s
Mercedes C180 Elegance auto, 1996P, 76k miles £1,500s
Mercedes SLK 230k auto, 2007P, 88k miles n/w £6,300s
Mercedes E270CDI Avantgard, 03 reg, 81k miles £10,300s
Porsche 911 996 3.4 Carrera, 1998R, 105k miles n/w £15,000p
Porsche 911 996 3.4 Carrera, 2000V, 58k miles £19,000p
Porsche 911 996 3.6 Turbo, 2000W, 51k miles £33,900s
Porsche 911 996 3.4 C4 Tip, Y reg, 60k miles £23,100p
Porsche 911 996 3.6 C4 Tip, 2003/53, 40k miles £36,800p
Porsche 911 997 3.8 Crra S Tip con, 2006/56, 7k miles £62,100s
Renault Megane 1.6 Alize, 1998R 100k miles n/w £550s
Rover 111i Kensington 3-dr, 1996N, 62k miles n/w £230s
Rover 114i GSI 5-dr, 1996P, 44k miles n/w £175s
Rover 414i SEI 5-dr, 1999V, 71k miles n/w £500s
Rover 75 2.5V6 Conn manual, 1999T, 88k miles £1,750s
SEAT Alhambra 1.9 TDI 115 S, 2001/51, 145k n/w £4,025s
Smart ForFour 1.1 Pulse, 05 reg, 34k miles £3,600s
Toyota Yaris 1.0VVT-I T3 5-dr, 05 reg, 15k miles £4,450s
Toyota Corolla 1.3 Sportif 3-dr, 1996P, 75k miles £625s
Toyota Previa 2.4GL auto 8-str, 1995M, MNW £800
Vauxhall Astra 1.6LS 16v, 2002/52, 64kmiles £2,600s
Vauxhall Vectra 1.8LS, 1997R, MNW £270s
Upcoming Auctions at BCA Blackbushe in October
Wednesday 24th October 10.00am start
Volvo UK, Leaseplan Live Online, Black Horse, Lex, Bank of Scotland, Prime Fleet, Jardine p/x, Inchcape p/x, Sytner p/x, Snows Group p/x, Trident Honda p/x.
Thursday 25th October 10.00am start
Light Commercials from Lloyds TSB, Dagenham Motors, Royal Mail, Lex, Vauxhall leasing, Fleet Direct, Peugeot, Northgate, Non Runners.
Friday 26th October 10.00am start
Fleet & Finance, LTSB Autolease, Lex, Bank of Scotland,
Motability
, Citroen UK, Masterlease, Hitachi Capital, Peugeot UK, General Section, Inchcape p/x, Charters p/x, Private Sure Sell.
Monday 29th October 10.30am start
Fleet Direct, Lex, Bank of Scotland, Inchcape Prestige, Porsche Retail p/x, Mercedes Benz Retail p/x,
TOP CAR
, Franchised Dealer p/x, Inchcape no reserve, Hartwells p/x, Pendragon p/x.
Wednesday 31st October 10.00am start
Leaseplan Live Online, Black Horse, Lex, Bank of Scotland, Jardine p/x, Inchcape p/x, Sytner p/x, Snows Group p/x, Trident Honda p/x.
As always the best way to look for a specific car coming up at a BCA auction or to pre-check a day's sale is to visit
www.auctionview.co.uk
If you are a BCA account holder this service also now gives composite price information (average auction price, CAP and Glass's) and now allows you to buy a selection of cars directly on-line.
Please Note BCA Now Charges All Private Buyers a £23.50 VCA New Keeper Transfer Fee. On behalf of the vendors, BCA is required to notify DVLA via the V5C of changes of ownership.
For sales at BCA Edinburgh, click here for full details:
www.british-car-auctions.co.uk/main.asp?page=60
For BCA online auctions go to
www.bca-online-auctions.co.uk
. Two types of sale: Live Online and Open Tender. These are only available to BCA MyBCA Loyalty Card holders.
For future police sales at West Oxfordshire Motor Auctions. Visit
www.woma.co.uk
, click on 'stocklist', then click on search, or use the faxback on 0906 3080 953 at 60p per minute. Sales are held on Tuesday and Thursday evenings from 5.30pm.
Brightwells HUGE WEEKLY 4x4 SALE takes place every Tuesday at Easter's Court on the A49 by-pass, Leominster, Herefordshire, start time 11.00am, phone: 01568 611325, website:
www.brightwells.com
Comments