More Cheap Cars at Auction Today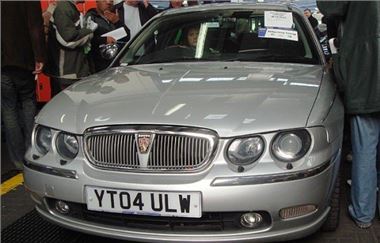 Not all of them, of course. There are always some on the most wanted list. But today there were plenty of cheap part exchanges.
98k mile 97P Proton Persona £120. 61k mile Skoda Felicia 1.3LXi £140. 97k mile 96P Rover 620Si £210. A Backroom favourite 106k miles unwarranted 1996N Nissan QX 3.0SEL with leather £350. 169k unwarranted 1999T Ford Cougar V6 £1,000. And, possibly bargain of the day, a 115k mile 04 reg pre facelift Rover 75 2.0CDT Connoisseur in fine fettle that went for £3,275.
Yet another Maxima QX V6 SE+, this one a 56k mile 02 was bang on book at £3,700. And a couple of bidders got into a right old fight over a very ordinary 117k miles unwarranted 97R Passat TDI 90 S. One of them ended up paying a whopping £1,625 for it.
Here's the list. As usual, 's' means sold. 'p' means top provisional bid, 'n/s' means not sold. 'n/w' means miles not warranted. 'MNW' means unknown mileage.
Audi A8 4.2 quattro, 03 reg, 67k miles £13,850s
BMW E36 318iSE, 1999V, 89k miles £3,800s
Citroen C3 1.6 Exclusive Sensodrive, 03 reg, 52k miles £2,975
Ford Focus 1.8 Zetec, 1999V, 57k miles £2,650s
Ford Mondeo 2.0 Zetec, 1999V, 114k miles £675s
Ford Mondeo 1.8LX, 02 reg, 57k miles £2,100s
Ford Cougar 2.5 V6 24v, 1999V, 169k miles n/w £1,000s
Mazda Xedos 6 2.0V6 auto SE, 1999V, 108k miles n/w £725s
Mercedes SLK 230K auto, 1997P, 69k miles n/w £5,800s
Mercedes W140 S320L, 1997R, 44k miles n/w £2,900s
Mitsubishi Pajero 2.8 LWB auto, 2004M, 150k miles £1,900s
Nissan QX 3.0V6 SEL auto, lthr, 1996N, 106k n/w £350s
Nissan Maxima QX 3.0V6 SE+ auto, lthr, 02 reg, 56k miles £3,700s
Proton Persona 1.8 Penang 5-dr, 1997P. 98k miles £120s
Renault Scenic 1.6 16v Sport, 2000W, 60k miles £2,000s
Rover 620 Si, 1996P, 97k miles £210s
Rover 75 2.0CDT Connoisseur, 04 reg, 115k miles £3,275s
Skoda Felicia 1.3LXi, 1995N, 61k miles £140
Vauxhall Astra 1.4i HT Merit, 1996P, 66k miles n/w £280s
Vauxhall Omega 2.2i 16v CD auto, 2002/52, 73k miles £2,425s
VW Polo 1.4CL 3-dr, s/r, 1998S 97k miles £950s
VW Passat 1.9TDI 90 S, 1997R, 117k miles £1,625s
Remaining Auction at BCA Blackbushe in October
Wednesday 31st October 10.00am start
Leaseplan Live Online, Black Horse, Lex, Bank of Scotland, Jardine p/x, Inchcape p/x, Sytner p/x, Snows Group p/x, Trident Honda p/x.
As always the best way to look for a specific car coming up at a BCA auction or to pre-check a day's sale is to visit
www.auctionview.co.uk
If you are a BCA account holder this service also now gives composite price information (average auction price, CAP and Glass's) and now allows you to buy a selection of cars directly on-line.
Please Note BCA Now Charges All Private Buyers a £23.50 VCA New Keeper Transfer Fee. On behalf of the vendors, BCA is required to notify DVLA via the V5C of changes of ownership.
For sales at BCA Edinburgh, click here for full details:
www.british-car-auctions.co.uk/main.asp?page=60
For BCA online auctions go to
www.bca-online-auctions.co.uk
. Two types of sale: Live Online and Open Tender. These are only available to BCA MyBCA Loyalty Card holders.
For future police sales at West Oxfordshire Motor Auctions. Visit
www.woma.co.uk
, click on 'stocklist', then click on search, or use the faxback on 0906 3080 953 at 60p per minute. Sales are held on Tuesday and Thursday evenings from 5.30pm.
Brightwells HUGE WEEKLY 4x4 SALE takes place every Tuesday at Easter's Court on the A49 by-pass, Leominster, Herefordshire, start time 11.00am, phone: 01568 611325, website:
www.brightwells.com
Comments