Cheap diesel Jaguars at auction today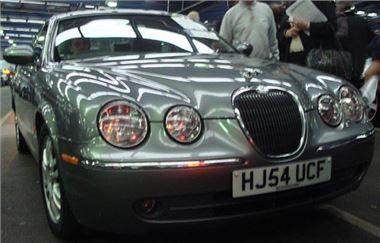 This 2004/54 S-Type 2.7V6 diesel auto had done 115k miles, but £9,000 was a new low to me for an S-Type diesel. So was £5,450 for a 102k mile 2004/54 X-Type diesel Classic.
I got the distinct impression that businesses with big stocks of cars were quite anxious to offload them today before prices fall. There isn't a lot of consumer confidence out there, but, though there's no panic, vendors seem to be reacting more quickly than the trade. And since this is traditionally the time of year when tings slow down we could see some very cheap cars at auction over the next month.
Traders aren't digging deep to buy big stuff, though. BMWs and Mercedes are all more affordable now. A 27k mile 2005/55 Porsche 911 997 with no satnav went for £4,800 under book, selling for £43,200.
Top bid for a 2006/56 Mercedes CLS 500 with the latest 388PS engine, leather, satnav and just 8k miles was £37,000. While a 33k mile 2005/55 W220 S320CDI L saw the bidding stop at just £24,300.
While big 4x4s seem to have gone over a cliff. Check the sold and bid prices for Shoguns and a Touareg down below.
If you need something to pull horses, a caravan, or even a hamburger stand, the next few weeks could be the time to buy it.
BCA now offers new ways to pay. You can now use Mastercard and Visa to buy cars at the cost of a 2% transaction + VAT charge. (That's £200 on a £10,000 car.) Cash payments attract a 1% + VAT handling charge. But there is no extra charge for using Debit cards, cheques supported by a My BCA account card, bank drafts or telegraphic transfers.
Here's the list. As usual, 's' means sold. 'p' means provisional bid. 'n/s' means not sold. 'n/w' means miles not warranted. 'dmg' means damaged. 'd/r' means damaged/repaired.
BMW 118dSE, 2004/54 23k miles £11,000s
BMW 118dSE, 2005/55 54k miles £9,050s
BMW E46 320d SE auto, 2004/54, 89k miles £9,050s
BMW E90 320d SE, 05 reg, 74k miles £12,100s
BMW X3 2.5 Sport auto, lthr, 2004/54, 69k miles £13,000s
BMW Z4 2.0SE roadster, 2005/55, 24k miles £13,700s
BMW Z4 2.2SE roadster, 05 reg, 41k miles £12,800s
BMW E60 525dSE, lthr, man, 04 reg, 110k miles £11,000s
Citroen Xsara Picasso 2.0HDI s/r, 2003/52, 138k miles £1,800s
Ford Focus 1.6 Zetec 5-dr auto, 2001/51, 92k miles £2,600s
Ford Mondeo 2.0TDDI Zetec estate, 2002/51, 106k miles £2,700s
Ford Mondeo 2.0TDCI 115 LX f/lft, 04 reg, 91k miles £3,875s
Ford Mondeo 2.0TDCI 115 LX auto, 2004/54, 91k miles £4,100s
Ford Galaxy TDI 115 Zetec, 2005/55, 37k miles £10,800s
Jaguar X-Type 2.0DClassic, 2004/54, 102k miles £5,450s
Jaguar S-Type 2.7D V6 auto, lthr, 2004/54, 115k miles £9,000s
KIA Sorento 2.5CRDI XS auto, 05 reg, 27k miles £11,400s
Mazda 6 1.8TS, 2004/54, 103k miles £3,500s
Mercedes C220CDIClassic auto, 2003/53, 103k miles £7,200s
Mercedes C270CDI AvantGarde, 03 reg, 95k miles £7,900s
Mercedes CLS 500 388PS, sat, lthr, 2006/56, 8k miles £37,000p
Mercedes S 320CDI L, sat, lthr, 2005/55, 33k miles £24,300p
Mercedes SL350, 2005/55, 28k miles £35,600s
Mits Shogun 3.2DI-D Field 3-dr, 05 reg, 35k miles £8,700p
Mits Shogun 3.2DI-D Equip 3-dr, 2005/55, 19k miles £10,100s
Mits Shogun 3.2DI-D Equip 5-dr aut, 2005/55, 27k miles £11,600s
Mits Shogun 3.2DI-D Warrior 5-dr aut, 2005/55, 30k miles £12,750s
Porsche 911 997 (mapnav). 2005/55, 27k miles £43,200s
Rover 214Si 3-dr, 1997P, 74k miles n/w £400
Rover 75 2.0CDTI Club SE Tourer, 2003/53, 157k miles £2,500s
SEAT Leon 1.8 20v T Cupra R, 2003/53, 29k n/w £8,500s
Toyota Corolla Verso 2.0 D-4D, 7-str, 04 reg, 86k miles £6,150s
Toyota Corolla Verso 2.2 D-4D, 7-str, 2005/55, 18k miles £11,600s
Toyota Corolla Verso 2.2 D-4D, 7-str, 06 reg, 15k miles £12,000s
Vauxhall Astra 1.7CDTI LS estate, 04 reg, 133k miles £2,350s
VW Golf V 1.4S, 2004/54, 23k miles £6,500s
VW Golf V 1.9TDI SE, 2004/54, 78k miles £7,500s
VW Touareg 2.5TDI auto, 04 reg, 22k miles £14,600n/s
Volvo V50 2.0DSE, 2004/54, 55k miles £10,000s
Upcoming Auctions at BCA Blackbushe in October
Tuesday 2nd October:
Classic Car Auction
Starts 12.00 noon. View from 9.30am,
Full entry list at:-
www.classic-car-auction.co.uk
(Details other October auctions TBA)
As always the best way to look for a specific car coming up at a BCA auction or to pre-check a day's sale is to visit
www.auctionview.co.uk
If you are a BCA account holder this service also now gives composite price information (average auction price, CAP and Glass's) and now allows you to buy a selection of cars directly on-line.
Please Note BCA Now Charges All Private Buyers a £23.50 VCA New Keeper Transfer Fee. On behalf of the vendors, BCA is required to notify DVLA via the V5C of changes of ownership.
For sales at BCA Edinburgh, click here for full details:
www.british-car-auctions.co.uk/main.asp?page=60
For BCA online auctions go to
www.bca-online-auctions.co.uk
. Two types of sale: Live Online and Open Tender. These are only available to BCA MyBCA Loyalty Card holders.
For future police sales at West Oxfordshire Motor Auctions. Visit
www.woma.co.uk
, click on 'stocklist', then click on search, or use the faxback on 0906 3080 953 at 60p per minute. Sales are held on Tuesday and Thursday evenings from 5.30pm.
Brightwells HUGE WEEKLY 4x4 SALE takes place every Tuesday at Easter's Court on the A49 by-pass, Leominster, Herefordshire, start time 11.00am, phone: 01568 611325, website:
www.brightwells.com
Comments