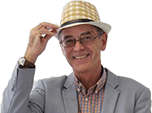 Young, free and female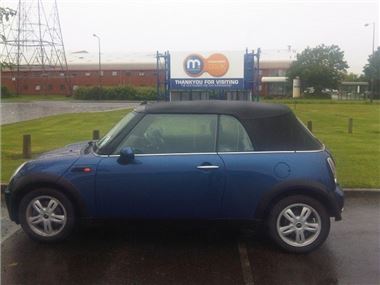 In association with Motorpoint
This car is a real stunner.
In hyper blue, the mini cooper convertible 1.6 is an absolute head turner. This
model is a really popular one, selling out very quickly
on the Motorpoint
showroom floor so you'll have to be quick if you want to get your hands on one
of these.
I was lucky enough to get a
drive in the mini cooper convertible 1.6 2dr on a 2007 plate, unfortunately,
for the wettest week I think we have ever experienced!
I was able to take the
roof down once for about twenty minutes before the heavens opened and I looked
like one of those people I laugh out loud at when I
see them pulling over in
the pouring rain to put the roof back up.
On the outside, mini have
been really careful about not loosing too much of the minis original charm.
With body coloured bumpers, brushed steel door sill finishers
and chrome door
handles this car really looks quite special. The interior has been
sympathetically renovated to feature chunky round dials and instruments that

remind me very much of the mini cooper, in British racing green, that I had as
my first car many moons ago.
The mini cooper comes as
standard with a five speed manual multi point fuel injection gear box, 15 inch
alloy wheels, electric windows, abs, driver front passenger
air bags (front and
side) and cornering brake control. The electric roof mechanism is really simple
to use. It is as simple as pressing a button located just above the
rear view
mirror twice. The roof folds back half way, drops the front windows slightly
and another press fully reclines the hood to reveal the good looking chrome

effect rear passenger roll hoops. A great addition to the sporty look of the
Mini Cooper convertible.
To drive, around town, this
car is bags of fun. It handles round corners effortlessly with energy and
stability – sticking to the road, even in the wet like glue.
It still has the
go-kart feel that it always did even though the new model is far bigger than
the oldies. With the roof down, there's no comparison, in my mind
to other
cars. It shouts, I'm fun, I'm young and I'm having a good time. It's certainly
a car I would consider as a purchase for me.
Unfortunately, there is one
major down fall with the mini cooper convertible 1.6 and that is poor
visibility. With the roof up, your rear view is seriously limited by
the large
canvas roof, which has of course no rear passenger windows and a very small
rear window. It makes your blind spot very difficult to check when you
are
overtaking which is something I am absolutely obsessive about. I've never been
one to trust the wing mirrors without having a quick glance over my shoulder.

The mirrors are large and automatically adjustable, but still not enough for
the peace of mind I get from that lifesaver over the shoulder check.
The problem is made far
worse, where visibility is concerned, by heavy rain and speed. Motorway driving
in the wet isn't much fun. As the canvas roof gets wetter
and the air inside
the car becomes warmer, condensation becomes a big problem for the mini
convertible. Even with the air re-circulation on full blast the windsreen and
side windows steam up in bad weather. This makes the mini an absolute liability
on a very wet day. Be very aware of this, if you plan to use the mini for a day
to day commute. You won't find it
much fun to drive throughout the winter.
To tax, the mini cooper
convertible will cost you £175 per year and is in group H. For fuel economy the
mini doesn't win any prizes for prudence
but it won't break the bank either. It
returned just under 34 miles per gallon which is ok I think for a car with as
much get up and go as this.
The mini is not a car built
for economy, it is a car built for style and drive and it delivers on both
counts. Despite its misgivings, I loved driving
the mini and I loved being seen
driving the mini.
This isn't a car for the weekly shop or taking the kids to
school and it isn't a car that is particularly economical or kind to the
environment.
The mini cooper convertible
1.6 16 valve manual is a car for the young, free and female ….. I loved it.
All cars are supplied kindly by Motorpoint Newport.
Founded in 1998, Motorpoint is the UK's number one car supermarket group. It
currently operates
from five locations – Burnley, Derby, Glasgow, Newport and
Peterborough. In 2008, Motorpoint sold 35,000 new and nearly vehicles.
For more information call Motorpoint Newport on
084...
or visit www.motorpoint.co.uk




I am comparing nearly new forecourt cars with within the same year of
manufacture and with similar mileages. Prices featured are available at

Motorpoint at the time of going to press. These prices may be subject to change
at any time.
Comments