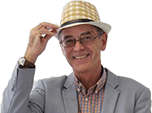 Smart car smart choice?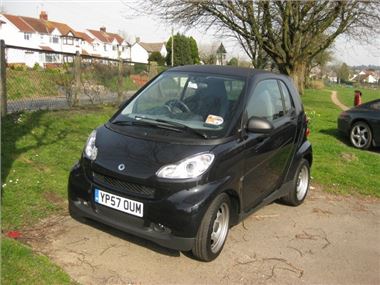 I like big cars. So it came as a real surprise to me, when I picked up my Smart Fortwo from Motorpoint in Newport, that I really loved its funky styling inside and out and was looking forward to taking the fun sized carbon buster out for a spin. The plan was to test its guts on a two hour journey along the M4 into central London and see whether or not it was robust enough to really earn its price tag and be a real contender against other superminis.
The model I tested was the Smart Fortwo Coupe Pure, 999cc with a semi automatic gear box. What I mean by semi automatic, is that there is no drive mode as you have with a fully automatic vehicle so whilst you have no clutch, just a brake and accelerator, you do shift the gear lever forwards or backwards for a higher and lower gear respectively but not in the standard H system of a manual. It's actually a really easy system to use. When you come to a complete stop the gear pre-selects first and there's a straight forward arrow on the dash that advises you when you need to shift up or down. Simple.
We all know that the Smart Fortwo is marketed as the metropolitan friend of the earth. Great for scooting into and around the town centre, easy to park, kind to the environment and in the pocket . I can most definitely report that it is all of these things.
What I didn't know was whether or not the Fortwo would hold its own for a two hour ride on the motorway and offer a good alternative to other superminis as a second car. The Fortwo is priced powerfully against the Toyota Aygo, the Ford Ka and the Kia Picanto. I haven't driven the new KA, but I have driven the previous model and the new Aygo and Picanto. Whilst I wouldn't choose to clock up thousands of motorway miles in either I have commuted reasonable motorway distances in both and would have no hesitation in doing so again.
Unfortunately, the same cannot be said for the Smart Fortwo Coupe Pure. The Fortwo will do a top speed of just over 60 miles an hour comfortably which meant I was just about able to keep up with an Audi TT travelling over the Seven Bridge, on the back of a vehicle transporter but not much else.
The speed, in isolation isn't too big a problem. There are lots of drivers out there who are comfortable on the motorway doing 60mph. The problem is, that the Smart Fortwo is a very odd shape. It isn't just a small car, it's also a very very short car. From nose to tail it's just over 8ft long, a full three feet shorter than its competitors the Aygo and the Ka. Not only is it shorter than its competitors, but its also the tallest of the lot from top to bottom. Around a town, you hardly notice this at all, but on the motorway it gives the Smart the aerodynamic grip of a weeble making it a real victim to any side wind.
This problem was so bad for me that I decided rather than drive it to London, I'd train into central London from Bristol Parkway and back again. Leaving the Smart Fortwo firmly where it belongs ….. in the city. Disappointing but hardly surprising.
So head to head how do the Smart Fortwo, Toyota Aygo, Ford KA and Kia Picanto rate against all the things that are important to me: Price, fuel economy, safety, drivability, environment and tax?
Model Price Road TaxMPG Safety City Travel (M) Travel
Smart Fortwo 999cc 2dr automatic £5,999 £ 35 pa 57 mpg4 * NCAP Yes No
Toyota Aygo 1.0 vvti 5dr automatic £5,999 £ 35 pa 60 mpg 4 * NCAP Yes Yes
Ford KA 1.3i Style 3dr manual £4,499 £120 pa 67 mpg 4 * NCAPTBC TBC
Kia Picanto 1.1 LS 5dr coupe auto£5,499 £120 pa 47 mpg 4 * NCAP Yes Yes
The table summarises the results pretty well here and I know if I had £6k to spend on a small car and was looking for a great deal I'd get myself to Motorpoint and buy the Toyota Aygo 1.0 VVTI 5dr automatic for £5,999.
Full test on the Toyota Aygo coming soon.
All cars are supplied kindly by Motorpoint Newport. Founded in 1998, Motorpoint is the UK's number one car supermarket group. It currently operates from five locations – Burnley, Derby, Glasgow, Newport and Peterborough. In 2008, Motorpoint sold 35,000 new and nearly vehicles. For more information call Motorpoint Newport on 0845 4132 400 or visit
www.motorpoint.co.uk
.
I am comparing nearly new forecourt cars within the same year of manufacture and with similar mileages. Prices featured are available at Motorpoint at the time of going to press. These prices may be subject to change at any time.
For a full and comprehensive quote please visit
www.motorpoint.co.uk
Comments