Citroen C4 Grand Picasso (2014 – 2018) Review
Citroen C4 Grand Picasso (2014 – 2018) At A Glance
The Citroen C4 Grand Picasso is one of a rare breed. It's a seven-seater that manages to still offer a degree of style, and it looks genuinely different to the boxy van-like image of traditional MPVs. The seven-seat MPV is a bit of a rarity in itself these days, with buyers tempted away into SUVs like the Skoda Kodiaq and Peugeot 5008, but there are still traditional rivals to the Grand C4 Picasso, like the Renault Grand Scenic, SEAT Alhambra and Ford S-MAX. The Grand C4 Picasso was on sale from 2014-2018, with the latest model now going by the Grand C4 SpaceTourer name.
The biggest people carrier in Citroen's range, the Grand C4 Picasso, looks genuinely different from traditional boxy family-movers.
Thankfully the designers didn't forget about practicality. The Grand C4 Picasso is extremely spacious, with mountains of front and rear legroom. After a few minutes of familiarisation, all the mechanisms for shuffling and folding the seats are straightforward and don't require much effort.
There's also a third row of two seats, which fold out from the floor easily and can seat a small adult at a push. They're better suited to children though.
There is generous boot space with the third row folded flat and the load volume can be expanded by sliding the middle row forward. It grows to a colossal 2181 litres with the middle row folded flat and if you have a long object carry the front passenger seat also folds on top spec versions, making it possible to stow loads of nine feet in length.
It might be practical, but the Grand C4 Picasso isn't without its flaws – some of the interior plastics feel cheap and the glovebox is all but useless because the fuse box hasn't been relocated for right hand drive. That said there are plenty of cubby holes, plus neat features like a removable torch in the boot and flip-up picnic tables in the seat backs.
Generally speaking the quality of materials is good. It's not quite as solid as a Volkswagen but it's by no means bad.
There's a good mixture of soft touch plastic and metal on the dashboard and door tops, but lower down some of the plastics are a little scratchy and feel a bit cheap. The upholstery feels a bit rough on lower trim levels, but at least it should stand the test of time.
There are plenty of nice touches to add to the appeal of the Grand C4 Picasso, including massaging seats and high-tech functions like automatic parking. There are also wipe down rubber floor mats – handy if you have passengers with muddy boots. Additionally, there's a touchscreen infotainment system which controls most functions, including air conditioning and radio.
The engine range is straightforward, with a petrol and three diesels. They're all very good, so you can't really go wrong, but if you regularly carry a fully-laden car then the extra torque of a diesel will come in handy.
The Grand C4 Picasso is at its best with the smooth EAT6 auto transmission too, which is only available paired to a diesel engine. 
The Ford S-MAX is a more enjoyable car to drive, but if you're more concerned with comfort than surprising B-road dynamics you can't go too far wrong with the Grand C4 Picasso. It's huge, family-friendly and relaxing, plus it comes with a good level of equipment even in the basic Touch trim level. It's even competitive on price, so it's very easy to recommend. 
What do owners think of the Citroen C4 Grand Picasso (2014 – 2018)? Check out our
Owners' Reviews
from people who live with the car day in, day out.
Reviews for Citroen C4 Grand Picasso (2014 – 2018)'s top 3 rivals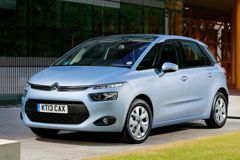 Citroen C4 Picasso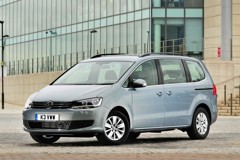 Volkswagen Sharan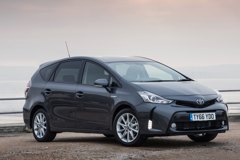 Toyota Prius+
Ask Honest John
What's the best secondhand MPV?
"Which secondhand MPV would you recommend for about £12,000?"
A Vauxhall Zafira Tourer represents excellent value for money and there are plenty available on the used market. Also look at the Citroen Grand C4 Picasso or a SEAT Alhambra if you need more space.
Are there any cars with sliding doors that fit three child seats?
"I want a car or MPV with sliding doors for a family of three kids and two adults. I currently have a Ford S-MAX and we can get three child seats in the middle row but obviously that doesn't have sliding doors. I'm considering the Mazda 5 but want to know if the middle row will hold three seats. We don't want to go as big as the SEAT Alhambra. Hope you can help."
Unfortunately, the Mazda 5 is not compatible with what you want. It's very unlikely to seat all three kids in the back - and it only has two Isofix anchor points in the second row anyway. That leaves you with two options (unless you can think of an alternative model I haven't): 1) a larger car like the Sharan or MPV with sliding doors, 2) a slightly smaller car without sliding doors. You're unlikely to get a smaller car with sliding doors, essentially. Here are some models that fit three child seats across the back (but not all have three Isofix points): 1)Audi Q7 2) Peugeot 5008 3)VW Touran 4) VW Sharan/SEAT Alhambra 5) Citroen C4 Grand Picasso 6) Ford Galaxy 7) Renault Grand Scenic 8) Citroen C5 Aircross (two outer seats get isofix mounts) 9) Vauxhall Combo Life/Citroën Berlingo/Peugeot Rifter (second row gets 3 isofix points and fits 3 child seats, but the third row with two seats isn't suitable for car seats. It has sliding doors but is obviously much larger than your S-MAX as it's van-based). 10) Volvo XC90
Answered by
Georgia Petrie
Can you suggest a small estate car for a family of four?
"Is the Skoda Fabia Estate 1.0 suitable for a family of four holidaying with fully loaded and perhaps a roof box, plus bikes on the back? Apart from holiday trips, it would seem to be a good choice for a family with enough space in the boot without going to a larger Estate. I just can't imagine cruising on French motorways in a 1.0-litre petrol with a top box and bikes. I do not want a diesel because the car will likely do mainly short journeys, but I'm not ready to go down the hybrid route either. Are there any alternative Fabia-sized estates worthy of consideration? Presently on my second Citroen C4 Grand Picasso, which is great for holidays but at other times seems unnecessarily big."
You'll probably find a Fabia estate very small for a family of four with holiday luggage. You'd be better looking at some of the bigger estates, like the Octavia. These will still be smaller than your Grand Picasso but much more comfortable and practical than the Fabia. Alternatively, why not get a small car like a Fiesta for day-to-day use and hire a car for the annual holiday?
Should I get an extended warranty for the touchscreen in my car?
"I'm buying a Citroen C4 Grand Picasso which comes with touchscreen for many controls and sat nav. As the car is 65 plate, should I get the £700 extended warranty which would cover the car for a further three years?"
Only if the warranty specifically covers the touchscreen. This has not yet become the problem some people predicted it would, but I can't see any of these systems lasting longer than 10 years. You don't expect a laptop or a PC or a Mac to last 10 years.
More Questions
What does a Citroen C4 Grand Picasso (2014 – 2018) cost?