Volkswagen Golf IV (1998–2004)
Last updated 21 November 2016
Comfortable ride, good quality interior, feels solid and durable, very cheap to run TDI diesels, strong image means it will always be sought after.
Huge number of quality problems in direct contradiction to "Few things in life are as reliable as a Volkswagen" slogan, Ford Focus is better to drive.
Updated 21 November 2016
Report of 2002 VW Golf Mk 4 150TDi reaching 180,000 miles without any trouble after religious oil and filter change every 10k. Also religious on other items. Net result: 100% reliability for several...
Introduction
Fourth generation Volkswagen Golf is by no means the best version, but it still has plenty going for it, including a comfortable and well-finished interior along with a strong image for durability. And with so many Volkswagen Golfs on the second hand market, you certainly won't have any problems finding the right car if you decide to buy one.
Despite Volkswagen having a renowned reputation for high quality and reliability, this Golf suffered from a huge number of problems over its lifetime. That doesn't make the Volkswagen Golf a bad car in itself, it just means you need to be aware of any potential problems when buying.
These aside, the Golf is a safe car with a quality feel, from the thud of the doors to the durability of the switches and buttons in the cabin. It certainly feels like a good quality car from inside. On the move it's comfortable, but lacks the sparkle of other hatchbacks such as the Ford Focus.
But what the Golf does have is brand image. While the Focus may be a better car, the perception of the Volkswagen brand and the Golf in particular, is so strong that it will always be sought after, so selling one presents no problems. There's a wide range of engines too from the sporty 1.8T to the economical TDI diesels, offering something for everyone.
VW Golf IV PD130, Lupo GTi, Beetle V5 2001 Test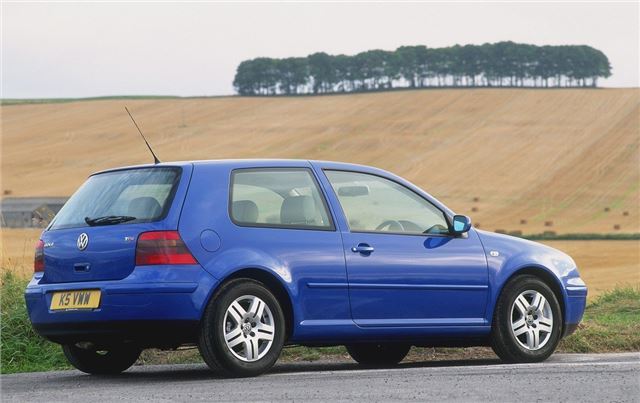 Owners' reviews
2.0 SE Estate - Worst Car Ever !
Not bad, once you fix the common problems
Drives well but plenty of problems
Excellent buy and the most reliable car ive ever owned to date.
Brilliant, solid, and reliable, nicest looking of all the Golfs
145,000 miles and going strong