Volkswagen Beetle (2012–2019)
Model History
April 2011
Volkswagen revealed the new Beetle
Went on sale in North America, then mainland Europe and finally the UK in early 2012. The latest generation moves away from design of the New Beetle of 1998 and instead draws on cues from the original and Beetle Ragster concept shown in Detroit in 2005. As such it's longer, wider and lower, giving a more masculine and dynamic appearance.
The Beetle now measures 4,278 mm in length (+152 mm), 1,808 mm in width (+84 mm) and 1,486 in height (-12 mm). The track width front and rear, as well as the wheelbase at 2,537 mm, are also increased.
The car's new proportions mean the roof extends back further, the windscreen is shifted back and the rear section is now more akin to that of the original Beetle. The boot capacity is a practical 310 litres, up from 209 litres in the 1998 model. The Beetle has four seats, with a split-fold rear seat for added versatility.
Inside the cabin, the Beetle's designers created a modern, practical and distinctive appearance with easy to identify and ergonomic controls. Certain features, such as the glovebox and colour accent panels hark back to the original.
Three trim levels will be available – Beetle, Design and Sport – and each will be endowed with its own individual character and features. A wide range of innovative optional equipment will also be available, ranging from Keyless Access through satellite navigation systems and a panoramic sunroof to bi-xenon headlights and LED daytime running lights – all of which are available for the first time on a Beetle.
In the UK, a choice of four engines will be offered: three petrol – a 1.2-litre TSI 105 PS, a 1.4-litre TSI 160 PS and a 2.0-litre TSI 200 PS; and one diesel – a 1.6-litre 105 PS with BlueMotion Technology. Thanks to the addition of Stop/Start and battery regeneration systems the Beetle 1.6-litre 105 PS is estimated to have a combined fuel consumption of 65.7 mpg and carbon dioxide emissions of 112 g/km.
As well as being economical and environmentally sound, the Beetle is also built to be one of the safest cars on the road thanks not only to features such as standard ESP and six airbags but also a laser-welded and galvanised body structure which has one of the highest torsional rigidity values in the segment. In addition the range-topping engine, the 2.0-litre 200 PS, will feature standard XDS electronic differential lock as fitted to the Golf GTI.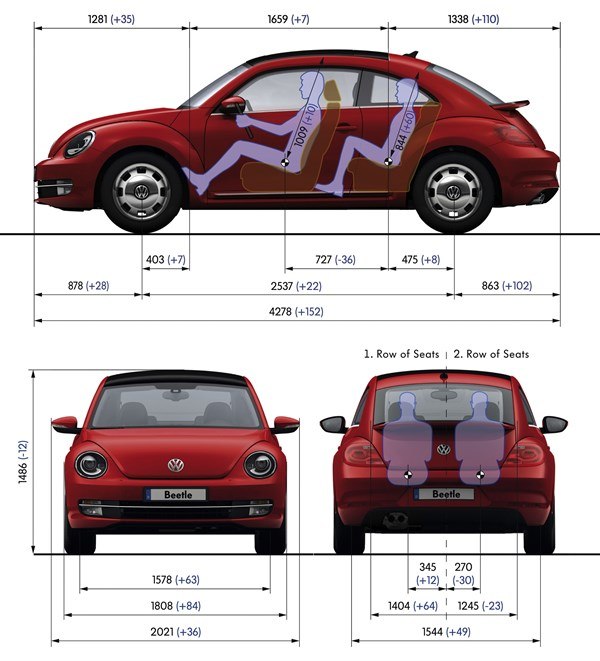 July 2012
Volkswagen expanded the Beetle range
Now with a 140PS 2.0-litre TDI and a 200PS 2.0-litre TSI as supply frees up. Both new Beetles are available with a choice of six-speed manual or six-speed DSG gearboxes.
Trim levels are Design or Sport trim for the 2.0 TDI and Sport or special-edition Turbo Black or Turbo Silver for the TSI, with 19-inch 'Tornado' alloys.
Design trim includes 17-inch alloy wheels in a choice of two styles, Bluetooth telephone pre-prep, an RCD 510 DAB CD/radio with MDI multi-device interface (for connecting an iPod or similar), front fog lights, rear Isofix preparation, an alarm, manual air conditioning, multifunction leather-wrapped steering wheel and body-coloured door and dashboard panels.
The Sport specification adds 18-inch alloys in a choice of styles, tinted glass, cruise control, sports seats, parking sensors, gloss black door mirrors (silver or black on 'Turbo' special editions), gloss black dashboard and door panel and 2Zone electronic climate control. Uniquely, the 2.0-litre TSI 200 PS Sport comes with highlights over and above other models. These include: four-link rear suspension, twin chromed exhaust pipes, red brake calipers and a body-coloured rear diffuser.
September 2012
Volkswagen added two more engine derivatives to the Beetle line-up, thus completing the range and not only lowering the entry-level price by over £1,400, but also reducing the entry-level carbon dioxide emissions value.
There's the 1.2-litre TSI 105 PS with a six-speed manual gearbox (joining the DSG version of the same powerplant) and the 1.6-litre TDI 105 PS with BlueMotion Technology which is offered with either a five-speed manual or seven-speed DSG transmission. Both entry level models are available in entry-level 'Beetle' or 'Design' trim.
The entry-level 1.2-litre TSI with manual gearbox is priced at £15,195 (RRP OTR), which is £1,405 less than the current starting point for the range (for the same 1.2-litre engine but with a DSG gearbox).
Likewise, entry-level carbon dioxide emissions are lowered by 12 per cent to 113 g/km thanks to the addition of the 1.6-litre TDI engine with BlueMotion Technology modifications. As well as bringing lower CO2 values and a combined mpg value of 65.7, the addition of this smaller engine lowers the threshold for diesel-powered Beetle ownership by over £3,000, with the 1.6-litre TDI costing £17,030 (RRP OTR).
Trim
level
Engine
derivative
CO 2 ,
g/km
Comb'd mpg
Price, £ RRP OTR
Beetle
1.2-litre TSI 105 PS 6 spd manual
137
47.9
15,195
Beetle
1.2-litre TSI 105 PS 7 spd DSG
137
47.9
16,600
Beetle
1.6-litre TDI 105 PS BMT 5 spd manual
113
65.7
17,030
Design
1.2-litre TSI 105 PS 6 spd manual
137
47.9
17,570
Design
1.2-litre TSI 105 PS 7 spd DSG
137
47.9
19,030
Design
1.4-litre TSI 160 PS 6 spd manual
153
42.8
19,605
Design*
1.6-litre TDI 105 PS BMT 5 spd manual
113
65.7
19,100
Design*
1.6-litre TDI 105 PS BMT 7 spd DSG
114
65.7
20,560
Design
2.0-litre TDI 140 PS 6 spd manual
129
57.6
20,085
Design
2.0-litre TDI 140 PS 6 spd DSG
140
52.3
21,680
Sport
1.4-litre TSI 160 PS 6 spd manual
153
42.8
21,370
Sport
2.0-litre TSI 200 PS 6 spd manual
172
38.2
22,295
Sport
2.0-litre TSI 200 PS 6 spd DSG
179
36.7
23,805
Sport
2.0-litre TDI 140 PS 6 spd manual
129
57.6
21,850
Sport
2.0-litre TDI 140 PS 6 spd DSG
140
52.3
23,445
Turbo Black/ Silver
2.0-litre TSI 200 PS 6 spd manual
172
38.2
22,995
Turbo Black/ Silver
2.0-litre TSI 200 PS 6 spd DSG
179
36.7
24,505
May 2013
Limited Edition 210PS Volkswagen Beetle GSR announced
Back in 1973, VW launched the Beetle GSR for the European market. Dubbed the 'Yellow-Black Racer', it was based on the Beetle 1303 S. 'GSR' stands for 'Gelb-Schwarze Renner' in German, which means 'Gold-Black Racer'. Only 3,500 of the original 1973 model were produced as well.
For the first time, UK Volkswagen Beetle fans can order a new GSR model with a 210PS petrol turbo engine so it has 'go' to match the 'show'. Only 100 are destined for the UK.
The bonnet and the bootlid of the 1973 Beetle were painted in matt black, as were the bumpers, while black trim strips underneath the side windows and black/yellow side stripes above the door sills rounded off the look. Now, yellow and black are the link between old and new – the bonnet and the bootlid of the new Beetle GSR are black once again, and this time so are the roof and the exterior mirror trims. Black/yellow stripes with 'GSR' lettering ensure a unique silhouette above the side sills. Yellow painted bumpers in new R-Line design and a larger than standard yellow and black rear spoiler complete the GSR look. Unlike the older Beetle – and for those who prefer something a little more subtle – the new Beetle GSR can also be ordered in Platinum Grey and Black.
While the 1973 GSR came with 15-inch steel wheels with 175 size tyres, the latest model features 19-inch 'Tornado' alloy wheels with 235/40 tyres. The black/yellow interior of the GSR from days gone by featured a leather sports steering wheel and sports seats. Four decades later, customers demand more, and the GSR comes with R-Line racing seats (with fabric covers and contrasting yellow stitching), a high-grip leather sports steering wheel (also with contrasting yellow stitching) and a badge with the car's special-edition number (1 to 3,500). The car also boasts an R-Line dash pad, GSR gear stick, leather handbrake lever gaiter and black floor mats with contrasting yellow embroidery.
Forty years ago, the yellow/black Beetle had just 50PS. But with its 2.0-litre turbocharged 210PS engine the GSR needs just 7.3 seconds to accelerate to 62 mph. It has a top speed of 142mph, 280Nm of torque from 1,700 rpm to 5,200 rpm, and is expected to return a combined fuel economy of 38.7 mpg with CO 2 emissions of 169 g/km. The new Beetle GSR can be ordered with either a six-speed manual or DSG gearbox. The manual Beetle GSR costs £24,900 (OTR RRP) with a £1,500 premium for DSG. The car is available to order now with first deliveries expected in September.
Beetle lovers who don't manage to secure one of the UK's 100 Beetle GSR models can still get their hands on a faster Beetle: all 2.0-litre TSI models factory ordered from 1-5-2013 come with the upgraded engine, offering 210PS, rather than the previous model's 200PS.
What does a Volkswagen Beetle (2012 – 2019) cost?
Buy a used Volkswagen Beetle from £7,795