Renault Zoe (2013–)
Model History
March 2012
Renault Zoe unveiled
Initially, in the UK, monthly battery hire costs from £70 (9,000 miles/36 month contract), inclusive of comprehensive breakdown assistance (which covers flat batteries).
Regenerative braking recovers practically all of the energy otherwise wasted during braking, without any significant impact on ZOE's on-road dynamics. The car offers a smooth drive with no jarring electric motor braking.
The system works in two ways - the kinetic energy produced under deceleration and braking is recovered by the motor so that it can be converted into electricity to charge the battery. This feature is also fitted to Fluence Z.E. and Kangoo Z.E. When the driver presses the brake pedal, the system intelligently distributes the braking effort between applying the brake pads and the electric motor brake with a view to maximising the use of the electric motor brake and charging of the battery.
The Zoe uses the Chameleon charger. Patented by Renault, this charger is compatible with all power levels up to 43kW. Charging batteries at a charging station can take between 30 minutes and nine hours. For example, ZOE can be charged in an hour at 22kW. This intermediate power level extends battery life and puts less pressure on the power grid than the fast-charging of batteries at 43kW.
The Chameleon charger allows fast-charging at charging stations at quarter of the cost. Fast-charging stations are currently equipped with high-power chargers. Now that the Chameleon charger is fitted to the vehicle, there is no longer any need for chargers at charging stations. New fast-charging stations will be opened which are easier and more cost-effective. They will cost less than £2,700, a quarter of the cost of existing fast-charging stations.
The synchronous electric motor with rotor coil has a power output of 65kW (equivalent to 89hp) and instantly delivers maximum torque of 220Nm. Acceleration and pull-away are responsive from low speeds. Driving is more relaxing thanks to the silent ride and smooth, gearshift-free acceleration.
Programmable pre-conditioning heats or cools ZOE's cabin when the vehicle is charging. There are two benefits for the system. Firstly, when the driver gets into the car the cabin is just the right temperature and secondly, it removes the need to use up battery charge.
An activated charcoal cabin air filter traps most bad smells and pollutants. It also filters substances just a few microns in size, such as pollen and soot.
Emissions total 62 g/km of CO2 in Europe, versus 89 g/km for the new Toyota Prius. They are even lower in France at just 12 g/km of CO2.
DIMENSIONS
Length (mm)
4,084
Overall width (mm)
1,730
Height (unladen) (mm)
1,568
Wheelbase (mm)
2,588
Boot capacity (litres)
338
Number of seats
5
Front / rear overhang (mm)
836 / 661
Front / rear track (mm)
1,506 / 1,489
MOTOR
Type
Synchronous with rotor coil
Power (kW) / (hp)
65 / 88
Maximum torque (Nm)
220
Transmission
Reducer gear
BATTERY
Type
Lithium-ion
Capacity (kW)
22
Range (NEDC)
130 miles
Top speed (mph)
84
CHARGER
Type
Single or three phase supply up to 43kW
Charge time
3kW (16A single phase wall box) = 9 hours
22kW (32A three-phase charging station) = 1 hour
43kW (63A three-phase charging station) = 30 minutes
June 2013
Zoe launched in the UK
The free Single Wall-box, supplied and installed by Renault's preferred electric vehicle charging partner, British Gas, is available both to new customers, as well as those who've already pre-ordered ZOE.
This offer makes the most of the recently announced 75% support on domestic Wall-box installations as part of the government's £37m grant funding to increase take up of electric vehicles, with Renault contributing the remaining 25%. The ground-breaking offer will save a typical customer up to £500* and make the stylish 100% pure electric Renault even more affordable and easy to run.
Customers already save up to £5,000 on the price of their electric car from the government's Plug-In Grant. In ZOE's case, this brings the car's on-the-road price (£13,650 to £14,750 depending on trim level) down to an equivalent diesel supermini and becomes yet another incentive to make the switch to electric and 'Drive the change'.
British Gas will install a 32 amp (7kW) ZE ready Single Wall-box with all new and pre-ordered purchases, and have it fully operational ready for owners well in advance of charging their eagerly-awaited pure electric ZOE at home for the first time.
The Single Wall-box can be installed at any UK residential address with a GPRS signal, and has an attached lead, meaning that drivers don't have to delve into the boot at night to find the cable to plug in. The cable is 4.5 metres long, ensuring that even customers with off-street parking will be able to charge their ZOE easily. Also included in the package is free access to the public charging network across the UK.
July 2015
Renault Zoe updated
Option of new Renault developed R240 motor with range of 149 miles that translates to a realistic 71 - 106 miles. Range priced from £13,445 after £5,000 Government grant.
The new line up consists of Expression Nav (replacing Expression), Dynamique Nav (replacing Dynamique Intens) and Dynamique Nav Rapid Charge (replacing Dynamique Intens). Expression Nav and Dynamique Nav feature the new R240 motor, while Dynamique Nav Rapid Charge retains the original power unit.
Standard items on Expression Nav include R-Link voice-controlled satellite navigation with a 7-inch tablet touchscreen, Climate control, Renault Keycard entry system, Bluetooth connectivity, a 4x20W radio with four speakers, USB and AUX ports, cruise control, front electric windows and rear privacy glass.
A comprehensive array of technology is standard in order to make ZOE as efficient as possible – the Renault Range OptimiZEr range-extender (heat pump, regenerative braking and Michelin ENERGY E-V low-friction tyres); the Renault Chameleon™ charger allowing the battery to be replenished in one to nine hours and adapt itself to always extract the most charge from any charging source, an ECO mode, a Z.E. Connect remote battery monitoring, Z.E. Voice low-speed pedestrian alert, a TFT display with a trip computer and driving style indicator, battery charge indicator, econometer and range indicator.
Model

Power

kW (hp)

Torque

Nm

NEDC range

(miles)

Real-world range (miles, Winter/Summer)

Expression Nav

65 (88)

220

149

71 / 106

Dynamique Nav

65 (88)

220

149

71 / 106

Dynamique Nav Rapid Charge

65 (88)

220

130

62 / 93
| | |
| --- | --- |
| Model | Price OTR |
| Expression Nav | £13,445 |
| Dynamique Nav | £15,045 |
| Dynamique Nav Rapid Charge | £15,545 |
March 2016
Changes to Government Plug in Car Grant (PiCG) mean Zoe now attracts a £4,500 grant rather than £5,000 (whereas plug-in hybrids only get £2,500). However, Renault now offers a 7kW charging wallbox worth £500 supplied and installed by Renault's partner, Chargemaster, at the private buyer's domestic address as part of the price of the Renault ZOE.
November 2016
Revised Renault Zoe prices announced
Prices start at £13,995 (+ battery lease from £49pm) with extended range up to 250 miles (but not for £13,995).
Renault UK announced pricing and specification for the 2017 model year Renault ZOE, now available with the new Z.E.40 battery that has a 250 mile (NEDC) range – the longest range of any mainstream electric vehicle. In real-world driving, Renault estimates the ZOE fitted with the new Z.E.40 battery has a range of between 186 miles in temperate conditions and 124 miles in extreme cold conditions.
A new top-of-the-range Signature Nav trim level is also added to the 2017 ZOE line-up.
ZOE is offered with a choice of two batteries – the new Z.E.40 battery from £59pm and the existing 22kW battery from £49pm. The entry level Expression at £13,995 comes with the 22kW battery whilst Dynamique Nav and above are offered with the new Z.E.40 battery enabling buyers to choose a ZOE that suits their needs. The Z.E.40 battery is available with an optional Quick Charge facility that reduces charging times. All ZOEs sold to private customers are supplied with a fully-installed 7kW fast-charging box that enables convenient charging at home.
ZOE version

Power

(hp @ rpm)

Torque

(Nm)

0-62mph (sec)

Top speed (mph)

Expression Nav R90 22kW

92 @ 3,000

220, from 250 rpm

13.5

84

Dynamique Nav R90 Z.E.40

92 @ 3,000

220, from 250 rpm

13.5

84

Dynamique Nav Q90 Z.E.40

88 @ 3,000

220, from 250 rpm

13.5

84

Signature Nav R90 Z.E.40

92 @ 3,000

220, from 250 rpm

13.5

84

Signature Nav Q90 Z.E.40

88 @ 3,000

220, from 250 rpm

13.5

84
February 2018
Renault reduces warranty from four years to three years.
Renault models ordered and registered from 1 February 2018 are covered by a warranty package for up to three years from date of first registration. The first two years unlimited mileage, followed by a further one year limited to a total mileage of 60,000 (100,000 miles for Koleos, Zoe and LCV vehicles).
Models registered up to and including 31 January 2018 are still covered by a four-year warranty package. The first two years unlimited mileage and the third and fourth years are limited to 100,000 miles.
February 2018
Renault Zoe updated for 2018
with new electric motor This will be the first Renault EV to feature the new R110 80kW motor which is 12kW (16PS) more powerful than its predecessor.
Drivers will benefit from stronger acceleration performance when travelling at higher speeds as the new motor shaves almost two seconds off Zoe's 49.7-to-74.5mph (80-120kph) time.
Android Auto-enabled R-LINK Evolution will be available for 2018-model-year Zoe, which means drivers will be able to display driving-compatible Android applications stored on their smartphone (including Waze, Deezer, Spotify, TuneIn, Skype, Messenger, Audible and many others available from Google Play Store) on their car's multimedia screen.
The 2018 model-year Zoe range features a stylish new dark metallic purple body colour: Aconite. Available from the Dynamique Nav version, the Zoe can also be specified with the new Purple Interior Pack which includes a violet satin finish for the dashboard trim strip and air vent, gear lever base, loudspeaker surrounds, top stitching along with black and violet fabric upholstery.
ZOE version

BIK

VED (band)

Ins. group

Price

(after PiCG)*

Dynamique Nav R110 Z.E.40

7%

A

TBC

£18,420

Signature Nav R110 Z.E.40

7%

A

TBC

£20,670

Dynamique Nav Q90 Z.E.40

7%

A

TBC

£19,170

Signature Nav Q90 Z.E.40

7%

A

TBC

£21,420
October 2018
Renault Zoe S-Edition introduced
Has grey-coloured upholstery with its new Highland Grey exterior and new 17-inch aluminium wheel rims. As an accessory, Zoe now offers a luggage compartment floor that is installed flush with the luggage compartment sill and frees up the loading space by storing the cables in this double bottom accessory. Lastly, the Zoe S-Edition is equipped with R110 and Q90 motors offering a real-world range of 186 miles.
February 2019
Orders open for Renault Zoe S Edition
Renault ZOE S Edition replaces the previous Signature Nav version and brings extra equipment at a small premium over the Renault ZOE Dynamique Nav. Ordering is open now and deliveries of the ZOE S Edition begin in April.
Additional equipment includes BOSE stereo, with DAB radio – delivering sharp sound throughout the cabin and acoustics that are tuned to the specific dimensions of the Renault ZOE's interior. Meanwhile, manoeuvring is easier than ever thanks to the rear parking camera.
All of the seats are covered in a leather and textile and comfort is enhanced with lumbar adjustment on the driver's seat. Choice of 16-inch 'Black Shadow' alloy wheels or, at no additional cost, they can upgrade to assertive looking 17-inch 'Black Optemic' alloy wheels.
These are in addition features of Renault ZOE Dynamique Nav, which includes a hands-free keycard, rear parking sensors, automatic wipers and lights, climate control, and a leather steering wheel and gear knob. Also featuring is front and rear electric windows, and electric, heated and folding door mirrors. Voice-controlled satellite navigation is also standard on all Renault ZOEs via an embedded tablet in the centre console that includes a seven-inch touchscreen.
Z.E. Connected Services take communication between smartphone and car allow remote charging, monitoring of your charge status and pre-conditioning. This means the customer can pre-set the temperature of their ZOE so it's ready for when they get in.
The Renault ZOE S Edition is priced from £19,270 on the road including the government Plug-in Car Grant. This is £850 more than the Renault ZOE Dynamique Nav. Buyers can choose to buy their Renault ZOE and lease the battery, or they can purchase the full car outright (referred to as ZOE i). Battery leasing begins from just £59 per month.
A choice of two motors are available in the both the ZOE Dynamique Nav and the ZOE S Edition. The Q90 Quick Charge motor allows for faster battery charging, from zero to 80 per cent in 65 minutes with a 43 kWh charger. The R110 motor has an extra 19 horsepower and has improved performance, especially between 50mph and 70mph. Both are mated to the Z.E. 40 battery and both have a WLTP-rated range of 186 miles.
All retail customers that purchase a Renault ZOE receive a free 7 kW wall-box for their home that ensures the easiest possible charging experience at home. The multi-award-winning Renault ZOE has been on sale in the UK since 2013. For further information please visit www.renault.co.uk.
Prices not including battery hire:
Model

Kw (hp)

Range (WLTP
mile)*

CO₂ Band

BIK

OTR after PiCG

Renault ZOE Dynamique Nav R110

80 (107)

186

A

9%

£18,420

Renault ZOE Dynamique Nav Q90

65 (88)

186

A

9%

£19,170

Renault ZOE
S Edition R110

80 (107)

186

A

9%

£19,270

Renault ZOE
S Edition Q90

65 (88)

186

A

9%

£20,020
Prices with battery included:
Model

Kw (hp)

Range (WLTP
mile)*

CO₂ Band

BIK

OTR after PiCG

Renault ZOE i Dynamique Nav R110

80 (107)

186

A

9%

£25,020

Renault ZOE i Dynamique Nav Q90

65 (88)

186

A

9%

£25,770

Renault ZOE i
S Edition R110

80 (107)

186

A

9%

£25,870

Renault ZOE i
S Edition Q90

80 (107)

186

A

9%

£26,620
*WLTP range is 186 miles. Renault estimates a real life range of 186 miles in summer and 124 miles in winter.
June 2019
'New' Renault Zoe announced
with 52kWh battery and range of up to 242 miles in WLTP tests. Choice of 80kW and 100kW motor options. Powerful 100kW R135 electric motor delivers even stronger acceleration. Restyled exterior with new colours. Redesigned interior with premium materials and 10-inch TFT instrument cluster. Faster charging with option of 50kW DC capability. LED headlamps standard across the range. New regenerative braking B Mode that allows single pedal driving. Real time charging information using EASY CONNECT app. Wireless smartphone charging option.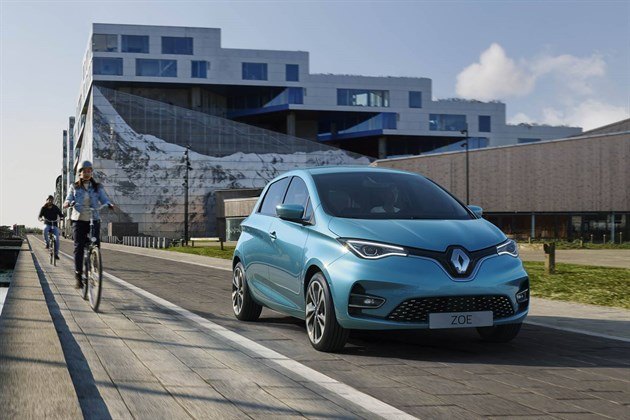 External changes include a revamped range of wheel designs, with three different diameters available - 15, 16 and 17-inches. Regardless of wheel size, all ZOE models get four-wheel disc braking.
Three new metallic paint finishes - Celadon Blue, Flame Red and Quartz White. This means there are now a total of nine colours to choose from.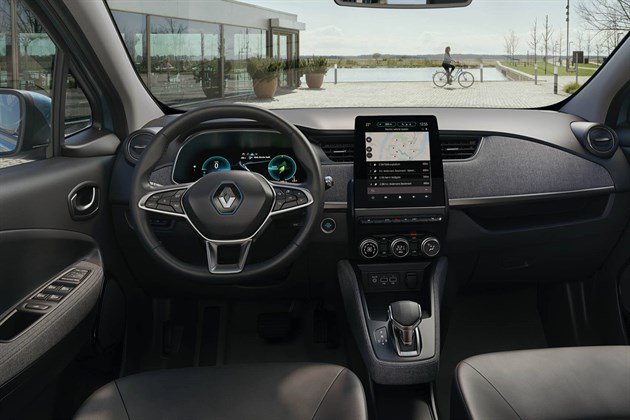 Ahead of the driver in the 'New' ZOE is a 10-inch TFT instrument cluster, standard across the range. It contains the main driving information including an eco-meter that encourages eco-friendly driving habits. The driver can also customise the lighting and the layout of the different information on-screen, while the display's horizon and varying perspective effects create a sense of depth for greater legibility. On versions equipped with sat-nav the instrument cluster also relays turn-by-turn instructions for safer, less distracting progress.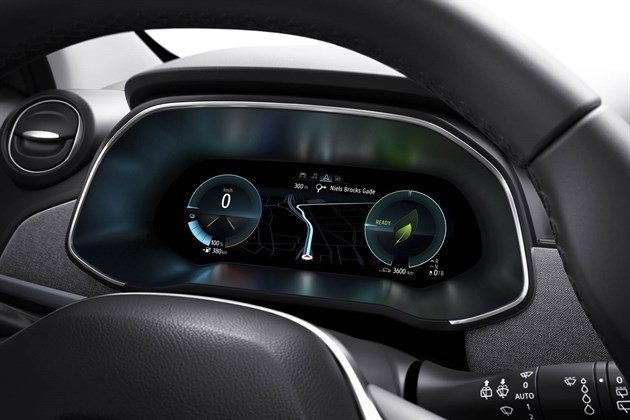 The dashboard has been completely redesigned to significantly improve the quality of its finishes. Novel additions include soft fabric inserts that matches that used in the seats, creating a warm and comfortable atmosphere, while LED interior lighting is standard across the range.
Standard across the range is a new electronic parking brake, which replaces the traditional handbrake to free twice as much storage in the centre console, such as a new wireless smartphone charging option and a pair of cupholders. In the rear, passengers have access to two USB sockets that can be used to charge devices such as mobile phones, tablets and portable games.
The 'New' ZOE benefits from the new 52 kWh Z.E. 50 battery, which takes the useable range up to 242 miles (WLTP), an increase of around 30 percent over the old 40 kWh pack. It also offers fast direct current (DC) charging, in addition to the alternating current charging (AC) options already available at home or on the street.
Despite the increase in range and capacity, the battery is not physically bigger, meaning no loss of interior space and practicality.
(At launch in late 2012, the first ZOE with its 22 kWh battery offered around 93 miles of real range. In 2016, Renault launched the second generation of ZOE with its 41kWh Z.E. 40 battery that doubled the real world range to 186 miles.)
For the 'New' ZOE, Renault focused on the architecture of the lithium-ion battery and the different aspects of its design, achieving an impressive 52 kWh within the same physical cell size. This translates to a 30% increase in range, to 242 miles WLTP *.
Charging the battery is also made more straightforward by the Renault EASY CONNECT smart services, which allow quick and easy location of charging points, plus the addition of the simplified optional Combo charging plug.
Located behind the Renault diamond logo charging hatch, the new Combo plug (CCS) is slightly larger than the previous plug and consists of both a European standard socket and a two-pin connector for DC charging. The central location of the socket makes charging even easier, especially on public charging stations which have their own cable.
Thanks to this Combo plug, the New ZOE is able to charge quickly with a direct current (DC) up to 50 kW, simply by inserting the charging cable attached to the terminal into the two-pin connector that's sited below the type-2 socket.
The standard type-2 cable provided with the car and the Caméléon charger are used for everyday AC charging use, such as at home with a Wallbox, at work, in the car park or on public roads using anything up to a 22kW supply.
When using a 7kW Wallbox the New ZOE can charge from 0 to 100 percent in 9 hours and 25 minutes. This ensures that a complete recharge can comfortably be achieved overnight. Around 190 miles of range can be achieved in just 8 hours*. Users charging their vehicle at home can also benefit from the programming options, adjusting their recharge to correspond with tariff fluctuations from their electricity supplier.
Plugging the ZOE into a public 22kW roadside charger can deliver a useful 78 miles of range in only one hour.
However, the fastest recharge times are achieved with the new 50kW DC charging option, which is perfect for longer trips. Replenishing the battery in this way can add around 90 miles of range in as little as half an hour.
The new R135 100 kW engine delivers the equivalent of 135PS and improved torque for faster acceleration and greater responsiveness. The increased-capacity battery of New ZOE (Z.E.50) gets the most out of the Renault developed motor, whih offers 245Nm from zero rpm and drives through a single speed gearbox, helping the ZOE sprint from 0 to 62mph in less than 10 seconds and onto a top speed of 87mph. The 100kW model can accelerate from 50 to 75 mph in just 7.1 seconds, 2.2 seconds quicker than than the 80kW 110 PS R110 engine that carries over unchanged.
Both electric motors come equipped with the new "B mode" driving function, which intensifies the regenerative braking effect to essentially allow the driver one pedal operation of the car. When B mode is activated, the car decelerates significantly faster as soon as the driver releases the accelerator pedal. B mode makes driving easier, especially in the city or in slow moving traffic.
September 2019
New Renault Zoe specifications and prices announced:
Renault ZOE is available to buy both as full purchase, with no mileage limit on the battery and an eight year/100,000-mile guarantee, or as a battery lease option, offering a more affordable purchase route with peace of mind.
OWNERSHIP INFORMATION & PRICING
New ZOE version

BIK

(2019-2020)

BIK

(2020-2021)

VED (band)

Ins. group

Congestion Charge

Full Purchase Price OTR

(after PiCG)

Play R110 Z.E.50

16%

0%

A

TBC

£0

£25,670

Iconic R110 Z.E.50

16%

0%

A

TBC

£0

£27,170

Iconic R135 Z.E.50

16%

0%

A

TBC

£0

£27,620

GT Line R135 Z.E.50

16%

0%

A

TBC

£0

£28,620
Available to order from mid-September 2019
5 Star NCAP crash safety rating: 89% adult protection, 80% child protection, 66% pedestrian protection, 85% safety assist. Overall: 82%.
ZOE II EQUIPMENT AND TRIM:
New ZOE Play - from £18,670 OTR* (including PiCG)
15-inch wheels with
R110 80 kW motor
Full LED headlamps
Air-conditioning
7-inch EASY LINK multimedia screen with Apple CarPlay and Android Auto
Full 10-inch TFT instrument cluster
DAB radio
Hands Free Key Card
Cruise control and speed limiter
Electric front windows
Automatic wipers and headlamps
Free fully-installed (7kWh) fast charging home wallbox (for retail customers)
New ZOE Iconic - from £20,170 OTR* (including PiCG)Specification in addition to Play:
16-inch alloy wheels with 205/55 R16 tyres
7-inch EASY LINK multimedia screen with satellite navigation
Climate Control
Inductive smart phone charging
Electric rear windows
100 per cent recycled seat upholstery
Advanced Driver Assistance Systems (ADAS) with lane departure warning, lane keep assist and traffic sign recognition
Rear parking sensors
New ZOE GT Line - from £21,620 OTR* (including PiCG)Specification in addition to Iconic:
16-inch diamond cut alloy wheels with 205/55 R16 tyres
R135 100 kW motor
9.3-inch EASY LINK screen
Front parking sensors with rear parking camera
GT Line synthetic leather and recycled cloth upholstery
Blind spot warning
KEY OPTIONS
| | | |
| --- | --- | --- |
| Option | Availability | Price |
| 50 kW DC (CCS) rapid charging | Iconic and GT Line | £750 |
| 17-inch diamond cut alloy wheels with 225/45 R17 tyres | GT Line | £310 |
| Winter Pack (heated seats & steering wheel) | Iconic and GT Line | £500 |
| Technology Pack (front & rear sensors with rear view reverse camera & 9.3" Easy Link screen | Iconic | £800 |
| Hands Free Parking | GT Line | £350 |
October 2019
Battery Leasing Offer Withdrawn. The New ZOE will be offered in the UK with a Full Purchase option only. The decision comes because of significantly improved class-leading residual values for New ZOE in the UK, enabling a more competitive full purchase price and offer. Meanwhile, the offer of only a Full Purchase option simplifies the choice for customers and is in line with the rest of the Renault Z.E. range and UK electric vehicle market. As more consumers choose electric cars in the UK, residual values of full-electric vehicles have improved considerably, meaning they are more affordable than ever.
November 2019
Significantly improved CAP residual values announced for 2020 Zoe on the basis of full car purchase. Now predicted to be 42% over three years and 30,000 miles.
The New ZOE is available with 0% APR Renault Selections PCP, in Play R110 Z.E.50 guise from £269 per month with a deposit of just £2,995. Buyers can take up this offer immediately, with New ZOE available to order now.
The 0% Renault Selections PCP finance package is available on all New ZOE models over a 24-month term. Under the scheme, monthly payments range from just £269 for the Play R110 Z.E.50 up to £309 for the flagship GT Line R135 Z.E.50 with optional 50kW DC rapid charger that can deliver up to 90 miles range in as little as 30 minutes.
| | |
| --- | --- |
| New ZOE Play R110 Z.E.50 - representative Selections PCP example Duration | 25 months |
| Monthly payments | £269 |
Customer deposit

£2,995

Renault deposit contribution

£562

Cash price (after £3,500 Plug-in Car Grant)

£25,670

Total amount of credit

£22,113

Optional final payment

£15,657

Total amount payable (including optional final payment)

£25,670

Fixed interest rate (per annum)

0.00%

Representative APR

0.00%

Cost of credit

0

24 monthly payments
December 2019
2020 Renault Zoe judgeed overall Car of the Year at 2020 Driving Electric Awards and Best Small Electric Car.
December 2019
5-Year 100,000 mile factory warranty announced on Renault New ZOE. The warranty applies to all new Renault cars registered from 18th December 2019 both retail and fleet cars and features an unlimited mileage limit during the first two years and up to 100,000 miles up to 5 years old.
The new five-year warranty covers all Renault passenger vehicles, from All-New Clio supermini through to the New Koleos SUV. Also included are Renault's all-electric Z.E. vehicles: New ZOE and Twizy. The introduction of Renault's five-year warranty coincides with the launch of a completely reinvigorated line-up of small cars, including All-New Clio, All-New Captur SUV, and New ZOE.
As before, all new Renault models will be backed by a three-year roadside assistance package with a 100,000 mile limit for Z.E. vehicles and New Koleos, and a 60,000 mile limit for all other models.
For more information visit: www.renault.co.uk
What does a Renault Zoe (2013) cost?
Contract hire from

£190.66

per month
Buy a used Renault Zoe from £11,995