Peugeot 2008 (2013 – 2019) Review
Looking for a Peugeot 2008 (2013 - 2019)?
Register your interest for later or request to be contacted by a dealer to talk through your options now.
Peugeot 2008 (2013 – 2019) At A Glance
The Peugeot 2008 is to the Nissan Juke what the 3008 is to the Qashqai. While the Nissan models were pioneers of the modern breed of crossovers, carmakers like Peugeot were left fighting to keep up. Launched in 2013, the 2008 is based on the 208 supermini, but a chunkier body, raised ride height and slightly roomier interior makes it a better overall package than the car it is based on.
Looking for a Peugeot 2008 (2013 - 2019)?
Register your interest for later or request to be contacted by a dealer to talk through your options now.
The compact crossover is one of the world's most popular body styles, so it will come as no surprise to discover that the Peugeot 2008 was a hugely successful car. Launched in 2013, the 2008 rode on the coat-tails of the Nissan Juke, offering a compelling blend of space, practicality, low running costs and low-rate finance.
Production stopped in 2019, when it made way for the all-new Peugeot 2008, but it makes a cracking used buy. Indeed, prices have dropped as low as £4500, while even the more desirable post-facelift model could cost as little as £7,000. There are too many rivals to mention, but the list includes the SEAT Arona, Renault Captur, Citroen C3 Aircross, Ford Ecosport and Vauxhall Mokka X.
The 2008 doesn't really stand out in a crowded market, because it doesn't really excel at anything. It's certainly more spacious and practical than the 208 supermini, but the styling of the pre-facelift car hasn't aged well, while the driving experience is nothing to write home about. So why should the Peugeot 2008 be on your shortlist?
The 1.2-litre PureTech engine is a real positive, offering an excellent blend of punchy performance and diesel-like efficiency. It's available in a choice of outputs, including a 130PS version, which gives the 2008 a surprising turn of pace. Unfortunately, the chassis doesn't have what it takes to harness the power, with the car feeling unsettled and unwieldy when driven with any degree of enthusiasm.
This engine was introduced as part of the 2016 facelift, which also ushered in a new look for the popular crossover. It worked well, with the new car boasting a more premium and upmarket appearance. It still looks fresh today, four years later.
Inside, the i-Cockpit uses a small steering wheel and a raised instrument panel to deliver a look and feel that's unique to Peugeot. It's a bit 'Marmite', but if you can find a good driving position, you'll probably love it. The level of quality is good, but some parts of the interior feel hollow and plasticky.
It's just a shame the 2008 is so uninspiring to drive. We could forgive the general feeling of detachment if the ride quality was good, but the Arona and C3 Aircross are more comfortable. It doesn't help that the steering is so darty, which takes a while to get used to. To almost borrow a phrase from a margarine brand, we can't believe it's not better.
We'd recommend a car with Grip Control. It works like an all-wheel-drive system to provide greater traction in slippery conditions, with modes for snow, mud and sand. It does this without the drop in fuel economy you'd experience in cars with a 'proper' all-wheel-drive system.
A jack of all trades and a master of none, then? This might seem a little unfair, but it's hard to think of a single reason why you should choose a 2008 over any of its immediate rivals. Then again, we can't think of many reasons why you shouldn't choose it. How's that for the least conclusive conclusion of 2020?
What do owners think of the Peugeot 2008 (2013 – 2019)? Check out our
Owners' Reviews
from people who live with the car day in, day out.
Reviews for Peugeot 2008 (2013 – 2019)'s top 3 rivals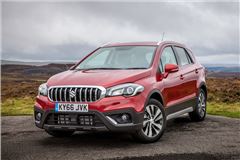 Suzuki SX4 S-Cross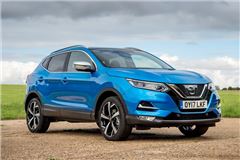 Nissan Qashqai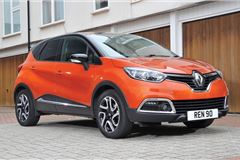 Renault Captur
Ask Honest John
Should I fit winter tyres or all-season tyres?
"I drive for a few miles in what can be very poor conditions in the winter due to snow, so looking for a car that isn't a 4x4 but still good in snow (part of the journey includes a very steep hill with nothing to stop you driving off the edge!). Should I get: a. a car with winter tyres b. a car with grip control and all season tyres (my current car's set up - it's a Peugeot 2008) c. a car with grip control and winter tyres"
The answer to this question will depend on what you mean by 'poor conditions'. If you are talking about icy roads, for example, a good quality set of all-season tyres will be fine. However, if you live in a rural area that's affected by snow in the winter then I'd recommend a car with grip control and winter tyres.
What would you recommend for a couple who want a comfortable, reliable SUV?
"My wife and I are in our late 60s, retired and are looking to buy an SUV for the first time for its ease of access and high position. We don't care about prestige brands but we do want comfort, refinement, quiet and enough performance to make driving effortless. Perhaps automatic. We are tall but do not need extra space for people or luggage. We also want reliability. We tend not to change cars frequently - we have had our current car - a Ford Focus, bought nearly new - for seven years. We want to spend no more than £30k. Would we be better off buying a used luxury SUV like the Audi Q7 or a new/nearly new midsize SUV like the Skoda Karoq? In short, what would you recommend for an ageing couple who put comfort over speed but don't want to pay for either size or prestige that we do not need?"
An Audi Q7 sounds a bit big for your needs. A Skoda Karoq could be perfect – it's a very comfortable crossover SUV. Also look at the very similar Volkswagen Tiguan, or the uber-comfortable Citroen C5 Aircross. You might find that smaller crossovers meet your requirements, too – take a look at the Ford Puma or Peugeot 2008.
More reliable than a Mini Countryman?
"I'm in my 30s, work in investment management and use my own car for commuting and business. I currently have a 2016 Mini One Countryman 1.6-litre petrol, which has proven really unreliable with poor build quality (failed engine seal, clutch contaminated by an oil leak from the engine, broken water pump, gearbox issues etc). I'm keen to ditch it and replace it with something more reliable, ideally with a long warranty, and suitable for navigating country lanes (which are often icy or flooded) on my 20 mile daily commute. It also needs to be comfy for fortnightly longer motorway drives whilst visiting clients with a tall seating position and plenty of headroom. It needs to be big enough for a Labrador, car seat and boot full of shopping, while being cost-effective to run, too. I could spend around £20k outright or would consider 0% finance. I have no idea where to start so any guidance much appreciated."
Take a look at the latest Ford Puma or Peugeot 2008. Both are really fashionable little crossover SUVs with enough space for your Lab. £20k will get you an as-new pre-registered model of either. Alternatively, if you want to prioritise a long warranty, consider a Kia Stonic or Toyota C-HR.
Are CVT auto gearboxes good?
"I'm thinking about getting a vehicle with a CVT transmission. Possibly Honda HR-V or Nissan Qashqai. My preference would be a torque converter auto, though this seems to limit the range of choices. I did own a 2008 Qashqai auto but did not quite gel with it. Is the newer Qashqai an improvement and how do you rate the Honda CVT? Many thanks in anticipation."
CVT transmissions are generally very reliable and efficient, although they can be troublesome in the Nissan Qashqai. Honda's CVT gearbox is better, although it does create quite a lot of noise during acceleration. How about a Peugeot 2008 or 3008? Both are available with a good torque-converter automatic gearbox.
What does a Peugeot 2008 (2013 – 2019) cost?
See also