Mercedes-Benz S-Class W220 (1999–2005)
Last updated 16 October 2016
Supremely hushed, effortless and comfortable, even at 140mph. Smart looks, solid build and luxury by the gold-plated bucketful.
The electrics are a weakspot. Build quality and paint problems. Very expensive to fix if something big goes wrong. Small boot.
Updated 15 October 2016
Severe rust reported in October 2000 Mercedes S Class. Both front and offside rear jack points and body work with bad outward signs of rust.
Introduction
I'm not going to pretend that Mercedes new presidential limousine is faster than a speeding bullet. (I suggest the armour plated version if this is a worry). But I can tell you from personal experience it will see off any other large saloon car full of bad guys.
There I was being driven by the esteemed motoring correspondent of The Daily Star when we became aware of a big, mafia black motor in our rear view mirror.
"Lose 'em," I suggested, and nudged the gear lever over to the left a couple of times to select second. Starman floored it, there was a thump from the transmission and, before you could say "three hundred and sixty eight kilowatts equals five hundred pferdestarke", the chase car had disappeared in our wake and our speedo needle was touching 260kph.
In fact, that's all an S Class speedo will show, because the cars are electronically limited to an official 250kph. Unlimited, this 2,135kg 500ps car with 800Nm torque would be capable of at least 290kph. It drags itself from 0-100kph in just 4.8 seconds. Yet it has a back seat big enough to hold a party, complete with its own TV screen.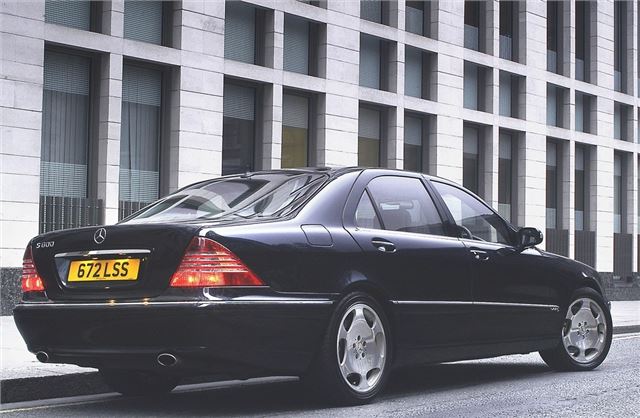 Owners' reviews
Lightning fast but woeful quality and dire round town MPG.
Getting one in good condition is fantastic!
If you get a good one, then it's great...
A smooth, fast, comfortable, practical and well equipped luxury car that cheep to by and not too expensive to run.
The most unreliable vehicle I have ever owned.