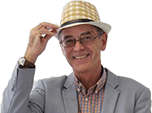 Mercedes-Benz E-Class (1995–2002)
What's good
W210 voted 7th equal from S and T reg cars came eighth in 2001 Top Gear / JD Power Customer Satisfaction Survey. Conflicts with Telegraph readers experiences, but MB was rated by Motor Warranty Direct as Britain's 2nd most claim-free used marque.
Top in 144 car 2002 JD Power / What Car? Customer Satisfaction Survey of V and W reg cars.
Mercedes had fifth lowest average cost in warranty claims for cars up to 10 years old in 2002 Warranty Direct index. MB generally 9th lowest average warranty repair costs in 2003 Warranty Direct Reliability index (index 70.79 v/s lowest 31.93)
1995-1997 petrol fewest breakdowns and problems, average for faults; 1998-2000 petrol averaged for breakdowns, problems and faults in 2003 Which survey. 
Good-looking cars with slightly better ride and handling than W124. Engines range from 2.0 litre 136 bhp four through straight sixes and V6s to 280 bhp E430 V8. Very useful 177 bhp 300 Turbodiesel goes well with reasonable economy, replaced by 195 bhp 320CDI with massive 350 lb ft torque. 125 bhp 220CDI boosted to 143 bhp and 232 lb ft. Estate cars particularly elegant.
What to watch out for
Old 5-cylinder 113 bhp E250D slow, but would be the taxi driver's choice.

Standard 'Brake Assist' caused lots of problems which took Mercedes years to sort out.

Modest 240V6 has huge engine oil capacity of 8 litres.

Much better W211 E-Class arrived mid 2002.

Only 84% breakdown free in 2003 Which survey. 1998-2000 diesels fewest breakdowns, average for faults, poor for problems; 2001-2003 diesels poor for breakdowns and problems, average for faults. Mere 84% of cars up to 2 years old breakdown-free over previous 12 months in 2004 Which? survey, making W210 2nd worst.
Cancelled Far East export orders found their way back to the UK at mammoth discounts. Make sure any car you buy from a non-Mercedes dealer is properly certificated with either an EU Certificate of Conformity or UK SVA.

Reports of cylinder head stretch bolts failing on four-cylinder engines, with replacement a 'head-off' job. Oil leaks from cylinder head a sign of the stretch bolt problem on 200s.

1995 to 2000 cars have had paint and rust problems, particularly around the numberplate area on the bootlid in the bottoms of doors and now developing in the front wings. This is well known in Germany. Daimler Chrysler has now admitted to another rust problem on all W210 E Class up to June 2001 build - apparently due to using stretched steel construction. Affects areas around door window seals and suspension mounting points.

Inspect the paint very carefully for signs of 'filoform' corrosion (corrosion starting in the metal under the paint). Also inspect for corrosion in the seams, behind the seals at the tops of the doors, and in the underbonnet seams.

Mobilo 30 year warranty against perforated bodywork states "From the 5th year onwards the car should have been serviced by an authorised Mercedes Benz workshop within the last 2 years prior to the damage being repaired".

Check for serious rust in front suspension coil spring perches. After about 8 years these can break up leading to collapse of front suspension. MB will usually fix FOC if the car has a proper service history. Lower pressed steel suspension arms also rust though from the inside out. These problems seem to be confined to RHD W210s built in South Africa as the same fault is, apparently, unknown in Germany.

Reports of failure of MOT for corroded brake pipes at just 5 years old.

May be a problem with the engine mounts of the E320CDI.

Complaints of water ingress leading to corrosion damage of ventlilation system blower motor.

One reader's W210 E320CDI estate failed first MOT with failed cat converter, failed intercooler (both replaced under 3 year warranty) and failed steering ball joints (replaced at cost of £155).

Beware of cancelled export order 1995-1997 W210 E-Class sold in UK as new when they were up to 3 years old. An 'R' reg could be a 1995 car.

With heavier V8 engines and diesels, the front suspension rubber bushes go soggy after about 60-80,000 miles giving serious toe-out, which wrecks tyres. Engine mounting failure is also common, so once the car is more than 5 years old these need to be checked regularly.

Two other well known faults which might cause expensive damage are failure of the oil seals to the wiring looms from the top of the cam cover and to the autobox which is electrically operated.

VITAL TO CHECK GLOW PLUGS OF DIESELS. These have a habit of failing, then break when the garage tries to remove them and rectification can cost £4,500.

LCD dashboard readouts for mileage, outside temperature and other information fade. Replacement cost £450.

The transmission oil cooler of automatics is sited in the radiator matrix, so failure can lead to coolant entering the transmission and destroying it, leaving the owner with a bill of £4k +. Apparently this fault occurred in cars manufactured between 2000 - 2003 and only when a Valeo radiator is fitted. Two other well known faults which might cause expensive damage are failure of the oil seals to the wiring looms from the top of the cam cover and to the autobox which is electrically operated.

Reversing light cable passes through trunking in the boot lid hinges which over time develops stress cracks as the boot lid is raised and lowered exposing bare
wire which then shorts on the metal of the boot lid. Symptom is failing or flickering reversing lights, or a battery drain.

Failure of the brake light switch can stop autos from starting, because that is how the system senses you have your foot on the brake for safety when you try to start the engine.

2000 - 2003 4-cylinder petrol engines have an actuator that alters the cam timing to one of two positions This actuator is hydraulically operated and triggered by a solenoid. The solenoid coil has part of the wiring loom attached to it by a plug. An oil seal fails at the plugs connection with the solenoid coil allowing oil to slowly flow onto the plug. Oil finds its way by capillary action between the copper wire and plastic sheath of the loom, and migrates two metres along it until it reaches the car's ECU damaging it. This would of course also affect an auto gearbox if fitted. A safeguard is available in the form of a short 150mm loom extension with plug and socket. This stops the capillary action. Spare part numbers that make up this pro-active unit are (a) 1110510177 cost £30.00 (b) 1119970186 cost £1.69 and (c) 2711502733, cost £16.90. If the oil gets to the ECU the cost of repair is around £1,400 incl VAT.

'Straight 6' 3.2 litre CDI engine had a common problem with premature injector failure at as little as 60,000 miles. Replacement injectors are about £300-£400 each, plus fitting and calibrating to the ECU - an expensive repair if they all need replaced at about the same time. Another common problem with the straight six diesel engine is apparent failure of the injector 'fire seals', which allows soot and carbon to basically 'weld' the injector into the cylinder head. If a faulty injector cannot be removed then the cylinder head would have to be replaced.

Another common fault of C-class and other Mercedes diesels is failure of injector seals, allowing fuel/air mixture to be deposited as carbon on top of the engine. The problem can be identified by the smell of neat fuel (like paraffin) entering the passenger cabin, and a "chuffing" sound from the top of the affected cylinder as gas escapes on the compression stroke. Apparently it is so common it has been given the name "black death" within the Mercedes dealerships. Unless spotted early, and seals reground and replaced, the cost of fixing can be up to £500
Another reader's experience of a W210 E320CDI over 9 years, received November 2010. "I bought a W reg 1 year old E320CDI Avantgarde estate which over the last 9 years has cost a fortune to repair. It has required three major corrosion recalls but to this day still corroding badly in areas supposedly treated. The technical faults experienced are as follows: Auto oil checker failed. A broken front spring. Drivers wing mirror motor failed. W'Screen magic eye failed. Two new fascia clusters(numbers missing in clock etc). Viscous hub and belt. A total of 5 injectors leaking over the 9 years. 2 injectors needed replacing. Siezed altenator plus belt and tensioner. Air mass sensor. New rear door. Having just gone to the garage for the new altenator,belt and tensioner ,injector. leaks and a new injector it was returned with three new faults. (They broke the injector removing it). Eng temp would not go above 65 deg. Revs would not go above 2600 and fuel consumption down from 35mpg av to 30mpg av. After funding a new air mass sensor accel ok but eng temp still holding at 75 deg and fuel consumption still 30 av. The agent tells me I need to fund a thermostat. When asked if that does not fix it what next they say more investigation."
2-1-2-16: Late report of rust on 2001 Mercedes W210 E Class estate prior to 2010, which had numerous resprays of bonnet, wheel arches, front wings, tailgate etc after a long battle for any redress whatsoever. When the car reached eight years old MB refused to continue rectifying the rust saying that the "5 year extension to the warranty" had now expired. Strange as Mobilo Life is 30 years. From the start they argued that the corrosion was outside in rather than inside out especially as the car approached 8 years old.
21-7-2012: Photos received of severe rust in luggage trunk wells of W210 E Class.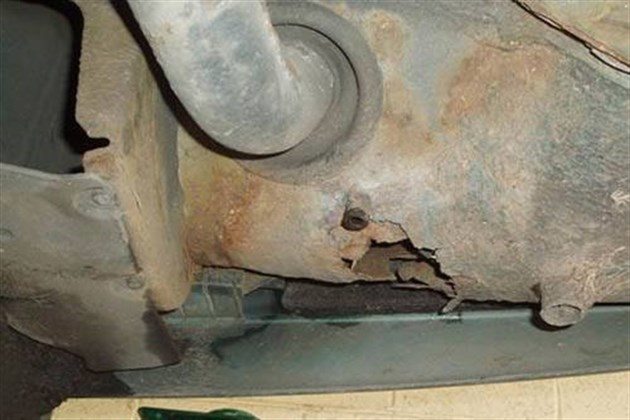 25-7-2012: Report that corrosion spreads to fuel delivery and rear brake pipes.
15-10-2012: German built W210s apparently less likely to rust than South African built W210s: "My E320Cdi Estate August 1999 has done 145,000 m and has no chassis rust having done salty road runs on A303/M3. It was purchased new from MB's own Niederlassung Dusseldorf having been made and painted completely in Germany. VIN WDB2102262A980232. The deal was through Dusseldorf Sales Manager Herr Werner Herrwerth, a lifetime engineer with MB and now retired. We became friends. Without disloyalty to MB he was the first to tell me how the 'marketing people' had taken over from the 'engineers' some 10 years back. One comment was 'always note where a Merc has been made' because in South Africa a different paint system has been used and 'ZA' Zud Afrique appears in the VIN numbers. The E Class was MB's largest volume unit and production capacity in Germany could not equal world sales which led to many E class units coming from production elsewhere."
25-5-2013: Nearside front suspension wishbone collapsed on 2001 E55AMG. (Treat this as a reminder to check the front suspension of W201 E Class regularly for notorious weakening by rust.)
8-8-2014: ESP and BAS (Brake Assist System) warning lights on W210 Mercedes E-Class might indicate a problem with the brake pressure sensor inside the ABS/ESP module, in which case ECU Testing probably has a fix. Needs to be fixed because its an automatic MoT failure.
6-11-2014: On 102k mile 2001 W210 E220CDI auto difficulty to shift from Park. Probably a fault with the brake pedal connection.
9-6-2015: Do not spill or drop any liquid on the gearshift quadrant of W210 automatics. It can fry the gear shift remote, locking it and preventing the engine from being started. A replacement costs Eur 470.00, discounted and a labor charge of Eur 230.00, plus VAT.
24-7-2017: Ask HJ received from USA that 2002 Mercedes Benz W210 E320 estate requires body rust repairs amounting to $17,000.
18-8-2018: Report of front spring perch rotting and collapsing on Year 2000 W210 E220CDI.
7-3-2019: Report of problems over the years with 1997R reg Mercedes Benz E-Class Elegance automatic, owned for 20 years. "Over the last couple of years things have started to break down and having spent approximately £4,000 I'm wondering if it is wise to keep paying out. At the moment the lights on the dash board do not work, neither does the air conditioning and the bodywork is poor, suspension has recently been repaired, new windscreen wipers and motor, new batteries. Had problem with tyres, rims needed to be resealed, various problems with lights etc.
Recalls
1996: airbag may inflate on wrong side.
2000: 1997-build cars recalled to have both sills re-treated with cavity rust-proofing.
8-5-2001: Build dates 1/9/1995 to 31/12/1996: high humidity may cause corrosion of trigger mechanism leading to airbag inflating. Airbags to be replaced.
12-09-2001: Recall of 1996 build E210s for steering damper screw leak fault (recall No. 1827) which affected late W124s. Lost fluid could cause underbonnet fire.
31-3-2005: Worldwide Recall: On vehicles with six and eight-cylinder petrol engines built between June 2001 and November 2004 the voltage regulator in the alternator is being checked and if necessary replaced.
On E-Class and CLS-Class models made from January 2002 to January 2005, new battery control unit software is to enhance the on-board power supply. In addition, the braking systems on E-Class, SL-Class and CLS-Class models from the production period June 2001 to March 2005 are also to be updated. Customers are being informed in writing. Mercedes-Benz has set up a special hotline to answer customers' questions: Hotline for Europe: 00800 1 777 7777.
December 2006: W210 1995 - 1999 (not an official VOSA recall): Front suspension may become dangerous due to rust in subframe and in front spring hangers. Mercedes is replacing subframes and spint hangers free of charge as necessary, but all owners should have them checked.
We need your help with our latest Satisfaction Index, so that we can help others make a smarter car buying decision. What's it like to live with your car? Love it? Loath it? We want to know. Let us know about your car - it will only take a few minutes and you could be helping thousands of others.
Help us with the Honest John Satisfaction Index now