Review: McLaren 570S Spider (2017)
Rating:
Superb performance allied to surprisingly daily usability. Feels genuinely exclusive and special. Barely any heavier than the coupe.
Expensive. Long waiting list. Doesn't sound as good as an Audi R8 or Lamborghini Huracan. Difficult to get in and out.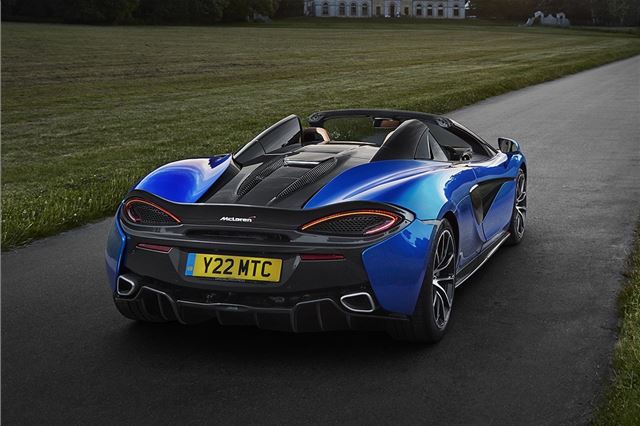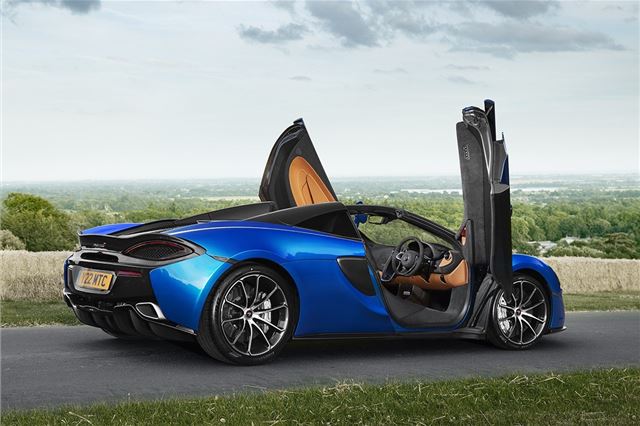 McLaren 570S Spider (2017): At A Glance
Superb performance, fantastic presence and a feeling of genuine exclusivity combine to make the open-topped McLaren 570S Spider one of the most desirable cars on sale at any price. It's a more exotic alternative to German performance rivals like the Audi R8 Spyder and Mercedes-AMG GT C Roadster – but there's a long waiting list and at £160k it's expensive - even compared to the competition.
The 570S gets its name from its power output of 570PS, which comes from the same 3.8-litre twin-turbo V8 engine used in the other McLaren cars. Performance is as exhilarating as you'd hope – 0-62mph takes a mere 3.2 seconds and the top speed is 204mph – unless you have the roof down. That reduces top speed to a mere 194mph…
Folding the roof takes 15 seconds and is possible at speeds up to around 25mph. The open area of the roof is a little smaller than in a Porsche 911 Cabriolet or a Mercedes-AMG GT, but while it can feel a bit enclosed it's still open enough to give that wind-in the hair experience, plus you can appreciate the engine sound all the more.
There is also a retractable rear window, so if it's damp you can still get an earful of the V8. Sadly, sound is the weakest link with the 570S – while it does sound mean and purposeful it just doesn't have the same aural charisma as the magnificent V10 engine in the Audi R8 Spyder. It beats that car when it comes to handling dynamics, though.
Even at normal, sensible speeds on the road, the McLaren feels poised, nimble and precise, with pin sharp steering and loads of feel through the excellent suspension, which is surprisingly compliant for such a high-performance car. And yet it's no more difficult to drive than a hatchback – the pedals are light and the seven-speed automatic transmission is smooth.
You're never going to blend into normal, everyday traffic though – even if it's an easy car to drive. The McLaren attracts a lot of attention, especially in vibrant shades like Mantis Green. That's all part of the appeal though – and it makes the McLaren feel that bit more special than competitors. It really is outstanding, if you're lucky enough to have the cash…
What does a McLaren 570S Spider (2017) cost?
McLaren 570S Spider (2017): What's It Like Inside?
Dimensions
Length
-
Width
-
Height
-
Wheelbase
-
Inside, the McLaren 570S Spider feels like the performance car it is. The steering wheel is small and has no confusing switches or dials on it, the instrument display is digital and there is more focus on controls for driving modes than ventilation or audio.
In stock form the cabin looks a bit plain – but it's unlikely anyone who buys a 570S will forgo options like carbon fibre and Alcantara, which make the interior feel as special as the exterior. Space is reasonable, with plenty of adjustment in the seats and steering wheel.
McLaren makes a point of explaining how it makes everything in house. There are no switches or instruments taken from other car makers so everything, right down to the indicator stalks and window switches, is a McLaren part and it's yet another one of those little details that adds exclusivity.
That said, the McLaren also uses its own infotainment system which is a bit fiddly at times. Still, you'll get used to it quickly enough – it just lacks that high-tech feel you get in a Porsche 911 Turbo S or an Audi R8 Spyder. It's very good – just not as good as those.
It isn't exactly practical either. The 'dihedral' doors are effectively halfway between gullwing and scissor doors and they look great – but they're not ideal in a tight parking space and they don't make getting in or out all that graceful.
Storage is minimal too, with space for a couple of overnight bags and nothing more. On that front the 570S does have a trick up its sleeve though -there is a little bit of room under the tonneau cover for an extra small bag - but you'll have to get rid of it if you want to enjoy top-down motoring. 
There are dozens of optional extras including various carbon-fibre interior and exterior details, several wheel designs, lots of upholstery finishes and much more besides - so much so you're unlikely to find two examples of the 570S that are the same. And if you want something very special, McLaren Special Operations will help you out - provided you have deep enough pockets.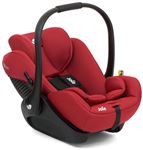 Child seats that fit a McLaren 570S Spider (2017)
Our unique Car Seat Chooser shows you which child car seats will fit this car and which seat positions that they will fit, so that you don't have to check every car seat manufacturer's website for compatibility.
What's the McLaren 570S Spider (2017) like to drive?
The recipe for the McLaren 570S Spider is familiar from most other McLarens since the MP4-12C. Power comes from a 3.8-litre twin-turbo V8 and is sent to the rear wheels via a seven-speed automatic transmission with manual paddles. Peak power in this case is 570PS, while 600Nm of torque is available from 5000 to 6500rpm.
Fitting a folding hard top means the 570S is slightly heavier than its coupe counterpart, but only by 46kg. Thank the carbon-fibre tub for that – it keeps things stiff without the need to additional bracing, like in an Audi R8 V10 Spyder. That lack of extra weight means performance is as blistering as you'd expect.
0-62mph takes just 3.2 seconds and the top speed is 205mph, or 194mph with the roof down. Official economy – if it matters – is 26.6mpg, which isn't too bad for a car like this and, importantly, isn't too far beyond realistic if you drive the car like a hearse and leave the transmission in auto.
Drive that way and the 570S is actually surprisingly useable too. Its suspension soaks up most lumps and bumps fairly well and the controls are very light, making town driving a relatively painless affair, if you don't mind being stared at by pretty much everyone age two or over.
But obviously faster, more challenging roads are where the 570S shines. Its stiff chassis and UK-tuned suspension mean body roll effectively doesn't exist – and that means the pin-sharp, beautifully precise steering does exactly what you'd expect, while the chassis provides loads of feedback.
You can pick from three handling modes and three engine modes independently, with a comfortable everyday mode, a high-performance bur road-friendly mode and a track-focused mode for each. There's also a manual override for the transmission, so you can set things up just how you want them.
But even in the basic setting the 570S is so good that it makes even typical, everyday speeds feel exciting. And yet when you want to access that huge pace, it's available without feeling daunting or scary – traction is excellent even on greasy or wet roads and there is huge amounts of grip. It's surprising how it combines user-friendliness with real personality.
That personality is enhanced when you fold the roof down. It takes about 15 seconds and can be operated at speeds up to 25mph, so you don't have to stop dead when the rain starts. And you don't have to stop enjoying the engine either – you can retract the rear window when the roof is in place.
You won't relish the sound of the V8 as much as you would the V10 in an Audi R8 though. It sounds good, with a sort of raucous, raw, mechanical growl, accompanied by whooshing turbos – but the V10 used in both the Audi R8 and Lamborghini Huracan sounds almost musical.
| Engine | MPG | 0-62 | CO2 |
| --- | --- | --- | --- |
| 3.8 | - | - | 249 g/km |
See also