Land Rover Range Rover (2013–)
Model History
August 2012
New Range Rover revealed
The all-new Range Rover was launched and described by Land Rover as "the most capable and most luxurious Land Rover yet. Lighter, stronger and with new levels of refinement, the Range Rover reinforces its position as the world's finest luxury SUV."
The fourth generation of the unique Range Rover line has been redeveloped from the ground up. The world's first SUV with a revolutionary lightweight all-aluminium monocoque body structure is 39 per cent lighter than the steel body in the outgoing model enabling total vehicle weight savings of up to 420kg. This lightweight aluminium platform has delivered significant enhancements in performance and agility, along with a transformation in fuel economy and CO2 emissions.
In addition to the strong and rigid lightweight body, an all-new aluminium front and rear chassis has been developed with completely re-engineered four-corner air suspension. While the luxurious ride has been retained, the vehicle's handling and agility have been significantly improved. The new suspension delivers flatter, more confident cornering, with natural and intuitive steering feel.
The 2013MY Range Rover has been engineered from the ground up to be the most capable, most refined Range Rover ever. Amongst the innovations is a next-generation version of Land Rover's Terrain Response system that analyses the current driving conditions and automatically selects the most suitable vehicle settings for the terrain.
To ensure exceptional durability and reliability, the 2013MY Range Rover has been subjected to Land Rover's punishing on and off-road test and development regime, with a fleet of development vehicles covering millions of miles over 18 months of arduous tests in more than 20 countries with extremes of climate and road surfaces.
Within the cabin, the 2013MY Range Rover provides occupants with a sensation of serene isolation, meeting the highest luxury car standards for refinement.
Measures like the rigorously optimised body structure and acoustic lamination of the windscreen and side door glass have significantly reduced noise levels, while the new suspension architecture has enabled engineers to achieve even more luxurious ride comfort and refinement.
The sumptuous interior incorporates distinctive Range Rover design cues, but executed with a very contemporary treatment, and clean, elegant surfaces which are flawlessly presented using the finest leathers and veneers. With over 118mm more legroom, the rear occupants benefit from vastly increased space and comfort, with the option of a new two-seat Executive Class seating package for the ultimate in rear-seat luxury.
There is a choice of a refined supercharged V8 petrol engine, TDV6 and SDV8 diesel engines combining responsive performance with outstanding CO2 emissions.
The 2013MY Range Rover has been engineered with the latest developments in vehicle technologies, from interior luxury features such as exclusive Meridian surround sound music systems and power upper and lower tailgates, to advanced chassis and driver assistance technologies.
Designed and engineered at Land Rover's development centres in the UK, the new Range Rover is built in a new, state-of-the-art manufacturing facility at Solihull, UK, using the latest low-energy aluminium body construction technologies. Over £370million has been invested in the Solihull plant to create the world's largest aluminium body shop.
September 2012
Range Rover officially launched
The World's first SUV with a lightweight all-aluminium body, the 2013 Range Rover takes the capabilities of the marque's flagship to a new level, with even greater luxury and refinement, enhanced performance and handling on all terrains, and significant advances in sustainability.
At just under 5m long, the 2013 Range Rover has a very similar footprint to the outgoing model, but with a smoother and more streamline profile and is the most aerodynamic Range Rover ever.
With over 118mm more legroom than before, the rear compartment offers vastly more space and comfort, with the option of the desirable new two-seat Executive Class seating package for the ultimate in rear-seat luxury.
To enable customers to create their perfect bespoke vehicle, the unique luxury ambience of the new Range Rover can be extensively tailored with an indulgent choice of colours, finishes and special details, from the immaculately-trimmed colour-themed interiors of the exclusive Autobiography series, to the stylish range of alloy wheels up to 22 inches in diameter.
The 2013 Range Rover has been engineered from the ground up to be the most refined, most capable Range Rover ever. With the adoption of the latest body and chassis technologies, the vehicle's all-terrain performance has moved on to another level, both in the breadth and accessibility of its off-road capability, and its on-road handling and refinement.
Amongst the industry-leading innovations is a next-generation version of Land Rover's Terrain Response system, which analyses the current driving conditions and automatically selects the most suitable vehicle settings.
An state-of-the-art lightweight suspension architecture delivers class-leading wheel travel, providing exceptional wheel articulation and composure to deal with the toughest conditions. Outstanding traction and dynamic stability is provided by the proven Range Rover full-time intelligent 4WD system, with a two-speed transfer box, working in parallel with the sophisticated electronic traction control systems.
The 2013 Range Rover's unmatched breadth of capability is also reflected in its tremendously strong structure with enhanced body geometry for all-terrain conditions, wading depth which has improved by 200mm to 900mm, and its position as the best towing vehicle in its class with a 3,500kg trailer capability.
To ensure exceptional durability and reliability, the new Range Rover has been subjected to Land Rover's punishing on- and off-road test and development regime, with a fleet of development vehicles covering countless thousands of miles over 18 months of arduous tests in over 20 countries with extremes of climate and road surfaces.
The 2013 model has been engineered to meet the highest luxury car standards for refinement. With its highly acclaimed line-up of torque-rich engines, the new Range Rover delivers swift and effortless performance. Customers have a choice of a petrol 510PS LR-V8 Supercharged and two diesel (3.0-litre 258PS TDV6 and 4.4-litre 339PS SDV8) engines, all of which are now paired with a smooth and responsive eight-speed automatic transmission.
True to the Range Rover DNA, the new model features the unique Command Driving Position, placing the driver in an elevated, upright seating position – typically over 90mm higher than other premium SUVs – to provide a supreme sense of confidence and control.
The 2013 Range Rover features an all-aluminium monocoque body structure which is 39 per cent lighter than the steel body in the outgoing model. Combined with weight savings throughout the chassis and driveline, the lightweight structure contributes to a model-for-model weight saving of up to 350kg compared to the outgoing vehicle.
The weight saving helps the 510PS LR-V8 Supercharged model to accelerate from 0-60mph in just 5.1 seconds, a reduction of 0.8 seconds over the outgoing model. At the same time, fuel consumption is cut by 9 per cent.
The lighter structure has also made it possible to introduce the sophisticated 3.0-litre TDV6 engine into the model line. With performance just as strong as the previous 4.4-litre TDV8 Range Rover, the smaller engine takes the total weight saving up to 420kg, and delivers a dramatic 22 per cent reduction in fuel consumption and CO2emissions, achieving figures of 37.7mpg (7.5 lit/100km) and 196g/km.
The interior is packed with a full suite of premium features to provide both front and rear seat passengers with the same peerless luxury experience. Their well-being is assured by the latest interior technologies for comfort, convenience and seamless connectivity. The new and improved features include:
Convenience – premium features including keyless entry, soft door close with power latching, power upper and lower tailgates, cooler compartments, and electrically deployable towbar
High-end audio from British specialists Meridian – exclusive surround sound music systems with audiophile-quality sound
Displays – state-of-the-art high-resolution displays, include the stunning full digital instrument cluster and the central 8-inch touch-screen with Dual-View functionality
Voice control and connectivity – a seamless connectivity package for mobile devices
Climate control – all-new best-in-class climate control systems, including the powerful new premium four-zone system and Park Heater timer facility
Luxurious seating – upgraded seating with luxurious new features such as multi-mode massage, and the exclusive new Executive Class rear seating package
Interior illumination – the latest LED illumination for subtle and sophisticated ambient lighting, including the ability to change the colour scheme to suit the driver's mood
To enhance dynamic performance, and to ensure that drivers enjoy a relaxed and stress-free experience behind the wheel, the new Range Rover incorporates a comprehensive range of advanced chassis and driver assistance technologies. Among the new and enhanced features are:
Two-channel Dynamic Response active lean control, and Adaptive Dynamics with continuously variable damping
Electric Power Assisted Steering, which enables Park Assist – the latest automated technology to help drivers parallel park their car in tight urban parking spots
Adaptive Cruise Control – with new Queue Assist feature which allows the system to continue functioning at low speeds and down to a complete stop
Intelligent Emergency Braking (including Advanced Emergency Brake Assist) – to help drivers avoid a collision if the traffic ahead slows quickly or another vehicle suddenly moves into their lane
Blind Spot Monitoring – with new Closing Vehicle Sensing feature to detect vehicles which are closing quickly from a further distance behind
Reverse Traffic Detection – to warn drivers of potential collisions during reversing manoeuvres
Surround Camera System – with T Junction view, Trailer reverse park guidance, and Trailer hitch guidance.
Pricing in the UK starts from £71,295 for the Range Rover Vogue 3.0L TDV6 rising to £98,395 for the Range Rover Autobiography 5.0L Supercharged.
September 2013
Hybrid diesel version launched
The hybrid Range Rover and Range Rover Sport are powered by a diesel engine alongside an electric motor rather than a petrol unit.
The hybrid Range Rovers pair Land Rover's 3.0-litre, 290bhp V6 diesel engine working with a 46bhp, 170Nm electric motor housed within the eight-speed automatic transmission. Land Rover claims comparable performance to models powered by the TDV8 diesel engine, but with 26% lower CO2emisions (169g/km) and average fuel economy of 44.1mpg.
The triple-mode drive system defaults to full hybrid mode, but drivers can switch to zero-emissions all-electric (EV) operation or a sport setting, which gives stronger acceleration. EV mode allows one mile of electric driving at speeds of up to 30mph before the batteries are exhausted, but they are recharged when the driver coasts or brakes. EV mode ensures both cars are exempt from the London congestion charge.
July 2014
Range Rover updated for 2015
The SDV8 now produces 339PS and 740Nm – a 40Nm increase – with a fuller torque curve from 1700rpm to 3300rpm. This improves in-gear acceleration by up to 6.5% from fifth to eighth gear, ensuring effortless overtaking ability and enhanced towing capability. The ZF 8-speed automatic gearbox has been re-engineered with a revised torque converter incorporating a twin-spring damper. Despite such a large increase in torque, the SDV8's fuel economy and CO2 emissions remain unchanged at 32.5mpg and 229g/km.
Updated puddle lamps now project the vehicle's silhouette onto the ground at night to light the way for occupants. A fixed panoramic roof with power blinds is now available while 19-inch alloy wheels with a Satin Dark Grey finish introduce a stylish option for buyers wishing to use smaller wheels where conditions and surfaces may prove more challenging.
An updated colour palette features Aruba silver and Kaikoura Stone, and long-wheelbase derivatives can be specified with a sophisticated 22-inch alloy wheel for the first time.
Inside, an Intelligent Cargo Mode senses if the rear seats are about to make contact with the front seats when folded down to increase luggage capacity, and automatically moves the front seats forwards. Once the rear seats have folded flat, the front seats are returned as close as possible to their original position.
From August, UK customers will be able to order the Range Rover Autobiography Black Long Wheel Base. It delivers higher levels of luxury with unique design finishes, precision leather detailing and new features to give this vehicle specification a distinctive and subtly different character both inside and out. Supreme comfort and added functionality are evident with the Executive Class package, which offers two individual fully adjustable seats and a re-designed extended centre console with electrically deployable leather tables, integrated USB charging sockets, enhanced stowage and bespoke lighting.
The Autobiography Black available in long wheelbase only, is available with an exclusive new Lunar/Cirrus interior colour combination. Autobiography Black signature details include unique Santorini Black and Bright Chrome exterior trim, LED tail lamps, unique 21- and 22-inch alloys, new seat designs with Semi-Aniline leather, customer-configurable mood lighting, and additional swathes of leather.
August 2016
Range Rover improvements for 2017 model year announced
2017 Rande Rover SV Autobiography Dynamic starts from £132,800 (compared with £149,800 for previous SV Autobiography that did not sell well). The 2017 model year Range Rover line-up is on sale ifrom October 2016 with prices starting at £76,350 for the TDV6 Vogue.
As well as a more luxurious interior with diamond quilted leather seats, performance is improved from the 550PS supercharged V8 petrol engine. 0-62mph drops from 5.4sec to 5.1sec. Top speed is limited to 140mph. T he SV Autobiography also has specially configured, lowered suspension for tauter handling and improved responses without sacrificing ride comfort.
It retains a manually selectable driving mode designed to assist when pulling away on slippery surfaces such as wet grass, snow or ice by controlling the amount of torque directed to each wheel. A dvanced Tow Assist aids reversing while towing via the Surround Camera System
It is able to automatically steer the vehicle to follow the path selected by the driver using the dash-mounted rotary Terrain Response selector. Standard driver assistance includes Rear Park Distance Control, Cruise Control and Speed Limiter, Lane Departure Warning and Autonomous Emergency Braking (AEB). The satellite navigation functionality and connectivity of the InControl Touch Pro infotainment system is improved and now comes with a 10-inch dual-view touchscreen.
October 2017
Range Rover PHEV launched
The exterior design has also evolved, while heightened comfort and new consumer technologies have been added to the cabin.
Comfort-enhancing functions transform the travelling experience for the driver and passengers. The front seats feature up to 24-way movement thanks to the new seat frames, with wider and deeper foams as well as heated arm rests. In the rear a completely redesigned cabin and seating layout create a tranquil sanctuary with no compromise to the rear load space.
If you're working while being driven, up to 17 connection points including domestic plug sockets, USB, HDMI and 12-volt are all available; 4G Wi-Fi hotspots for up to eight devices and convenient storage are all designed for the business traveller. The cabin is tailored for relaxation with luxurious seats offering 25 massage programmes thanks to Hot Stone massage technology within the seat backs.
Wider, softer seats offer sumptuous comfort. Reclining by up to 40 degrees, they make the most of the additional 186mm legroom (now 1,206mm in total) which the Autobiography Long Wheelbase model has to offer, and can be deployed at the touch of button. The exemplary comfort extends to heated and cooled seats, plus heated arm, foot and calf rests. For additional convenience and personalisation, all seat functionality can be controlled via a smartphone app, whether inside or outside the vehicle.
The elegance of the interior has been elevated by the seamless integration of the most advanced infotainment system yet created by Jaguar Land Rover. Touch Pro Duo, codenamed 'Blade', combines two high-definition 10-inch touchscreens on the centre console working in perfect harmony. Information can be swiped from one screen to the other, making the layout highly intuitive and engaging to operate, with unrivalled functionality.
The Range Rover P400e PHEV provides sustainable performance by combining a 300PS 2.0-litre four-cylinder Ingenium petrol engine with an 85kW electric motor. The 404PS total available power output – available through the permanent four-wheel drive system – delivers 0-60mph in 6.4 seconds and a maximum speed of 137mph.
With an impressive 640Nm of torque, the new powertrain combines to deliver dynamic performance with traditional Range Rover capability, comfort and refinement.
Thanks to its electrified powertrain, the Range Rover P400e emits only 64g/km on the NEDC combined cycle and provides an all-electric range of up to 31 miles without the Ingenium petrol engine running. For the first time, customers choosing Land Rover's flagship SUV can experience zero-emission driving.
The new Range Rover has been enhanced with further technologies for greater comfort and convenience:
Gesture sunblind: opened and closed by an advanced gesture control system that senses an occupant's hand movement. All it takes to open the blind is a rearward swipe in front of the rear view mirror, and forwards to close
Cabin Air Ionisation: uses nano-sized charged water particles to cleanse and purify the air for enhanced passenger wellbeing
Pixel-laser LED headlights: advanced technology is brighter and yet intelligently blanks sections of LEDs to avoid dazzling oncoming drivers
Activity key: customers can securely lock and unlock their vehicle without the need to carry a conventional key fob
Powertrain

Fuel Type

On The Road Price (from)

STANDARD WHEELBASE

3.0L TDV6 258HP

TDV6 Vogue

Diesel

£79,595.00

TDV6 Vogue SE

Diesel

£86,195.00

TDV6 Autobiography

Diesel

£98,595.00

4.4L SDV8 339HP

SDV8 Vogue

Diesel

£86,700.00

SDV8 Vogue SE

Diesel

£93,300.00

SDV8 Autobiography

Diesel

£105,700.00

2.0L P400e PHEV 404HP

P400e Vogue

Petrol PHEV

£86,965.00

P400e Vogue SE

Petrol PHEV

£93,465.00

P400e Autobiography

Petrol PHEV

£105,865.00

3.0L V6 S/C 340HP

V6 S/C Vogue SE

Petrol

£86,565.00

5.0L V8 S/C 525HP

V8 S/C Autobiography

Petrol

£109,530.00

5.0L V8 S/C 565HP

V8 S/C SVAutobiography Dynamic

Petrol

£141,580.00

LONG WHEELBASE

4.4L SDV8 339HP

SDV8 Autobiography LWB

Diesel

£112,900.00

SDV8 SVAutobiography LWB

Diesel

£167,850.00

2.0L P400e PHEV 404HP

P400e Autobiography LWB

Petrol PHEV

£113,065.00

P400e SVAutobiography LWB

Petrol PHEV

£168,015.00

5.0L V8 S/C 525HP

V8 S/C Autobiography LWB

Petrol

£116,730.00

5.0L V8 S/C 565HP

V8 S/C SVAutobiography LWB

Petrol

£177,030.00
November 2017
Range Rover SVAutobiography
launched Available exclusively in long wheelbase, the Range Rover SVAutobiography combines advanced new convenience features, including rear doors that close at the touch of a button, to create a sanctuary for relaxation that doubles as a mobile technology hub.
A comprehensive range of powertrain options includes an advanced new plug-in hybrid electric-petrol, with an EV range of up to 31 miles, and an uprated 565hp V8 supercharged petrol engine.
Executive Class rear seats are central to the appeal of the luxurious new model. Combined with the long-wheelbase body, they offer rear legroom of over 1.2m while deep seat foams with new comfort interlayers deliver enhanced passenger wellbeing. With a powered 40-degree recline capability, hot stone massage function, heated calf and foot rests, the rear cabin promises a peerless passenger experience.
A dramatic fixed centre console extends the full length of the cabin and the new model also allows passengers to close the rear doors using conveniently located buttons on the rear console.
Electrically deployable rear tables and integrated 10" Touchscreen rear entertainment screens ensure customers can use the 4G WiFi connectivity to work or relax in comfort, while a concealed refrigerator between the twin rear seats can hold two wine bottles or four 600ml bottles. The right-hand rear seat folds to accommodate long items and customers can also specify a Power Deployable Veneered Loadspace Floor for the first time, making loading and unloading luggage easier than ever.
With convenience features providing a first class customer experience, the attention to detail delivers new levels of sophistication. An exclusive new Zenith clock features on the rear centre console, inspired by the Elite 6150 watch. Its knurled bezel complements the finish on the start/stop button, gear selector and pedals.
Jaguar Land Rover's elegant and intuitive Touch Pro Duo infotainment system with twin high-definition touchscreen controls is a 'digital butler' fit for the 21st Century. Information can be swiped from one screen to the other, delivering unrivalled functionality and ease of use.
Powertrain

Fuel Type

On The Road Price (from)

4.4L SDV8 339HP

SDV8 SVAutobiography LWB

Diesel

£167,850.00

2.0L P400e PHEV 404HP

P400e SVAutobiography LWB

Petrol PHEV

£168,015.00

5.0L V8 S/C 565HP

V8 S/C SVAutobiography LWB

Petrol

£177,030.00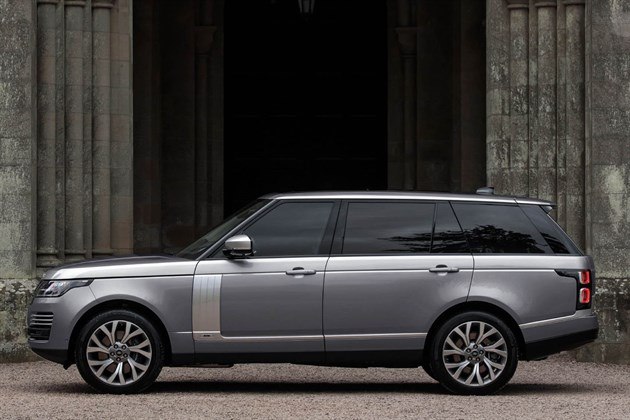 May 2019
Range Rover P400MEV announced. 400HP Ingenium straight-six 48v mild hybrid powertrain now available on L405 Range Rover at prices from £83,655 OTR. Offers 400HP with 550Nm of torque taking the car from 0-60mph in 5.9 seconds and to a top speed of 140mph. The engine has an electric supercharger that delivers immediate boost by spooling in 0.5s up to 65000rpm. The smooth six cylinder engine provides impressive torque response, comparable with engines with much bigger displacement thanks to optimal coordination between electric supercharger and twin-scroll turbocharger, which virtually eliminates turbo lag. Based around a new start-stop system, the latest 3.0-litre engine is paired with an electric motor that can harvest energy through deceleration and store it in a 48V battery. This energy can then be re-deployed through torque-assist, reducing CO2emissions and the work load on the engine. Fuel economy is 30.4mpg (9.3L/100km) with CO2 emissions of 212g/km (NEDC-equivalent (NEDC2) certified test figures quoted. Full WLTP data available on website.)
In addition, an updated paint palette includes two new colours, as Eiger Grey replaces Corris Grey and Portofino Blue is now available instead of Loire Blue. Customers can also choose a new 22in Gloss Black wheel, in addition to the existing 21in and 22in options. The headlights on Range Rovers have been updated to include two new features as standard. Available on both Matrix and Pixel LED systems, Sign Post Dimming identifies road signs and turns off the individual LEDs that could reflect back and cause glare for the driver. Tourist Mode has also been added to the Pixel system, allowing a driver to select whether they are driving on the left or right-hand side of the road and adjusting the beam pattern accordingly.
Connectivity has been enhanced with the addition of a new Smartphone Pack, fitted as standard across the range. Offering Apple CarPlay and Android Auto mobile device mirroring, it provides intuitive access to customers' favourite compatible apps such as navigation and music streaming.
Owners continue to benefit from traditional capability such as Terrain Response 2. There is also a suite of safety technology, including optional Adaptive Cruise Control – featuring Stop & Go and Steering Assist – alongside High Speed Emergency Braking.
What does a Land Rover Range Rover (2013) cost?
List Price from
£84,015
Buy new from

£70,716

Contract hire from

£734.63

per month
Buy a used Land Rover Range Rover from £38,450