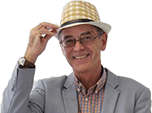 Hyundai Grandeur (2006–2009)
Last updated 5 May 2015
Driving
Get going and it's immediately apparent that someone at Hyundai has been working on the steering. It's heavy side of light with a positive feel, quite unlike the XG30, or a Lexus LS430 for that matter. And it doesn't lose feel as you corner, like so many large car systems do. Really quite okay.
The car comes as standard on sensible 17-inch wheels with 235/55 R17 tyres, so there's plenty of rubber between rim and pothole as you waft pleasantly along. Speed cushions are simply absorbed. Just driving the driver to the station I could anticipate the promise of this car.
On my way to take the snaps I found a bit more of that. Kickdown is instantaneous, the engine howls and the car gathers pace remarkably quickly. Zero-60 in 7.5 seconds isn't slow, yet it somehow feels quicker, almost Jekyll and Hyde like. One second the sombre saloon. Next second, the gangster getaway car.
Body control is okay, too. No lurchy floppiness. Just a decently tied down, big, fast car.
I was slightly disquieted to see an average fuel consumption of 23.9 on the dash. But that must have been before, possibly stuck in traffic. Once I re-set it I was getting a reasonable 28 - 29mpg. 5th is geared at about 35mph per 1,000rpm so 70 is a 2,000rpm cruise. A run to the auctions saw me top 30mpg on the fuel computer, but traffic jams made that short-lived and 60 miles of town and country nose to tail traffic saw it drop to 27.3mpg. Still not bad, though, for a big car with a 3.3 litre V6.
There's masses of legroom for two in the back, ISOFIX for three child seats across, 60/40 fold-down rear backrests, and a large but shallow 469 litre boot with a full size spare wheel under the floor.
Trying to compile the spec I found a really unusual feature. A proper driver's manual, in English, covering all basic maintenance jobs including replacing the pollen filter.
And very handily, the Trafficmaster Smartnav (voice guidance without the screen) also warns you of active fixed speed cameras and if you are overspeeding in an average speed camera zone.
I liked this big, comfortable car. It's a decent alternative to a Chrysler 300C or a Citroen C6, it leaves a Cadillac CTS for dead and it will appeal to some people more than an A6, a 5-Series or an E Class.