Ford Mondeo (2000–2007)
Last updated 1 September 2016
Very good to drive. Comfortable on long distances. Well built interior. Good value as a used buy. TDCi diesels offer great economy. Huge estate versions ideal for load lugging.
Some early models have uncomfortable seats. Limited storage for odds and ends. Swirl flaps can cause older 1.8i and 2.0i petrol engines to fail. Older 2.0 TDCi become money pits not worth repairing.
Updated 1 September 2016
As well as due to failed swirl flap motors, misfire may also be due to the coil pack, which, despite being 'solid state', can begin to break down internally, giving rise to misfiring. Automatics had...
Introduction
You'd be hard pressed to complete even the shortest journey without seeing a Ford Mondeo. It's one of the most popular models in the UK and with every new version it has improved to become a superb all-rounder. Comfortable, good to drive and spacious, the Ford Mondeo out-classes most other cars of its size and plenty that cost considerably more.
The design may not be that striking, but when it was first introduced in 2000, it was a huge departure from the rounded look of its predecessor. And this Ford Mondeo was a big improvement on the road too, managing to blend great handling with refined comfort - not an easy feat for any car, let alone a family hatchback. 
Of course, it's not just available as a hatch. There's a (rather unpopular) saloon and a superb estate version. The latter is a great load lugger and offers an absolutely enormous boot that can swallow huge amounts of kit whether it's luggage, boxes or the odd bit of furniture.
Most drivers prefer the economical yet punchy TDCi diesels (introduced in 2001) with the 2.0 TDCi with 130bhp the most popular. For performance, there's the Mondeo ST available with either a thunderous 3.0-litre V6 or a more sensible 2.2 TDCi.
There were several changes throughout its life, including improved quality and more equipment in mid-2003 while the biggest alterations occurred in 2005 when it was given a mid-life facelift with upgraded engines and a fresher exterior appearance with new light clusters and bumpers.
Ford Mondeo 2001 1.8 LX Road Test
Ford Mondeo 2.5 V6 24v 6-speed 2004 Road Test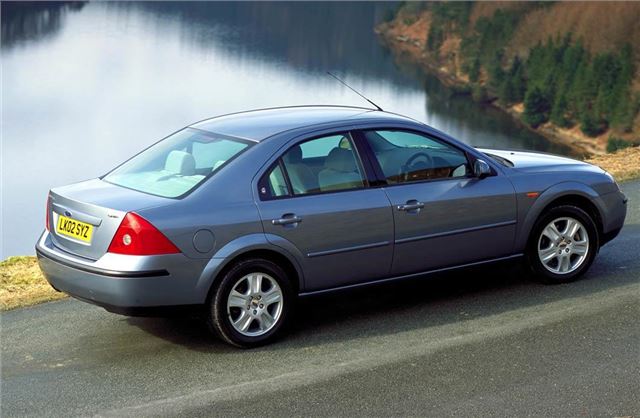 Owners' reviews
Has been a very good vehilce
Excellent to drive and very reliable.
Nice to drive but problematic
Looks good, comfortable and goes welll
Surpassed all expectations. Best car I've owned.