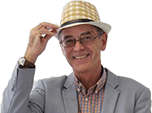 Ford Focus (2014–2018)
What's good
Relaxed, easy driving dynamics in town and on the motorway, but still enjoyable through corners.
New Sync 2 infotainment system is easy to use and intuitive.
Less cluttered centre console than old car. 
What to watch out for
The load area is far from best in class at 316 litres with a space-saver wheel specified.
Opting for larger alloy wheels reduces ride quality.
1.0-litre EcoBoost engine doesn't do well in our RealMPG section.
3-5-2015: Report that stop/start button of 2015 Ford Focus 1.5 EcoBoost Powershift will not stop the engine of the car.
8-5-2015: Report of judder from drivetrain of 2014 Focus 1.6 Powershift automatic when running slowly, diagnosed as problem with clutch pack, to be repaired under warranty. Three weeks later, 80 year old owner told unable to supply parts to repair and no date given for when they will be available.
19-7-2015: Complaint of new Focus 1.0 EcoBoost suffering intermittent power loss (turbo noit working) and going into "limp home" mode. A warning light appears with a sign indicating "engine needing service." If car stopped and left for about an hour it returns to normal operation.
9-4-2016: Report of poor economy and sooty exhaust on 2015 Focus 1.5 EcoBoost petrol bought September 2015 with 3,000 miles, now at 9,000 miles. Owner had towbar fitted that might have affected its electrics. ABS module was replaced. Car does multiple short runs daily. Smoking after 200 mile run and back of car covered in soot. Car emissions checked, PCM updated and economy improved to 35-37mpg, but still emitting soot. Another problem with the same car is that the satnav instructions on the instrument panel in front of the driver contradict those on the main satnav screen.
18-05-2016: Due to problems with Powershift dry clutch packs, Ford has dropped the 6-speed dry clutch Powershift on Focus models. The Focus 1.5 TDCI 120PS, Focus 2.0 TDCI 150PS and Focus 1.6 petrol 125PS are available with 6-speed wet clutch Powershifts. While the Focus 1.0T EcoBoost 125PS and 1.5T EcoBoost 150PS come with conventional 6 speed torque converter automatics.
23-9-2016: Report of clutch of 2015 Ford Focus 1.0 Ecoboost 'burning out' after 15 months and 12,000 kilometres.
10-10-2016: Report of "clutch judder" from 2nd hand 2015 Focus Powershift at 3,800 miles, eventially leading to loss of drive at 8,000 miles. New dry clutch pack took 4 weeks to arrive.
8-2-2017: Report of climate control problem with 2014 Ford Focus Mk3 Titanium X 1.0 EcoBoost 125 that has EATC (climate control). When EATC set to warmer temperature, say 20-24 degrees Celsius, and car is driven "sensibly" it constantly blows cold air, no matter what fan speed or vent setting is on. However, once the car is driven harder the heat starts coming into the cabin. As soon as it slows down, it resumes blowing cold air. (Might be something to do with the water cooling of the turbo. Maybe it has been bypassed.)
10-4-2017: Report of three successive failures of TPMS valves on the wheels of a 2014 Ford Focus due to mixed metal corrosion.
14-4-2017: Complaint that when changing wheels from winters to summers on 12,350 mile 2014 Focus, garage operative had difficulty with some of the lug nuts due, he said, to a peculiarity of the nuts which have a collar which attracts water which in turn rusts, expanding the nut to a size between 19 and 20. He suggested the nuts should be changed as the hexagonal lug nut tool supplied would not fit in the event of a roadside puncture. This nut arrangement seems peculiar to Ford. Local Ford dealer in Falkirk has never encountered this defect. Owner tried lug nut tool supplied with the car and it engages so poorly with the nuts that it would be impossible to have sufficient purchase to remotely slacken them. The tool fits very well with the locking lug nut which appears not to have this collar.
19-4-2017: Report from owner of 2014 Ford Focus that had two replacement dual mass flywheels paid for by Ford and one clutch paid for by Fordf. Owner to Ford to Small Claims over the £550 cost of the 2nd clutch and was awarded 65%.
2-5-2017: Report of manual gearbox of 2014 Ford Focus 1.5TDCI completely seizing at 32,000 miles. Must be covered by warranty.
22-5-2017: Just-auto.com reports a mass class action lawsuit against Ford over failed low torque dry clutch Powershift transmissions in Fiesta and Focus models. A mass action lawsuit has been filed, under the Magnuson Moss Warranty Act, against Ford Motor Company claiming a defective PowerShift transmission in Ford Focus models from 2012-2015 and Ford Fiesta models from 2011-2015. Currently, there are more than 4,000 past or current owners who have joined the lawsuit. Thousands of Ford Focus and Ford Fiesta owners have reported consistent jerking and shuddering while driving these vehicles, and many have experienced delayed acceleration and deceleration. In some instances, drivers reported unintended acceleration when stopped at traffic lights, and other times the cars would roll backwards on an incline. Ford has issued more than 20 Technical Service Bulletins (TSB) on these models to alert dealership service technicians about known mechanical issues. A TSB is not public and dealers are not mandated to contact owners to complete the repairs. The most common course of dealer action has been to re-flash the transmission control module (TCM) and replace clutches, but the transmission problems persist. Many customers have taken their vehicles to dealerships for repairs and spent hundreds of dollars, but the vehicles continued shudder. Often customers were told that the problems weren't real, but were part of normal operation. Feeling their cars were unsafe and unreliable, some customers ultimately sold them at a loss. According to Kelley Blue Book , the resale value of Ford Focus and Ford Fiestas with the PowerShift transmission is $3,000 – $4,000 less than Focus and Fiesta models without it. In 2014, Ford extended the powertrain warranty on the vehicles from five years and 60,000 miles to seven years and 100,000 miles to cover the clutch shudder on cars built before June of 2013, but no consistently reliable repair has been provided. Consumers interested in participating in the mass class action suit should visit FordTransmissionProblems.com and www.facebook.com/YourLegalJustice. Since this is a mass action lawsuit with "fee shifting", consumers will incur no legal fees. SOURCE Stern Law, PLLC
19-6-2017: Report of 2017 Ford Focus 1.5TDCI "making very strange groaning noises." Turned out to be the crankshaft auxiliaries driveblelt pulley breaking up, which it finally did, flinging off the belt and wrecking the alternator.
31-7-2017: Report of Powershift transmission of 2015 Ford Focus failing to respond for up to five seconds on occasions after cruising to an almost standstill and then accellerating.
10-8-2017: Report of clutch failure at 16,500 miles on 20 month old Ford Focus 1.0T Ecoboost bought new in 2015. Dealer referred to 6,000 mile/6 month Frd clutch warranty. Owner asked for the old clutch and was told I would have to pay extra as Ford impose a surcharge on non-returned. clutches. They want them back for refurbishment.
12-8-2017: Report of clutches of Ford Focus Powershift slipping at 20,000 miles. Possibly caused by failure of cranksaft end seal.
14-8-2017: Report of judder from drivetrain of recently purchased used 2014 Ford Focus 1.6 Powershift.
22-8-2017: Report of 2015 Ford Focus Powershift needing its 2nd clutch pack replacement in 2 years due to judder. Reader says " Software update and replacement clutch worked great first time, for about 9 months, then same problem started again." Been told by dealer that the "transmission control module" (or some similar term) has had warranty extended to 5 years but doesn't want to have to go back and get new clutch every 12 months.
30-8-2017: Report of clutch and dual mass flywheel of Ford Focus 1.0 Ecoboost, new in September 2015, burning out and being replaced in November 2016. The dealer and ford would not want to pay under its warranty, as they attributed this to driver's bad driving. The same problem occurred last week, August 2017 at just 3,000 miles from new. Dealers won't want to look into their case files to see how many Ford cars are fixed with clutch problems, whilst Ford won't want to pay. But when the car was serviced in March, the owner met with a gentleman with the same problem. His ford car's clutch burnt out with only 900 miles. Reader is also experiencing a 'stickiness' when stepping on the pedal. Probably a failing clutch slave cylinder.
4-9-2017: Yet another report of clutch failure, this time on a 2014 Ford Focus 1.0 EcoBoost Titanium at 22,000 miles, 6 weeks out of 3 year warranty.
5-9-2017: Further report of clutch failure on a 2014 Focus 1.0 EcoBoost at 24,000 miles. Widespered problem denied by the Ford dealer.
7-9-2017: Report of 6-speed transmission of 2014 Ford Focus 2.0TDI Titanium failing at 3 years 4 months old and 33,000 miles. Ford offered to replace it for £1,112, obviously assuming some liability.
28-9-2017: On Focus 1.0 Ecoboost manuals, Ford verbally confirmed it is offering either a free replacement clutch, or partial payment of the replacement costs of the clutch, DMF and slave cylinder, depending on mileage and servicing regime of the car. Highest payments if always Ford serviced. Ford said it only affected 3% of the cars.
27-10-2017: Report of clutch failure on 2016 Ford Focus 1.0 Ecoboost at 17,000 miles and the Ford dealer is trying to charge the owner for it.
30-10-2017: Report of rear door lock of 2015 Ford Focus failing to latch when car has been parked in the sun. Works when car is moved to the shade. Supplying dealer told owner that if the lock needs adjusting the work will be changeable.
3-11-2017: Report of failure of crankshaft timing belt pulley on 21,000 mile independently serviced 2014 Ford Focus 1.6 TDCi 115 Start/Stop Titanium Navigator 5dr Estate Manual. Happily squeak heard before belt came off, so only pulley, timing belt tensioner and waterpump needed to be replaced. Bill from independent was £600.
6-12-2017: Report of 2014 Ford Focus 1.6 EcoBoost occasionally running at 4,000 rpm by itself. Suggests a high pressure fuel pump problem and engine emissions system increasing revs to admit enough air to burn the fuel completely.
10-12-2017: Report of clutch judder on 2015 Ford Focus 1.6 Powershift, replaced early in 2017. Now starting to judder again. From cold there is no problem but once the vehicle has run for 20 minutes or so it is evident but nowhere near as severe as last year. It was recently serviced but they found nothing wrong.
21-12-2017: Report of clutch pedal of 2016 Volvo V40 D2 sticking at 14,400 miles. (This car has the same engine and drivetrain as a Focus 1.6TDCI.) Faults found to be a combination of failing clutch slave cylinder and leaking crankshaft end seal. Repaired FoC.
18-1-2018: Report of " really annoying knocking noise from the clutch" of a 2014 Ford Focus 1.0 EcoBoost at 30,000 miles. "Noise comes and goes, guessing it's the clutch release bearings."
8-2-2018: Report of clutch failure on 2014 Ford Focus at 16,000 miles. C ar was recalled for clutch adjustment in December 2018 but Ford will not consider any compensation for the failure.
16-2-2018: Report of cylinder head gasket failure on 2014 Ford Focus 1.6 Ti-VCT 125 Powershift Auto Titanium Navigator Estate.
20-6-2018: Report of problems with gearchange of 2014 Ford Focus Powershift transmission at 24,700 miles. Owner told transmission control module was faulty and it was a manufacturing issue so covered under warranty and replaced at no cost. He picked the car up and a few miles down the road the problem returned so he took the car back. Now told that it needs a new clutch pack and that this was not covered. Asked to pay £1,000 for the new clutch pack.
30-7-2018: Report of 6-speed Powershift transmission of 2014 Ford Focus needing a new clutch pack at 9,000 miles at a price of £1,100.
30-7-2018: Report from reader of purchasing a 6,800 mile 2014 Ford Focus Navigator in October 2017. Car now at 10,800 miles. Overheating problem due ro loss of coolant led to crack in engine block. Car has full dealer service history. Has been quoted £4700 to repair. Ford refuse any assistance at all. Suggested Small Claims. This should not have happened on a 2014 Focus 1.0 Ecoboost because the degas pipe problem was supposed to have been fixed. See 2011-2014 Focus entry for photos.
20-8-2018: Report of bang and vibration from 6-speed wet clutch Powershift transmission of 2014/64 Ford Focus 2.0TDCI. The vibration happened again intermittently when in 'Sport' mode when slowing down, as if the gearbox was struggling to change gear. Transpired that the car had been bought used at just over 3 years old and the requirted 3 year/38,000 mile transmission fluid and filter change had not been carried out by the selling dealer.
29-8-2018: Report of DPF regen problems with Focus 1.5TDCI recently purchased used from a Ford dealer: "A couple of weeks ago an MIL came on with a P2463 fault, blocked DPF. The garage cleared the DPF under warranty. Recently I have noticed that EVERY time I use the car it is attempting to regen. High idle speed, start stop not working, poor fuel economy. My daily commute is 44 miles round trip and it got a 100 mile motorway blast just the other day. I checked the oil and the dipstick shows the level to be too high. I understand that failed regens dump diesel back into the sump and degrades the oil. Am I looking at a faulty sensor of some sort? We recommended a switch to Super, keeping the revs above 1,500 until the engine and exhaust system are fully heated up, and never switching off mid active regen.
9-9-2018: Report of juddering from automatic transmission (Powershift dry clutch pack) of 2014 Ford Focus at 47,000 miles.
23-9-2018: Report that electric radiator fan of 2017 Ford Focus 1.0 Ecoboost keeps going, often for 5 minutes or more after switching off the engine. Suggested idling for a minute to keep oil and coolant circulating and take heat out of the turbo. If there is an electric coolant pump to cool down the turbo it could be that has failed.
28-9-2018: Report of intermittent fault with instrument cluster of 2014 Ford Focus Edge estate whereby the clocks and dials, etc. will shut off and suddenly come back on, re-setting the trip an av mpg. etc. This seems to be getting worse and most recently it shut off for a few minutes. (We have heard that this can be due to the brittle solder used in manufacturing the instrument clusters.)
31-10-2018: Report of radio stopping working in 2014 Ford Focus estate at 23,000 miles. Satnav works but with no sound. No sound from CD player, Bluetooth or reversiing sensors. Ford dealer says repair will cost £960, including £120 diagnostic check. Reads like a failed earth to the speaker system or a dried out and broken contact in the amplifier.
7-11-2018: Report of 2013 Ford Focus EcoBoost losing its coolant and engine subsequently failing to start.
30-11-2018: Report of clutch pack failure on 2015 Ford Focus 1.6 Powershift at under 11,000 miles. (There is a customer service action over the Powershift transmission control module.)
2-12-2018: Report in Ask of 2015 Ford Focus spontaneoulsy combusting on a motorway. (No specific details given.)
17-12-2018: Report of judder when accelerating in 1st and 2nd gear in 2015 Ford Focus Titanium 1.6 petrol automatic that reader was thinking of buying. Dealer assured reader that a software upgrade would fix it. It won't. Needs a new Poweshift clutch pack.
18-12-2018: Report of 2015 Ford Focus recalled in November under R/2018/082 (see Recalls): The car was booked in and the relevant test carried out and owner advised there was no problem with the car. 10 days later noticed clutch pedal not returning, we contacted the Ford dealer again and arranged for the car to be booked in. They said the diagnostic check would be £94 per hour. Following the check owner advised that the seal had gone on the clutch slave cylinder and once stripped down further damage was found. Since then Ford has not been forthcoming with any help stating the car was out of guarantee, and the initial recall was nothing to with this clutch failure. (This is the same problem that frequently occurred both with the 2014-2018 Focus and C-Max and 2011-2014 Focus and C-Max covered in the carbycar entries for them.)
4-1-2019: Owner of Ford Focus 1.0 EcoBoost 125 received Recall notice R/2018/082 (see Recalls) concerning clutch of car on 24th December 2018.
8-1-2019: Report of Ford Focus Titanium X Powershift juddering on takeoff from standstill and whilst driving at low speed.
8-1-2019: Report of driveshaft seal leak and both rear dampers leaking fluid on 2015/65 Ford Focus.
24-1-2019: Report of clutch burning out on Ford Focus Titanium Navigator in June 2018. Clutch, dual mass flywheel and clutch slave cylinder burned out at 28,797 miles. Cost to repair was £1,222.95. In November 2018 owner received the recall notice for the clutch fault, but is having difficulty claiming a refund.
6-2-2019: Report of clutch failure of Ford Focus Titanium Navigator 1.0 Ecoboost in July 2016 at 20,903 miles. Then clutch and dual mass flywheel failed again on 11th January 2019 at 45,257 miles. Ford dealer denied it was subject to the recall and stated it was due to "fair wear and tear". However, they reduced the bill from £1,200 to £900.
26-2-2019: Report of two failed clutches and dual mass flywheels in a 2014 Ford Focus 1.0 Ecoboost. Clutch and DMF first replaced in July 2016 at 20,903 miles. Replaced for the second time in January 2019 at 45,257 miles at a (discounted) cost of £900.
13-3-2019: Problem with severely out of date mapping in Fords's Sync 3 satnav (in this case in an April 2017 Kuga) fiinally cured by an update. If you visit https://www.ford.co.uk/owner/resources-and-support/sync-bluetooth/update#/status/ and enter your chassis number it tells you an update is required. It needs to be downloaded onto a USB stick and then loaded into the car.This takes a long time because the file is massive approx. (25GB). Enter chassis number bottom right, then it'll find map update required and click 'prepare maps download' and then take it from there. This afflicts all Sync 3 sat navs to date.
16-4-2019: Report of juddering Powershift automatic tr5ansmission in 2015 Ford Focus. Started juddering while it was still under warranty. Owner took it to Ford dealer twice and they reprogrammed the computer but the problem continued. It's now 5 months out of warranty and dealer says it's so bad it now needs a new clutch pack which will be £1,000, but ford is refusing to pay for this. They say the extended 5 year warranty doesn't apply to this car. It's done 22,000 miles.
30-4-2019: Report of clutch pack of Focus Powershift transmission failing, being replaced, then the replacement failing with a harsh judder when pulling away fast from a standing start like at cross road or lights.
1-5-2019: Report of instrument cluster illumonation switching off when headlights are switched on in 2014 Ford Focus 1.0 EcoBoost. Might be failed soldered contacts in the instrument cluster or a confused canbus Body Control Module.
16-5-2019: Report of 2016 Ford Focus being recalled under " Ford Focus Clutch Safety Recall Number 18S07". Recall lettere states " Authorised Dealer will update the Powertrain Control Module software. The revised software will detect high energy slip events and reduce engine power to reduce the risk of clutch pressure plate fracture". (Same owner who suffered clutch failure with previous Focus.)
7-6-2019: Report of juddering from transmission of "recently purchased" 2016 Ford Focus 1.6 Titanium Powershift. Probably needs a new clutch pack.
9-8-2019: Report of a/c condensers failing on two separate 2015 Ford Focus models owner by a husband and wife.
26-8-2019: Report of engine failure of February 2018 Ford Focus 1.5 EcoBoost automatic estate. Began after 30 minutes fast driving on the A38 with seemingly some engine "flutter". After turning off onto a B road it started to vibrate badly when idling, then all the time, and within 10 minutes pulled over and engine had no power at all. AA man did usual checks i.e. coils , spark plugs, etc. but clearly a major fault with engine, which is now being hauled around Surrey/Sussex by the AA trying to find a garage who can look and deal quickly under warranty. Probably a cracked cylinder head.
11-10-2019: Report of no 1 piston failure in December 2015 Ford Focus EcoBoost at 22,000 miles. Replacement engine required, for which Ford will pay most of the cost, asking £800 from the owner for the 22,000 miles the engine had already completed.
21-10-2019: Report that upshifts in recently purchased 2015 Ford Focus 1.6 Powershift are not smooth.
2-11-2019: Report of problems with Powershift transmission of 33k mile 2014 Ford Focus 1.0 EcoBoost 125. Vehicle inspection result is showing fault as PO7A5 Transmission Friction Element #B Stuck on (clutch pack). Quoted £1,200 + VAT to repair.
2-11-2019: Reader reported waiting 10 weeks and still waiting for a new engine to replace the failed 1.5 EcoBoost 4-cylinder engine in his Focus. (See: 26-8-2019.)
4-11-2019: Report of DPF problems with 20,000 mile 2016 Ford Focus 2.0TDCI: I have a ford focus 2016 plate black edition 2.0TDCI 20,000 miles. E ngine warning light came on. Owner told to give it a good run as it was saying DPF and if it come back on to get DPF cleaned so owner did. Then 2 days later it came back on so owner got it cleaned but it came back on again. Then told told the DPF sensor was faulty so got a new sensor from Ford. The next day it came back on so Ford did a diagnostic and told owner it should just need software and that there was an outstanding recall. When he went back to pick up the car they said everything is done and he shouldn't have any more problems. But on his way home from the Ford garage the engine warning light came back on again, so he took it back, they did another diagnostic for free and are now telling him it's an electrical fault.
5-1-2020: Series of catastophes reported with 2014 Ford Focus 1.0 T EcoBoost 125 Start/Stop Titanium Navigator. Recalled under turbo degas pipe TSB in January 2019. 2 weeks later engine malfunction error and car went into limp mode with fault codes relating to fuel pressure but also a short to ground message. The codes were cleared to allow owner to get home but when he turned ignition off the engine kept running. Could only stop it by stalling the engine. Problem went away but kept coming back. Then in May 2019 the Body Control Module was replaced. Then in December 2019 same problem occurred: engine malfunction error, fuel pressure error codes and short to ground error. Garage found BCM Fault and required replacement due to water ingress. Then found wiring harness faulty due to water ingress causing a short. The BCM replacement cost £320 but now owner is told that due to the labout involved the wiring harness work will cost £2,300.
60 Faults reported
Recalls
04-09-2017: R/2017/241: SIDE AND/OR KNEE AIRBAG MAY FAIL TO DEPLOY IN A COLLISION. The airbag initiator may be defective and may prevent the side airbag(s) and/or knee airbag deploying in the event of an accident. In a collision the airbags not deploying could put the occupants at further risk. Fix: Recall the 1943 vehicles that are likely to be affected to check and, where necessary, replace the side and knee protection airbags complete with initiators. Build dates: 18-07-2016 to 28-11-2016.
12-3-2018: R/2018/53: Ford Focus, C-MAX, Kuga, Mondeo, Galaxy and S-MAX with 2.0 litre Dratorq engines (48,595 cars): OIL SUMP MAY CRACK DUE TO THE ENGINE OVERHEATING. The engine control module calibration may not adequately detect an overheat condition in certain 2.0L Duratorq Diesel engines. In extreme cases, an overheated engine can result in a breach of the oil sump leading to loss of the engine oil. FIX: Recall the vehicles that are likely to be affected and download revised software for the control module calibration that improves overheat detection and provides an instrument cluster warning indicator to the driver and engine de-rate strategy. BUILD DATES: 19-9-2014 to 28-9-2015.
16-7-2018: R/2018/082: Ford Focus, C-Max, S-Max, Galaxy, Mondeo, Kuga. CLUTCH PRESSURE PLATE MAY FRACTURE. Affected vehicles fitted with a 1.0, 1.5 or 1.6 Ecoboost engine and 6-speed manual transmission could suffer clutch pressure plate fracture. This results in clutch smell, reduced vehicle speed and performance. In the unlikely event of clutch pressure plate fracture, a noise (thud / bang) could be heard from the vicinity of the transmission, in extreme cases resulting in clutch / transmission fragments being released and striking under hood components creating a risk of smoke and fire from the under hood area. FIX: To prevent the repeated heating /cooling events a new calibration has been developed for vehicles fitted with Engine Stop Start feature. The software with the additional feature sets the Instrument panel 'Wrench light' and de-rates the engine performance if prolonged clutch slip is detected. The software feature includes a drive cycle strategy for latching the wrench light and engine performance de-rate if the customer should experience repeated clutch slip events. For vehicles that do not have Engine Stop Start feature an alternative clutch kit has been released. VINS: WF0HXXGCBHEA25528 to WF0WXXGCEWGR76582 ; WF0EXXGBBEAG30242 to WF0GXXGBBGEY27603 ; WF0AXXWPMACS52904 to WF0AXXWPMAGR89997 ; WF04XXGCC4ES37585 to WF0LXXGCBLEY89520 ; WF0JXXWPCJFJ42426 to WF0SXXGBWSEY27236 ; WF0JXXWPCJFJ42426 to WF0SXXGBWSEY27236 ; WF0JXXWPCJFJ42426 to WF0SXXGBWSEY27236 ; WF0JXXWPCJFJ42426 to WF0SXXGBWSEY27236 ; WF0EXXWPCEEA25812 to WF0FXXWPCFGR84561. Build dates: 2-8-2012 to 1-7-2016.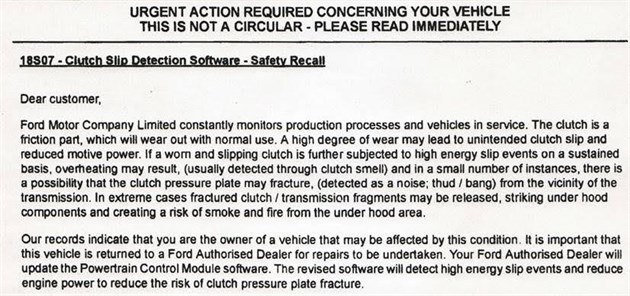 We need your help with our latest Satisfaction Index, so that we can help others make a smarter car buying decision. What's it like to live with your car? Love it? Loath it? We want to know. Let us know about your car - it will only take a few minutes and you could be helping thousands of others.
Help us with the Honest John Satisfaction Index now