Mazda CX-30 2.0 Skyactiv-X 2019 Road Test
The Mazda CX-30 is a trendy crossover that's great to drive and has a superb interior. It's not as practical as alternatives and its petrol-only engine line-up won't suit everyone, but it's still a very desirable choice.
Whether Mazda needs another crossover SUV in its line-up is up for debate - the CX-5 is already an excellent alternative to the likes of the Volkswagen Tiguan and Honda CR-V, while the CX-3 competes against the SEAT Arona and Nissan Juke. But SUVs now account for nearly half of Mazda's sales in the UK, so a gap has been created for the CX-30, a car which rivals the Kia XCeed to the BMW X2.
It's available with two-wheel or four-wheel-drive (choose the former, unless you really need to go off-road), and a choice of manual or automatic gearboxes. Buyers can pick from two mild-hybrid petrol engines - both naturally-aspirated 2.0-litre units, but there's no diesel option in the UK. Instead, Mazda claims the new 180PS Skyactiv-X petrol, which uses compression ignition to combine the advantages of petrol and diesel engines, is so efficient and powerful that it makes diesel redundant.
Just like in the Mazda 3 hatchback, the naturally-aspirated Skyactiv-X doesn't feel as quick as its 180PS suggests, requiring regular gear changes and a willingness to rev it to make progress (or even reach the top of steep inclines, as evidenced by our early drive in Devon). It also sounds a bit harsh, particularly when cold and at low speeds.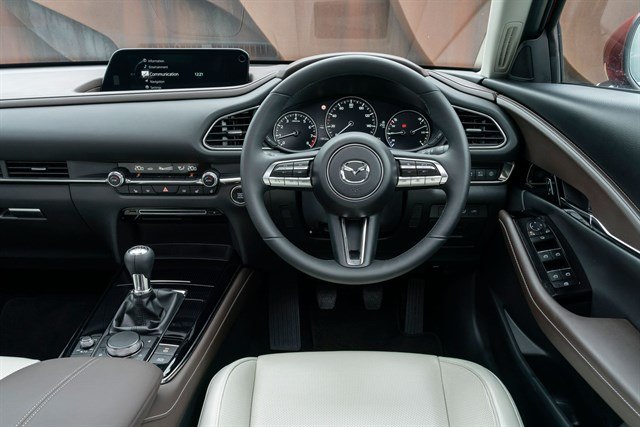 If you're after refinement, the lower-powered Skyactiv-G is a better choice. It also seems more eager to build revs than the Skyactiv-X, although it's obviously not as peppy as turbocharged rivals, despite its 2.0-litre capacity.
While both engines are mild hybrids, you'll barely notice the difference over a standard petrol engine. The 24v system can recuperate energy normally lost under braking providing a minor improvement in fuel economy, but don't expect to travel under electric power like a conventional hybrid or plug-in hybrid. Officially, the Skyactiv-X is good for 47.9mpg when combined with the manual gearbox and front-wheel drive. 
Engines aside, the CX-30 is a brilliant car to drive. In typical Mazda style, its steering is very direct, while the manual gear change feels like it's straight out of an MX-5 - and that has one of the best gearboxes on the market. We're yet to try the torque-converter automatic, but the manual gearbox is so good we'd think twice about paying more for an auto.
Despite being a keen handler, it also rides surprisingly well, even on the 18-inch alloy wheels of our test car. Potholes won't shudder through the cabin too harshly, but neither does it feel particularly floaty. It's just very well judged.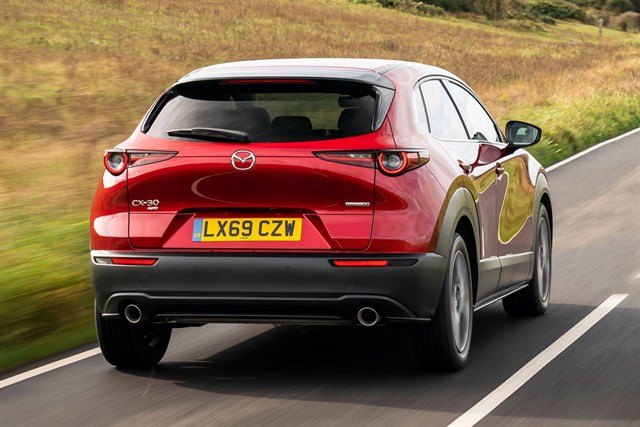 The CX-30's interior is very similar to the Mazda 3 hatchback. It feels premium, with plenty of soft-touch materials (although the mixture of different colour leathers in our GT Sport test car won't be to everyone's tastes). The 8.8-inch infotainment system perched on top of the dash is easy to operate, with Apple CarPlay and Android Auto as standard. It's controlled by a rotary controller positioned between the seats, which is more intuitive to use on the move than a touchscreen system.
The seating position is obviously higher up than the hatch, but the CX-30 still isn't the roomiest choice. Adults sat in the rear will find headroom limited, while anyone with long legs will find themselves kneeing the front seats. At 430 litres, the boot is usefully large, but you'd be better looking at the CX-5 if you regularly carry a lot of luggage.
On the face of it, the CX-30's £22,895 start price makes it appear an expensive choice, while high-spec models are close to £30,000. But it's very well equipped, with even the most affordable models getting the 8.8-inch infotainment screen, radar cruise control and LED headlights. Mazda's already offering some tempting PCP finance deals, too, starting from £249 per month.
The Mazda CX-30 is a stylish choice. If you're after a practicality there are better options, and we still a think a diesel would be desirable for high-mileage drivers, but the CX-30 is a stylish purchase that's great to drive.
The Mazda CX-30 is on sale now with deliveries from January 2020. Prices start from £22,895.