Toyota Hilux (2005 - )
Last updated 6 March 2014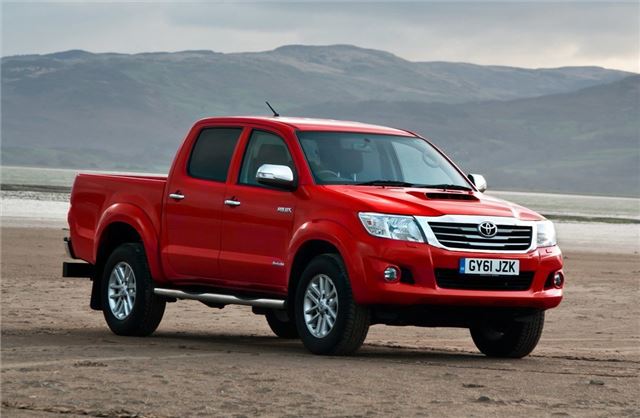 What's good
Rugged and very reliable pick-up that's also good to drive.
Robust interior.
What to watch out for
RHD UK version initially had 102bhp 2.5 D-4D with 260Nm torque (just 200Nm on two wheel drive version). Also only 5-speed manual (no auto).
Toyota warned that independent Thai imports may not have standard ABS, only have drivers airbag on top of the range models, do not have passenger airbags, seatbelts do not have pretensioners, not child locks on rear doors of double cab, no rear centre headrest, softer suspension on double cabs, less anti corrosion protection.
Breather tube for rear axle only vents on axle so water can get in when deep wading.
Seems to be a serious wet weather problem in Thailand (where most are made and huge numbers sold). Maybe be the breather tube on the rear axle.
High kilometre drivers in Thailand complain of having to renew timing belts every 2 years.
One report of worn injectors on a 3.0 D-4D at just 3 years old and 15,000 miles.
13-7-2013: On belt-cam 2.0 and 2.5 litre diesel engines the waterpump must be replaced at the same time as the timing belt. They are prone to breaking up and when they do they throw the belt off.
Recalls
16-08-2006: Toyota Hilux engine may surge or stall.
June 2009: TSB issued "Free upgrade" of models with 16" alloy wheels and tyres to to 15 inch alloys. If refused, owner may be required to sign a waiver to accept that he knows the vehicle may be dangerous and that his vehicle warranty will be void. Seems that a Hilux failed the Swedish Elk Test on 16" wheels. Latest models are fitted with Automatic Stability Control.
Back: Model History
Next: Driving