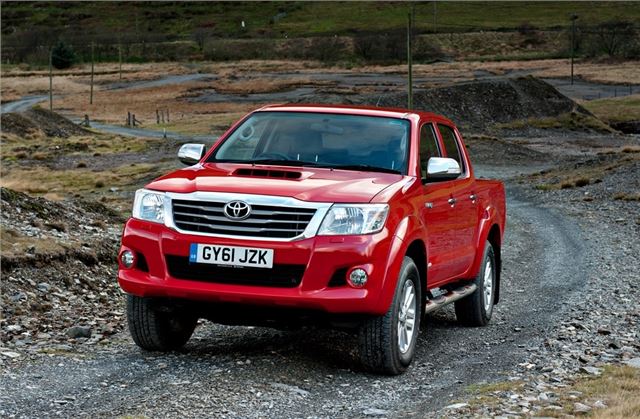 What's Good
Toyota out-maxed Isuzu's D-Max with a big new pick-up available as normal, king and double cab with two or four wheel drive and manual or automatic transmission.
5,130mm long. Launched in Thailand as the Vigo in August 2004 and already a huge seller by October 2004.
Top engine 163bhp 3.0 litre D-4D with 343Nm torque from 1,600 to 3,200rpm.
Also 2.5s with outputs from 102bhp.
Double cab had most comfortable rear seat of any double cab. Seat squab lifts up fort carrying cargo or tools in the cab. Two wheel drive 3.0 double cab with autobox and decent level of trim sold for £9,300 OTR in Thailand. Independently imported to UK from February 2005. South African built Vigos officially arriving in UK October 2005. Euro version first shown at Barcelona Motor Show May 2005.

Max braked towing weight (2WD) 1,800kg
Max braked towing weight (4WD) 2,250kg

Independent importers include www.directautosltd.co.uk and www.northern4x4centre.co.uk

July 2006 UK Motor Show: More powerful EU4 120PS 2.5 D-4D with 325Nm torque, plus optional EU4 171PS 3.0 D-4D with 343Nm torque from 1,400 to 3,250rpm available with 5-speed manual or 4-speed auto announced for first deliveries January 2007. Also has increased towing capacity. 'Extra Cab' 2+2 cab launched at the same time has 1.805mm long load deck. Prices:-

HL2 4x2 single cab D-4D 120 £12,170 + VAT
HL2 4x4 single cab D-4D 120 £14,270 + VAT
HL2 4x4 extra cab D-4D 120 £14,870 + VAT
HL2 4x4 double cab D-4D 120 £15,570 + VAT
HL2 4x4 double cab D-4D 120 £16,270 + VAT
HL2 4x4 double cab D-4D 170 £16,870 + VAT
Invincible 4x4 double cab D-4D 170 £18,870 + VAT

All 2007 versions come as standard with air conditioning, electric windows, remote central locking, driver and front passenger airbags and ABS.

Revised 2.5-litre D-4D 120 engine sees power up to 118bhp (120 DIN hp) and torque boosted from 260Nm to 325Nm, with more than 300Nm produced between 1,600 and 2,600rpm. This gives the Hilux a better balance of flexible driving performance and low fuel consumption.

DIY plug-in power upgrade chip from Owen Developments.

Toyota Hilux 2.5-litre power upgrade

* Power increased from 101 to 120bhp at 3,758rpm
* Torque increased from 178 to 213lb ft at 2,334rpm
* Retail price £420 plus VAT

Original Toyota Hilux 3.0-litre power upgrade (for independent imports)

* Power increased from 152 to173bhp at 3,470rpm
* Torque increased from 242 to 290lb ft at 2,274rpm
* Retail price £420 plus VAT

Contact: Owen Developments 01865 821062. www.owendevelopments.co.uk

High power version announced 11-4-2008 equipped with 3.0-litre D-4D engine that already features in the Hilux Invincible, but thanks to a Toyota Motorsport diesel engine performance kit, maximum output is increased to a massive 194bhp (197 DIN hp). This slashes the 0 to 60mph acceleration time from 12.7 to 10.2 seconds (11.1 seconds for automatic). Even greater hike in torque performance, with a maximum 430Nm (up from 343Nm) sustained all the way from 1,600 to 3,200rpm. On sale UK from 1 July 2008, price from £21,540 (on the road) + VAT. 219g/km for manual. 246g/km for auto.

Hilux is styled to reflect its pre-eminent position in the pick-up market, with dedicated 15-inch alloy wheels and stainless steel mesh grille. The cabin is finished in a special two-tone grey leather, with heated front seats. Prices and full specification details will be announced nearer the on sale date.

7-12-2009: Improvements for 2010 model year:

Revised 2.5 D-4D engine to produce significantly more power and extra torque. Maximum output has been increased from 118 to 142bhp, a rise of 20 per cent. Maximum torque is up by 18Nm to a maximum 343Nm at 2,000rpm. Achieved by new high-output turbocharger and new fuel injectors that are more precise, improving throttle response and performance. To cope with the extra power, the pistons have been upgraded to a new high-strength material. 0-60 cut to 12.2 seconds. Emissions unchanged at 219g/km.

Five-speed manual transmission. Single Cab, Extra Cab and Double Cab all with improved payloads. Capacity has increased by 35kg on the HL2 Double Cab and 25kg on the HL3 Double Cab.

The Hilux range has been revised with the high-power 3.0 D-4D engine now only available in the Invincible Double Cab. Leather upholstery and satellite navigation with Bluetooth are now options on the Invincible. Two smart grey upholstery cloths have been introduced, and a new two-tone leather option in anthracite and slate grey with contrasting light grey stitching is available for the Invincible.

Satellite navigation with Bluetooth is offered as an option on the HL3 Double Cab. A Sport Deck and an Urban Pack (front guard, scuff plates and front and rear parking sensors) are available for both the HL3 and Invincible Double Cabs.

HL2 SINGLE CAB 2.5 D-4D

16-inch wheels, Air conditioning, CD/MP3 audio system, "Arica" cloth upholstery, Four-wheel drive, Auto Disconnect Differential (ADD), Driver and passenger airbags, ABS.

HL2 EXTRA CAB 2.5 D-4D (adds)

Lockable tailgate, 15-inch wheels

HL2 DOUBLE CAB 2.5 D-4D (adds)

16-inch wheels, Colour-coded front bumper

HL3 DOUBLE CAB 2.5 D-4D (adds)

15-inch alloy wheels, Front fog lamps, Chrome rear step, door handles and side steps, Headlamp cleaners, Rear privacy glass,Leather gear knob and steering wheel trim, Multi-information display,Thatcham Category 1 alarm

INVINCIBLE DOUBLE CAB 3.0 D-4D (adds)

17-inch alloy wheels, Chrome side bars, Climate control air conditioning, Cruise control, Premium front seats, Vehicle Stability Control (VSC),Driver and passenger side and curtain airbags, Limited slip differential

CV OTR PRICE (+ VAT, of course)

HL2 SINGLE CAB 2.5 D-4D £15,145

HL2 EXTRA CAB 2.5 D-4D £15,945

HL2 DOUBLE CAB 2.5 D-4D £16,845

HL3 DOUBLE CAB 2.5 D-4D £17,945

INVINCIBLE DOUBLE CAB 3.0 D-4D £19,645

INVINCIBLE DOUBLE CAB 3.0 D-4D automatic £20,545
No Diesel Particulate Filters until November 2011
15-7-2011: Refreshed for 2012 model year: Restyle from the A-pillar forwards, with a new bonnet, radiator grille, headlamps and bumper, plus new wheel designs and new side bars and steps for the top-of-the-range Hilux Invincible.
Interior also given a new look, too, with new upper dashboard design and horizontal instrument cluster that emphasise the breadth and roominess of the cabin.
Revised layout incorporates the new Toyota Touch multimedia unit with a full colour 6.1-inch touchscreen. The Touch package, fitted as standard to the HL3 and Invincible models also includes Bluetooth and a USB port for connecting digital music players.
Quality 'feel' of cabin improved with new, uniform dark finishes and new chrome surround for the instrument binnacle on the Invincible.
The 2012 Hilux carries forward its current engines, the 142bhp 2.5 D-4D and 169bhp 3.0 D-4D belt cam units, but these now comply with the Euro 5 light commercial vehicle emissions standards ahead of their introduction at the beginning of next year, thanks to the adoption of a diesel particulate filter (DPF).  
As a result of the adjustments to the engines, CO2 emissions for the 2.5 D-4D (Double Cab) have been cut by more than 10 per cent to 194g/km, becoming best in class and combined fuel consumption has also improved by more than 10 per cent to 38.7mpg (all bodystyles).
The emissions figure for the 3.0 D-4D Double Cab automatic has fallen to 227g/km and the manual to 203g/km.  Combined fuel consumption figures are improved from 31.7 to 32.8mpg and 34.0 to 36.7mpg respectively. 
The standard five-speed manual transmission and the optional five-speed automatic for the 3.0 D-4D engine, exclusive to the Invincible, are also retained.
Similarly the grade line-up of HL2, HL3 and Invincible, and the choice of single, extra and double cab bodystyles are offered for the 2012 model year.
From launch, Hilux will be available with a comprehensive choice of accessory packs to tailor the vehicle to suit the needs of both business users and those owners who need to use Hilux for more everyday driving duties, or want to give their vehicle an extra dash of style.
The 2012 Hilux goes on sale in the UK in October and prices are below.
| | | |
| --- | --- | --- |
| MODEL | BODYSTLE | CV OTR PRICE* |
| HL2 4WD 2.5-litre | Single Cab | £16,090 |
| HL2 4WD 2.5-litre | Extra Cab | £16,890 |
| HL2 4WD 2.5-litre | Double Cab | £17,790 |
| HL3 4WD 2.5-litre | Double Cab | £18,890 |
| Invincible 4WD 3.0-litre MT | Double Cab | £20,590 |
| Invincible  4WD 3.0-litre AT | Double Cab | £21,490 |
*Commercial vehicle on the road price  
Road test 2005 102PS 2.5D king cab at: Toyota Hilux Vigo 2.5 Extra Cab 2005 Road Test