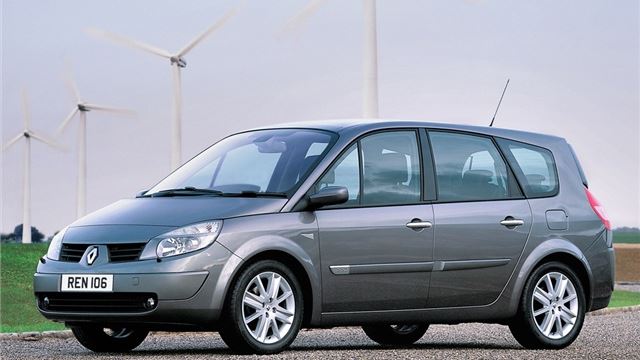 Far better than the previous model. The Grand model seats seven. Practical and versatile. Excellent crash test rating.
Potentially heavy tyre wear on Scenics with 17" wheels. Blown turbos on diesel models. Patchy build quality.
Introduction
Latest Update Renault Scenic 2003 - 2009: 5th fewest warranty claims on Warranty Direct policies than any other used car by a European manufacturer.
15-8-2012: Scenics fitted with electric parking brakes can fail their MoTs because the Bowden cables from motors to calipers can fail and Renault only supply complete motor and cable units at £600 
30-5-2012: 4th Least Reliable 3-5 year old family car in 2012 analysis of Warranty Direct Claims records on  www.reliabilityindex.com
Introduction (from Renault Scenic dCi 120 2004 Road Test):
Shock announcement: I'm about to recommend a Renault. I have just spent a week with a Scenic dCi 120 Privilege and, far from finding faults, I enjoyed every minute of it.
One reason was the cheerful, perky, free-revving 120bhp diesel engine (this one had done 8,000 miles). Another was the near perfect 6-speed gearbox.