Mazda RX-8 (2003 - 2012)
Last updated 24 August 2016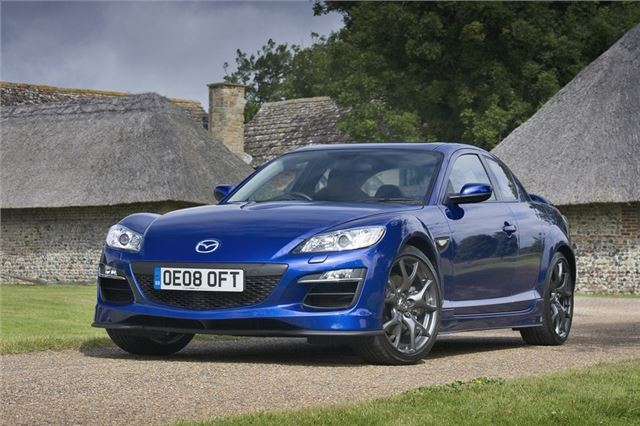 Kerb weight
1429 kg
Warranty
3 years / 60000 miles
Servicing
12,500 miles
Driving
The whole car is stiff and rattle-free, built like the previous RX7 twin-turbo around an immensely strong central backbone. A proper chassis to hang the double front wishbones and multi-link rear suspension from. Combined with a tiny "front mid mounted" engine, low centre of gravity, rear wheel drive and some very grippy tyres, that gives the car fantastic roadholding and handling. Show it a fast open bend and I guarantee you'll be smiling from ear to ear. Push it hard in the twisty stuff and slight understeer rapidly turns neutral then into easily controllable oversteer. And that's with the DSC switched on. It's so good and so unobtrusive, there's no point in switching this system off.
The brakes are just as fantastic, whether braking hard from maybe 60 - 70 mph into a hairpin, or dropping the anchors from 140 plus on an autostrada. The car doesn't pitch or unsettle itself. It just slows down by the required amount, or stops completely if that's what you need.
You can buy two kinds of go for the car: 192PS with a 5-speed box, or 231PS with a 6-speeder. The smaller output car has a touch more torque and is a bit easier to drive day to day, but it runs out of revs at 7,000. The high output needs rowing more through the box, but romps all the way to 8,500rpm plus and sounds like motorbike getting there. Even though the torque is low and developed at high revs, the engine is flexible enough to allow you to potter, just as long as you don't require serious acceleration without changing gear.
A lot of companies have 'four door only' company car policies which normally preclude anything like the RX8. But don't preclude the RX8. And, though its C02s aren't particularly friendly, its baseline prices are, which means a 40% taxpayer can have an RX7 192 for £2,774.10 BIK tax a year against £2,774.72 for an Audi TT Quattro 180 or £2,852,28 for a BMW 325i Sport. Go for the RX8 231 and that also wins out against the likes of the BMW 330Ci Sport and less practical Audi TT 225.
Mazda is even being responsible. Every RX8 buyer gets the option of a one day Prodrive high performance driving course either at the Prodrive facility and track near Banbury or from their own homes.
The only 'BUT' is that the car is more comfortable with LHD. Your legs sit straight ahead and there's plenty of room for the three pedals and a big clutch foot-rest. Sitting on the right there isn't as much room in the footwell but track driving you don't notice it and after the first year's deliveries of RHDs I only received one complaint.
Engines
| Engine | MPG | 0-62 | Top speed | CO2 |
| --- | --- | --- | --- | --- |
| 231 | 25 mpg | 6.4 s | 146 mph | 299 g/km |
Back: Good & Bad
Next: Interior
Share this

Tweet
Similar Reviews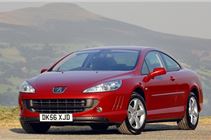 Peugeot 407 Coupe (2006 - 2011)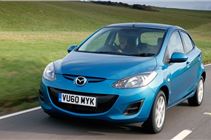 Mazda 2 (2007 - 2015)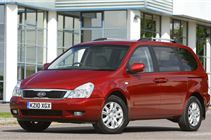 KIA Sedona (2006 - 2012)