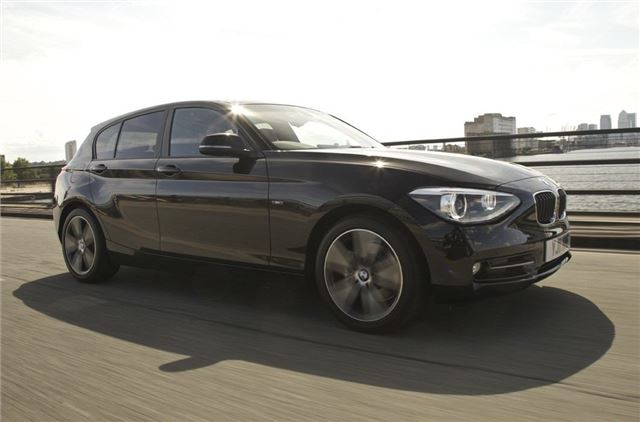 What's Good
05-06-2011: All-new, second generation BMW 1 Series (designated F20) occupies a distinctive niche within its segment, offering a unique and rewarding combination of premium-quality handling, aesthetics and innovative technology.
Length: 4,324mm, Width excluding mirrors: 1,765mm, Height:1,421mm
Luggage capacity:360 litres Luggage capacity (seats folded) 1,200 litres
Kerb weight (125d):1,480kg Maximum braked trailer weight 1,200kg Fuel tank: 50 litres
It remains the only rear-wheel-drive car in its class, and with a range of advanced TwinPower petrol and diesel engines, the new BMW 1 Series offers an even more sporty but fuel-efficient proposition. This is further boosted by BMW's EfficientDynamics technologies as standard.
Longer and wider than the model it replaces, the new car simultaneously provides sleeker, sportier styling, while increased cabin dimensions and comfort result in an all new interior.
The new BMW 1 Series goes on sale in the UK on 17 September 2011, with a choice of three diesel and two petrol engines. Prices start from £19,375 OTR for a BMW 116i ES.
Model

Power
Hp

Torque   Nm

0 – 62mph Seconds

Top Speed Mph

Combined Mpg*

CO2 Emissions g/km*

Pricing from

BMW 116i

136

220

8.5

130

49.6 (48.7)

132 (134)

£19,375

BMW 118i

170

250

7.4

140

47.9 (48.7)

137 (134)

£21,985

BMW 116d

116

260

10.3

124

62.8 (62.8)

117 (119)

£20,195

BMW 118d

143

320

8.9

132

62.8 (62.8)

118 (119)

£22,030

BMW 120d

184

380

7.2

142

62.8 (64.2)

119 (116)

£23,480
*On standard 16-inch wheels       
23-08-2011: The sub 100g/km, 116d Efficient Dynamics model not  available until March 2012. The models released in September 2011 are the Sport and Urban designs - neither have the E.D. engine and so emit 117 g/km.
26-10-2011: Five Star Euro NCAP result: 91% adult safety; 83% child safety; 63% pedestrian safety; 86% safety assist.
04-01-2012: Eibach suspension kit made available. Pro-Kit package comprises progressively wound coil springs computer matched to work with the factory dampers and lower the car by around 30mm all round, maintaining ride quality, balanced with improved stance and handling. The kit fits all 116i, 118i, 116d, 118d, and 120d models. Also, a range of precision CNC machined Pro-Spacers in a wide range of widths to allow owners to precisely set their car's track width to suit. Widths of 5, 12, 15, 20, 25 and 30mm per side are available to allow a more aggressive stance to be created or to finely tailor the fitment of aftermarket wheels. Pro-Kits come with a comprehensive 5 year warranty on function and finish, with 12 months on the Pro-Spacer systems. Prices are Pro-Kit £160.87. Spacers start from £34.78.mm for the 5mm versions. All prices plus VAT.
19-07-2012: More versions released:
125d M Sport £27,820. 125d M Sport 1,995cc 16-valve common rail 4 cylinder diesel turbo: 218PS; 450Nm torque. 6-speed manual or 8-speed automatic. 
125d M Sport manual: 0-60 6.2 seconds; top speed 149 mph; combined mpg: 58.9; CO2 emissions: 128g/km, IG 31.
125d M Sport automatic: 0-60 6.2 seconds; top speed 149 mph; combined mpg: 58.9; CO2 emissions: 126g/km, IG 31.
116d Efficient Dynamics £20,885. 116d Efficient Dynamics 1,598cc 16-valve common rail diesel turbo: 116PS, 260Nm torque. 6-speed manualor 8-speed automatic.
116d Efficient Dynamics manual: 0-60 10.3 seconds; top speed 121 mph; combined mpg: 74.3; CO2 emissions: 99g/km, IG 15.
125i M Sport £26,065. 125i M Sport 1,997cc 16-valve turbo: 210PS, 310Nm torque. 6-speed manual or 8-speed automatic
125i M Sport manual: 0-60 6.2 seconds; top speed 151 mph; combined mpg: 42.8; CO2 emissions: 154g/km, IG 30.
125i M Sport automatic: 0-60 6.2 seconds; top speed 152 mph; combined mpg: 44.1; CO2 emissions: 152g/km, IG 30. 
03-09-2012:  Diesel engine offering for BMW 1 Series extended with introduction of the new BMW 114d. The 1.6-litre version of the four-cylinder diesel engine with TwinPower Turbo technology, has a maximum output of 95PS with a peak torque of 235Nm and accelerates from zero to 62mph in just 12.2 seconds, going onto a top speed of 115mph. This sporting performance is paired to an impressive average fuel consumption of 65.7mpg and CO2 emissions of just 112g/km.
In order to achieve this impressive performance, the new BMW 114d is fitted as standard with a suite of BMW EfficientDynamics technologies, including Brake Energy Regeneration, Optimum Shift Indicator, Auto Start-Stop, electromechanical power steering, Active Aerodynamics and reduced rolling resistance tyres. In addition, the new BMW 114d also comes with ECO PRO mode as standard helping to maintain a relaxed, fuel-efficient driving style.
The BMW 114d became available to order now on both the 3-door and 5-door variants, with production commencing from November 2012. 
18-12-2012: BMW 1-Series: 120d xDrive arriving in UK in March 2013, priced around £1,500 more than RWD car. Much improved handling as 4WD system reduces understeer. Road Test 120d xDrive here.
16-1-2013: Engine enhancements for the BMW 1 Series Sports Hatch
BMW is constantly investing in and improving engine technology, performance and efficiency and the latest example of this can be seen in the BMW 1 Series Sports Hatch range. 
Improvements in efficiency with the BMW 116i SE means it now emits just 125g/km, a saving of 7g/km, resulting in a Benefit-In-Kind (BIK) rate of just 16 per cent for company car drivers.  The BMW 116d also sees a significant improvement with CO2 emissions falling to just 109g/km in both manual and automatic guise, a drop of 8g/km and 10g/km respectively without any drop in performance.  This results in a fall of two BIK bands, making this efficient car even more appealing to both private and company car buyers alike. 
The even more efficient BMW 1 Series Sports Hatch range will be on sale from March 2013 priced from just £17,510 OTR for a BMW 114i ES 3-door Sports Hatch.  
16-1-2013:  BMW xDrive: introducing three variants of the BMW 3 Series Touring and the BMW 120d with intelligent all-wheel drive.
For the first time in the UK the BMW 3 Series Touring and 1 Series Sports Hatch became available with all-wheel drive from March 2013. News of these introductions also comes as xDrive comes to the 320d and 330d engines in the 3 Series Saloon range.
Model

Price from OTR

Power
Hp

Torque   Nm

Zero - 62mph Seconds

0 - 62

Top Speed Mph

Combined 
Mpg

CO2 Emissions g/km

 

BMW 320i xDrive Touring

£29,030

184

270

7.6 (7.7)

140 (139)

40.9 (42.8)

160 (154)

BMW 320d xDrive Saloon

£29,910

184

380

7.5 (7.4)

145 (142)

57.6 (58.9)

128 (125)

BMW 320d xDrive Touring

£31,330

184

380

7.8 (7.7)

142 (138)

55.4

133

BMW 330d xDrive Saloon

£35,230

258

560

5.3

155*

54.3

137

BMW 330d xDrive Touring

£36,545

258

560

5.4

155*

52.3

142

BMW 120d xDrive

5-door Sports Hatch

£25,190

184

300

7.2

140

60.1

123
*Electronically limited.
The 184hp BMW 320d xDrive Touring  arrived alongside two other BMW 3 Series Touring variants, the 184hp BMW 320i xDrive Touring and the 258hp BMW 330d xDrive Touring. Both the BMW 320d and 320i xDrive Touring come with a six-speed manual gearbox as standard or an eight-speed automatic as an option. Completing the engine line-up, the BMW 330d xDrive will be available in both Touring and Saloon guise. Here, the xDrive system joins forces with a 258hp six-cylinder in-line diesel engine and an eight-speed automatic gearbox.
The 320d and 330d engines are also offered in xDrive guise for the 3 Series Saloon for the first time in the UK. In 2012 BMW sold 11,151 variants of the 320d making it the most popular single model in the BMW range and the addition of xDrive will help broaden the car's popularity further. Meanwhile, the six-cylinder 258hp 330d xDrive Saloon offers drivers greater performance to go with the all-weather traction.
Completing the current UK xDrive line-up is the BMW 120d xDrive 5-door Sports Hatch, with manual transmission.  The BMW xDrive system adds just 75kg to the total vehicle weight, helping to curtail CO2 emissions to just 123g/km and return 60.1mpg on the combined cycle.
16-1-2013: New generation Professional Navigation System now also available for the BMW 6 Series, BMW X3 and new BMW 1 Series.
The latest generation of the BMW Professional Navigation System capable of locating 7 digit UK postcodes works even faster thanks to an extremely powerful processor, offering additional route display functions and sharp 3D graphics for all menus. From Spring 2013 this system will be available in all BMW 6 Series models, the new BMW 1 Series and in the BMW X3.